24 KARAT GOLD COUTUREDesigners put the 'Haute' in couture for Fall 2019.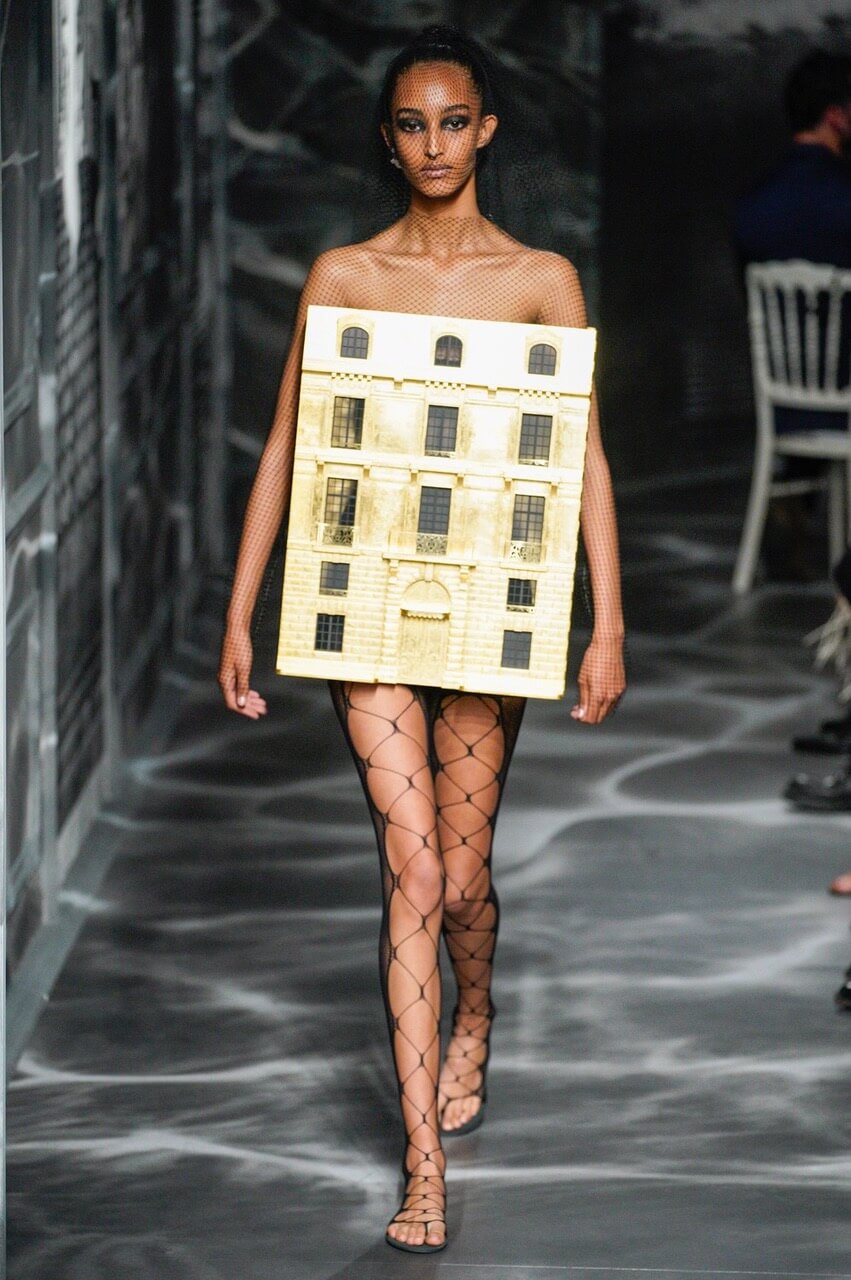 Houseproud
Maria Grazia Chiuri's replica of the iconic Dior Maison turned dress
gets a 24 karat gold leaf exterior.
Every January and July Paris turns host to a five-day celebration of the world's most exquisite and expensive clothing. The Haute Couture shows are a display of pure imagination and extravagance fueled by the highest level of skill and craftsmanship. If you can dream it, you can wear it. The only caveat is that one dress can cost the price of a house, so for now, we'll stick to dreaming about our new couture wardrobe.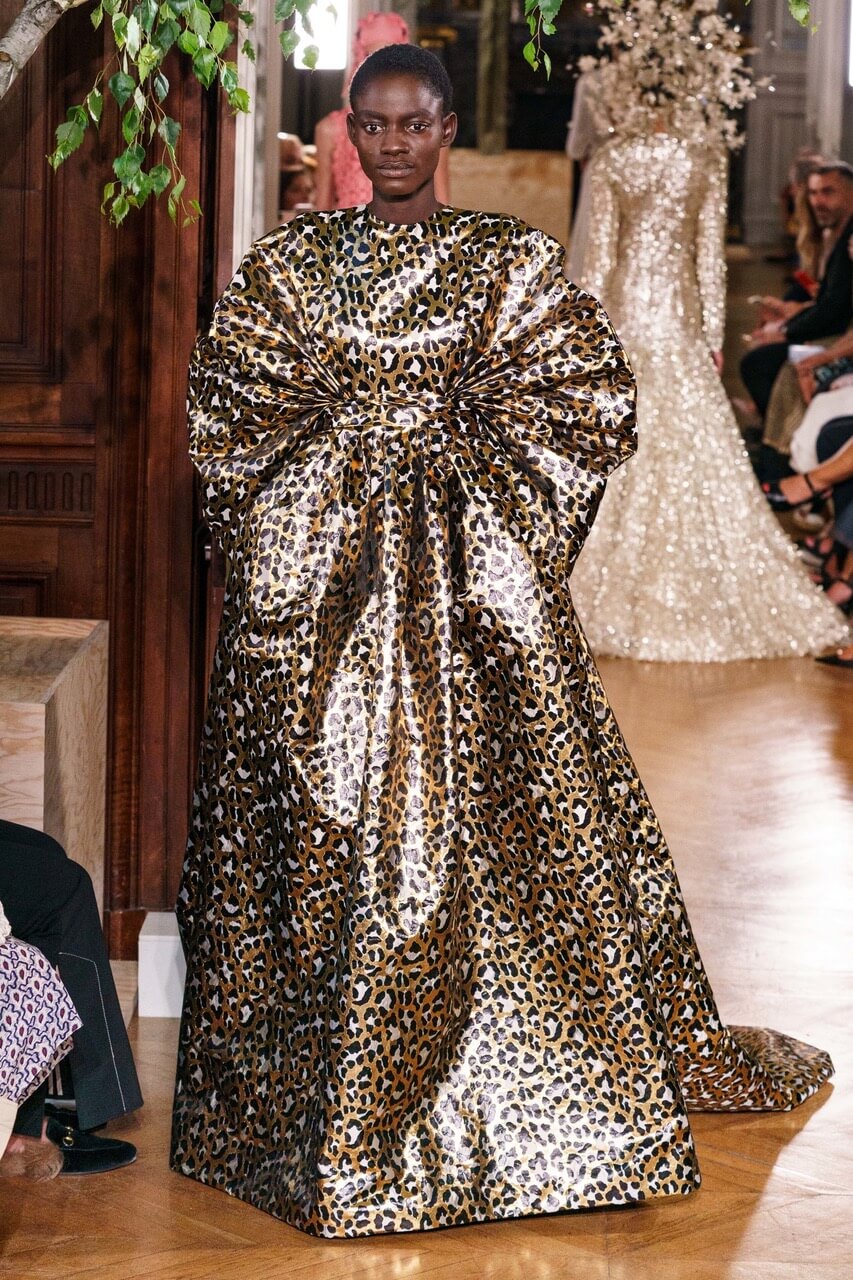 Spot on.
Valentino Haute Couture's gilded leopard ball gown.
Just like the ready-to-wear collections, the couture shows reveal exciting innovations, trends, and the overarching mood of the moment. Price-tag not withstanding, the couture collections are an indicator for the worlds of style, art, and high society. Over the years, the relevance of such high falutin' fashion has been debated, but as we hurl towards an overly-technologized society and a global AI way of life, the artistry and hand-made creations of the haute couture seem increasingly more important and serve as a reminder that the need for craft and artisanal skill remain a crucial expression of the human experience. It should not be overlooked that some couture garments take hundreds of hours to create, are worked on by multiple 'petit mains' and can consist of thousands of hand-placed beads, feathers, and hand-manipulated fabric techniques that can only exist in the purview of these exclusive ateliers.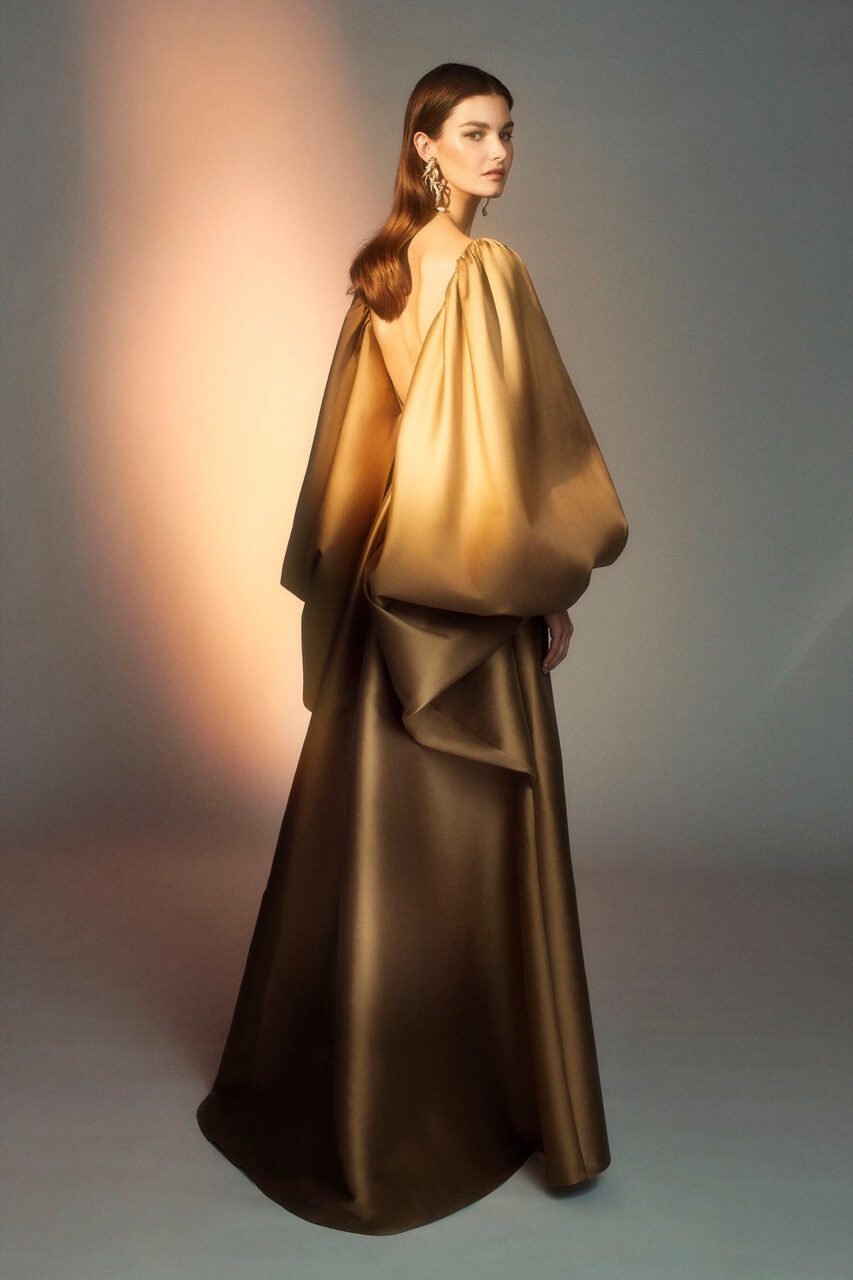 Pump up the volume.
Alberta Ferretti Limited Edition gold duchess satin ball gown.
The Fall 2019 Haute Couture collections shown just days ago in the City of Lights were a veritable tour de force. Houses, big and small, presented mind-blowing shows filled with one-of-a-kind looks destined for the red carpet and the world's most exclusive galas. Of course, our favorites were the looks cut in full-on gold fabrics or those liberally beaded and embellished with gold threadwork, gold embroideries, and thousands of gold beads and paillettes.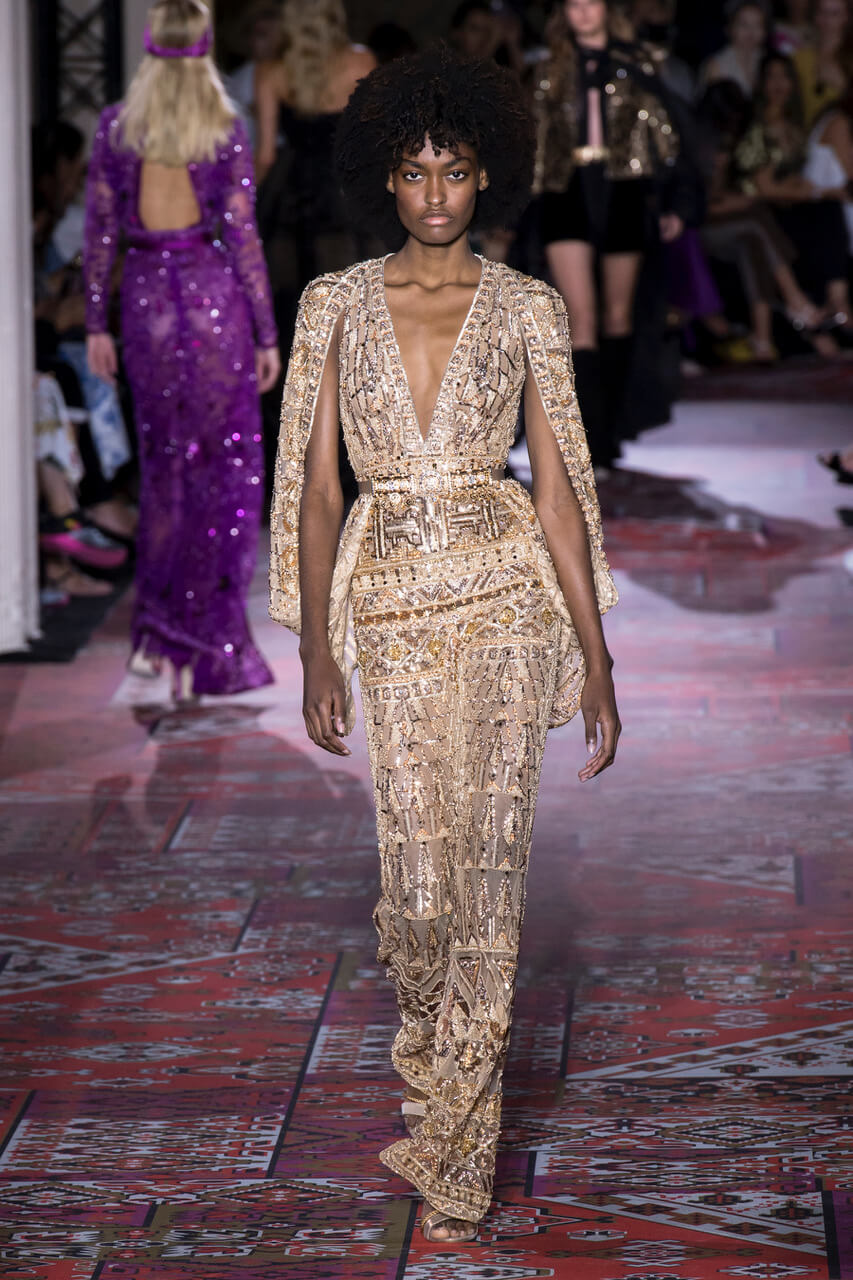 On the catwalk.
Zuhair Murad Couture's beaded, belted, caped jumpsuit.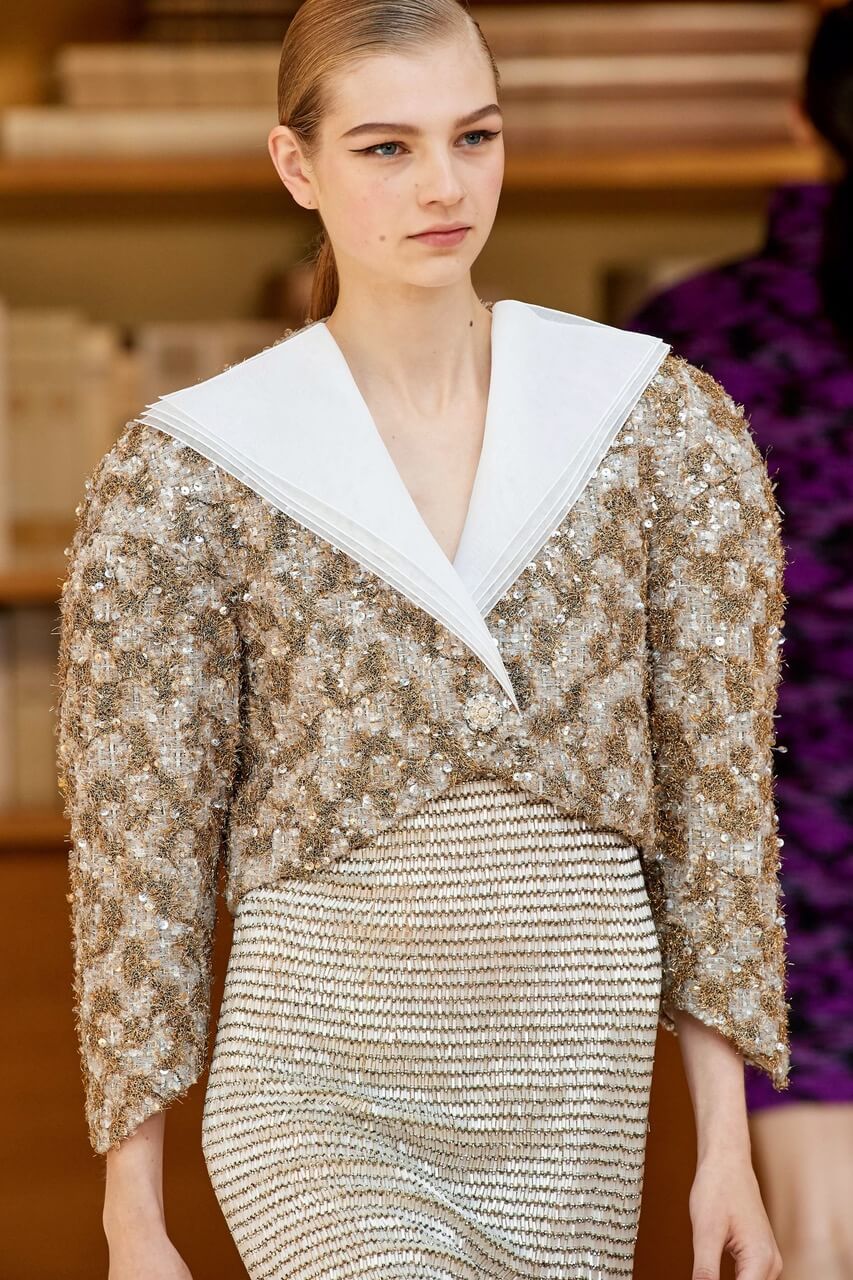 Strike gold.
Chanel Haute Couture gold tweed jacket and gold beaded dress.
This season marked the first time in decades that Chanel presented a couture collection helmed by someone other than Karl Lagerfeld. Virginie Viard, Lagerfeld's right-hand collaborator of 30 years, was appointed to the take on the iconic house following the death of Monsieur Lagerfeld in February this year. Viard's sober vision displayed few bells and whistles, unlike her predecessor, but her calm, cool collection featured beautiful, textured fabrics and embroideries in modern, wearable silhouettes that deserve a close-up look.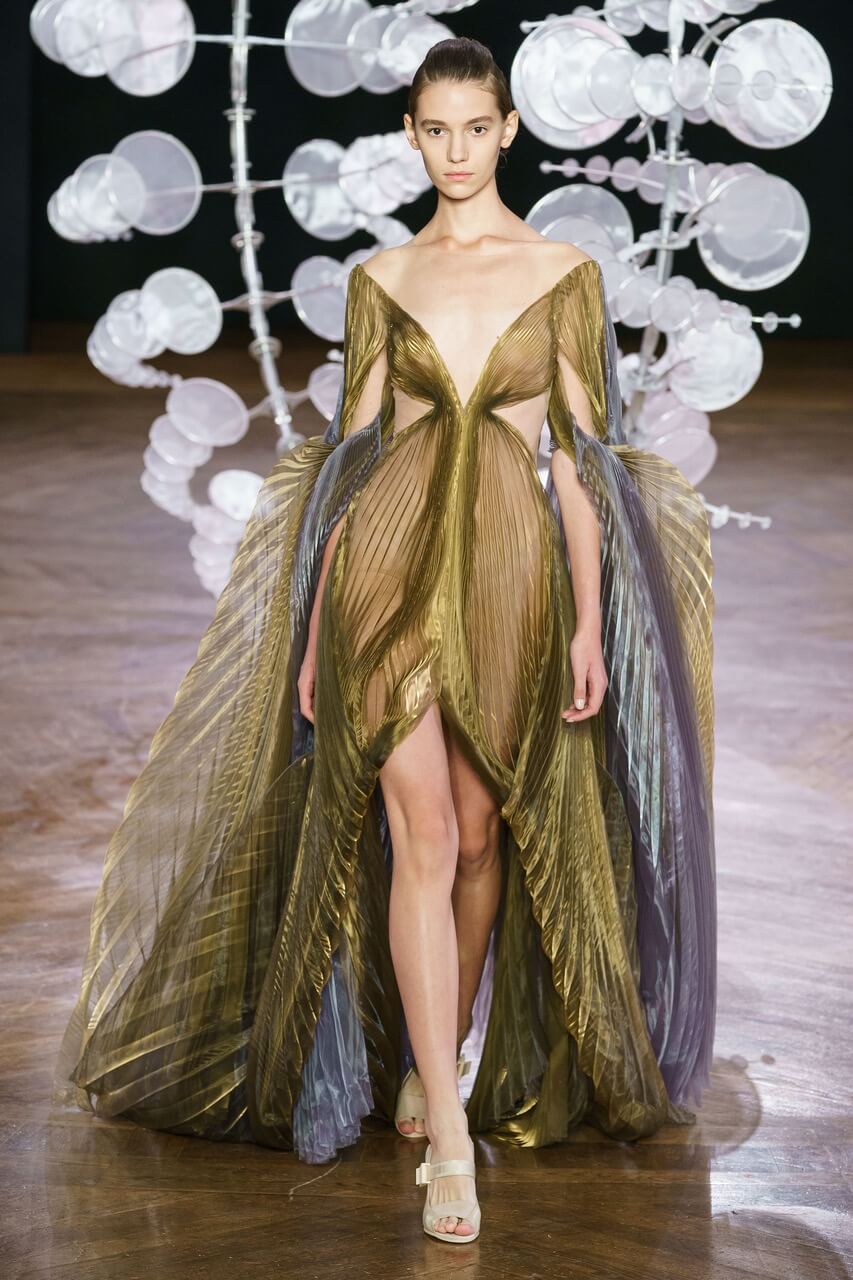 Fairy dust.
Iris van Herpen Couture's sheer gold sculptural gown.
Futurist Iris van Herpen presented her collection in a large minimal space flanked by a central undulating sculpture by artist Anthony Howe. Van Herpen's dresses are virtual art pieces in and of themselves, created by a variety of high-tech techniques including laser 3D printing. Her gold pleated gowns are some of our favorites of the season, light and airy, they're future classics.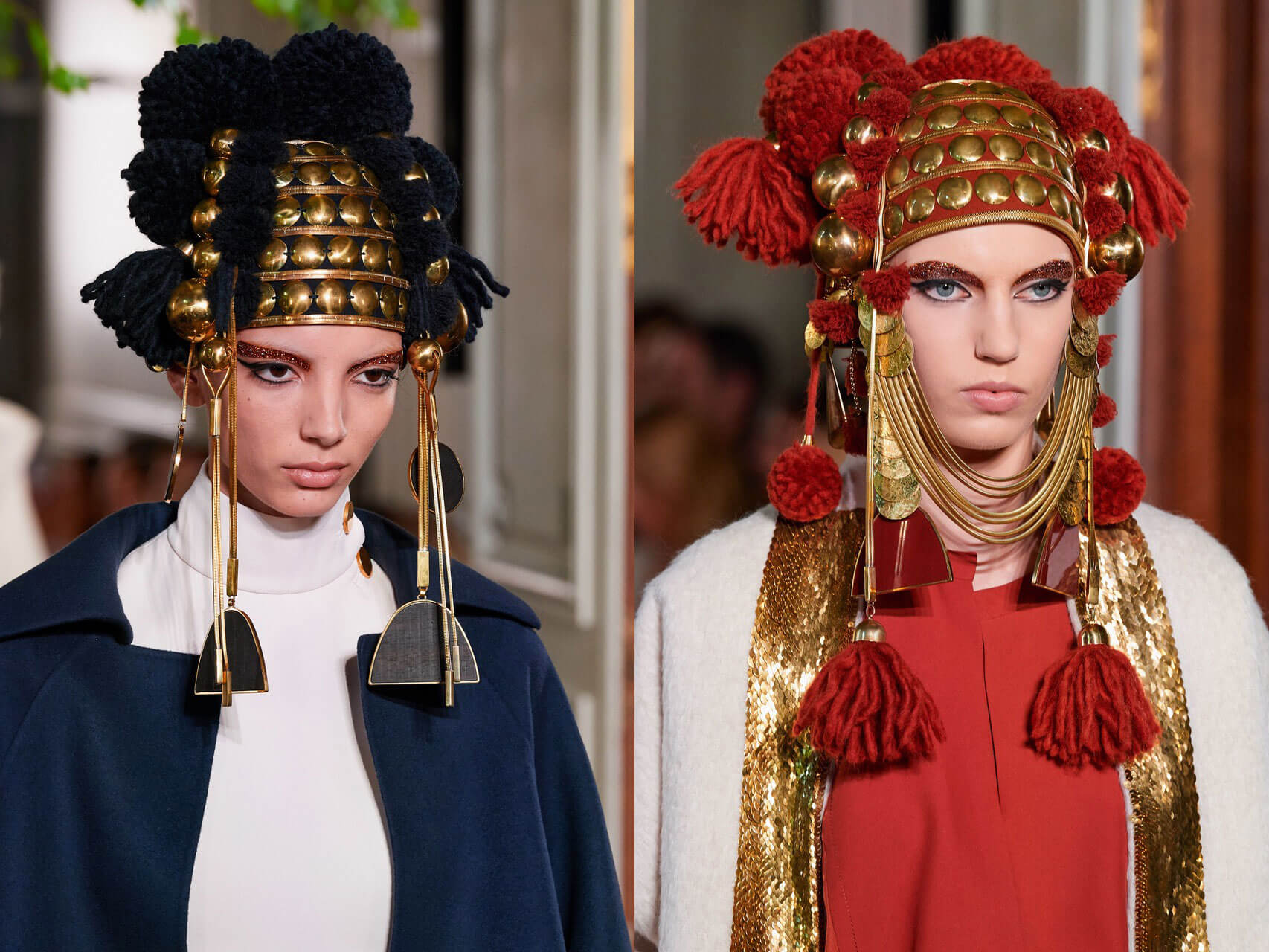 Head games.
Valentino Haute Couture's nomadic headdresses with gilded trimmings.
Pier Paolo Piccoli's couture collection for Valentino was a feast for the eyes. Strong, voluminous silhouettes with perfectly pitched details are surely aimed at powerful personalities yet feel completely feminine and full of grace. Piccoli's gilded leopard ball gown, which absolutely glimmers in gold, left us breathless. Headdresses covered in gold coins and tassels are fit for a modern nomadic princess clad in killer, 21 st-century couture.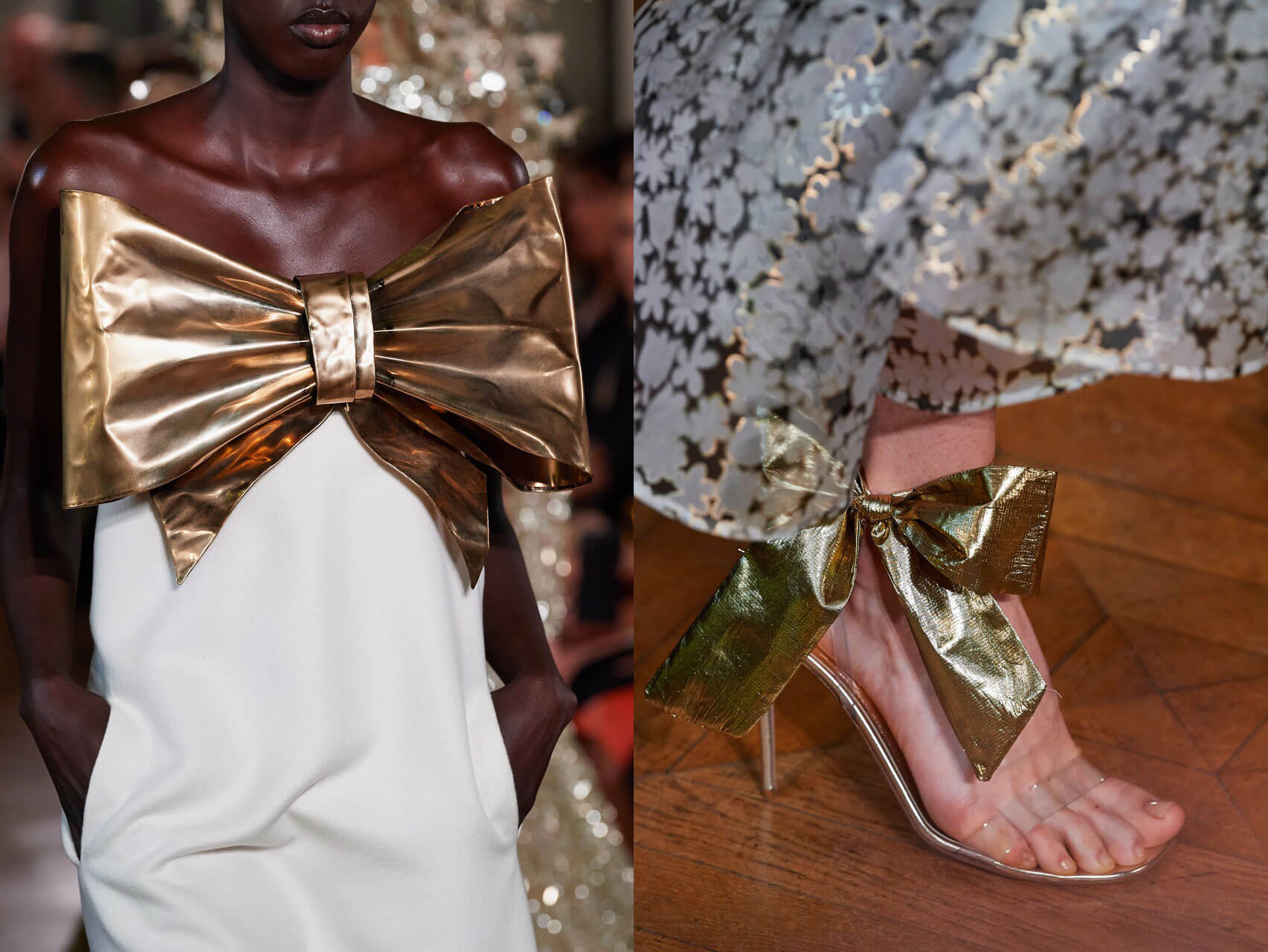 Put a bow on it.
Valentino Haute Couture's divine details.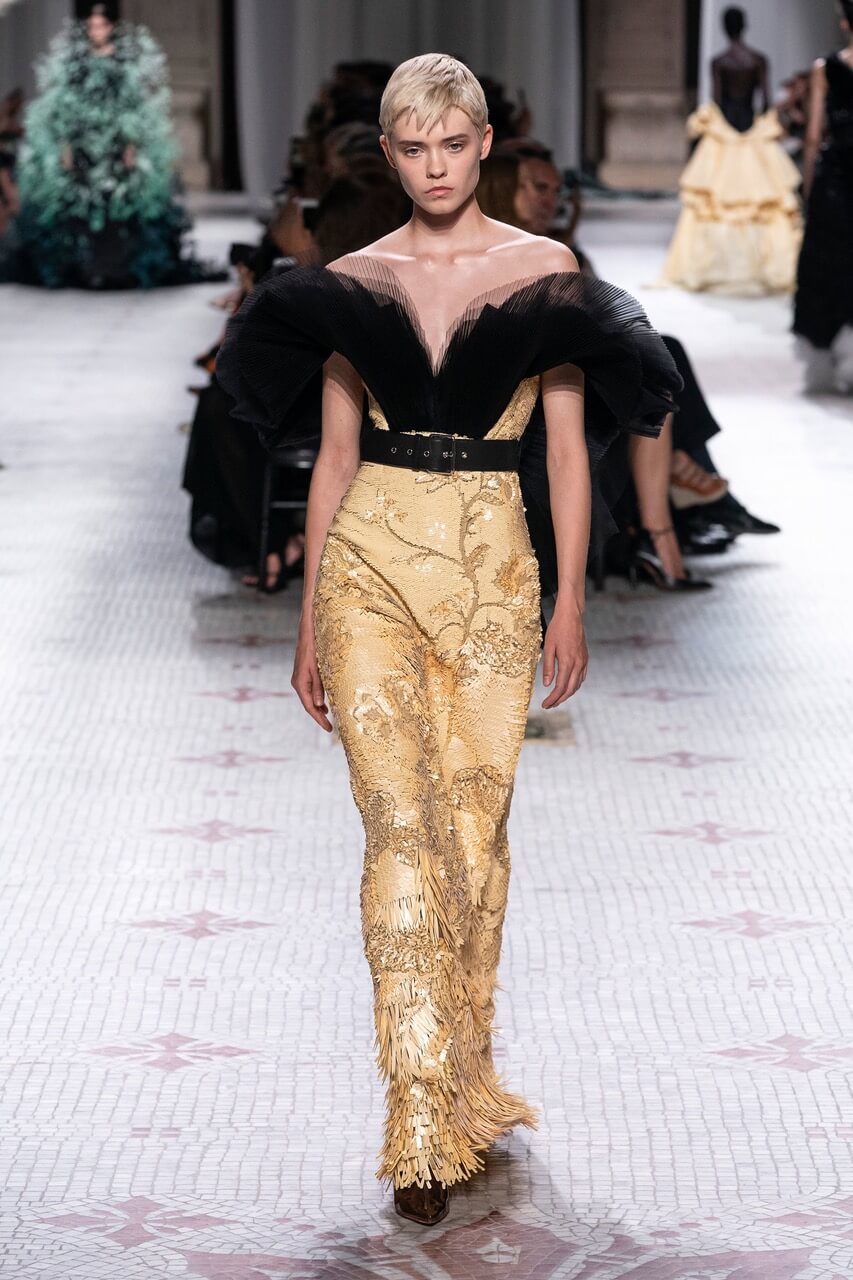 Gilty as charged.
Givenchy Haute Couture's gold paillette column with dramatic black pleated neckline.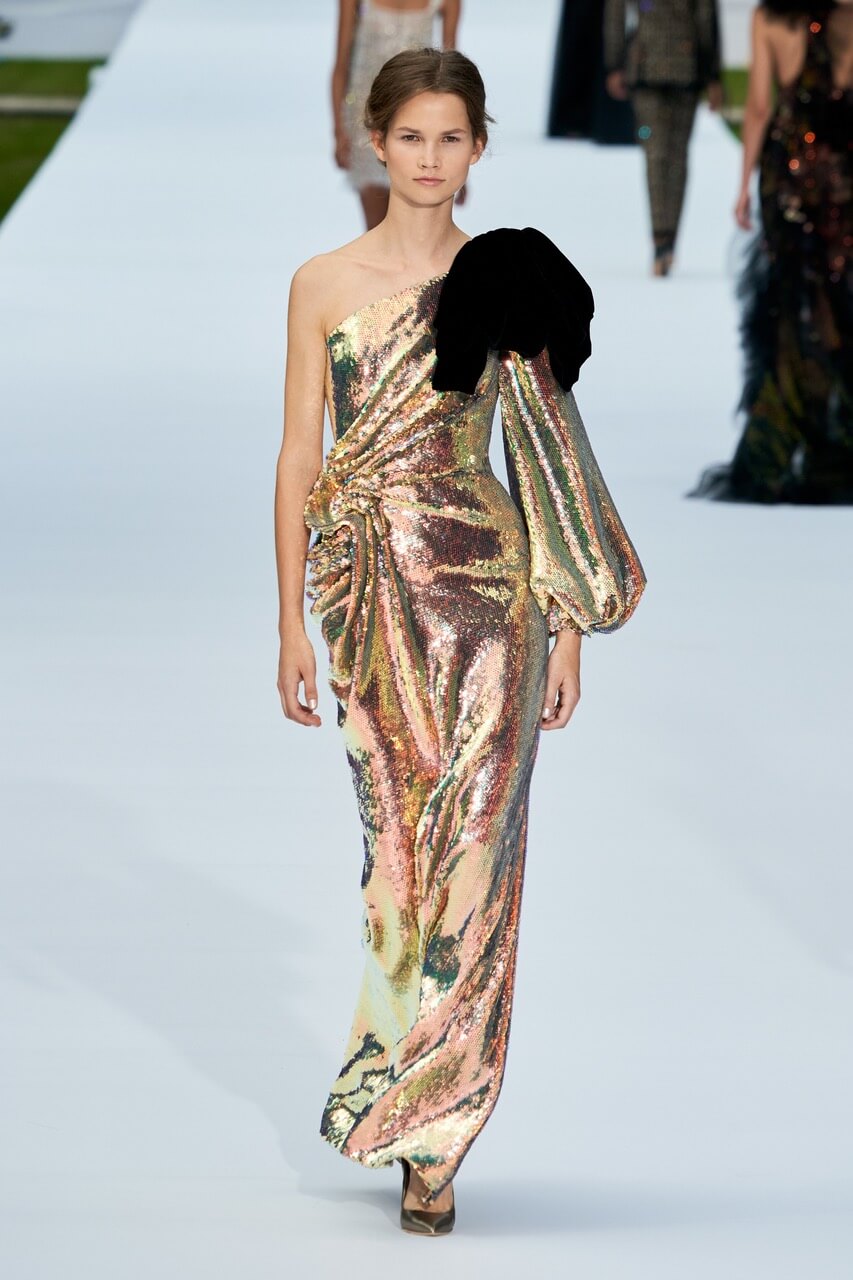 Good as gold.
Ralph & Russo Couture's gold single-sleeve sequin gown.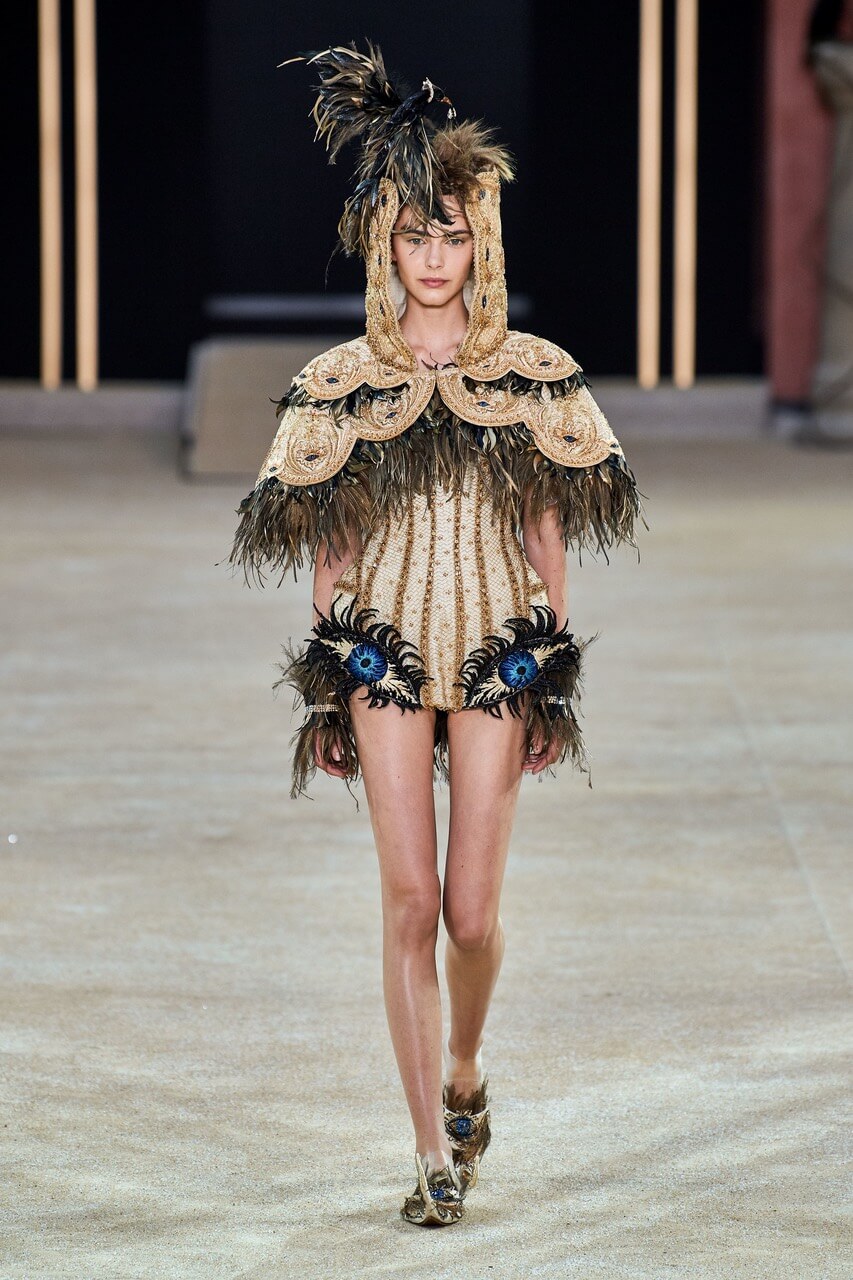 Bird of paradise.
Guo Pei Haute Couture's gold-embroidered fantasy.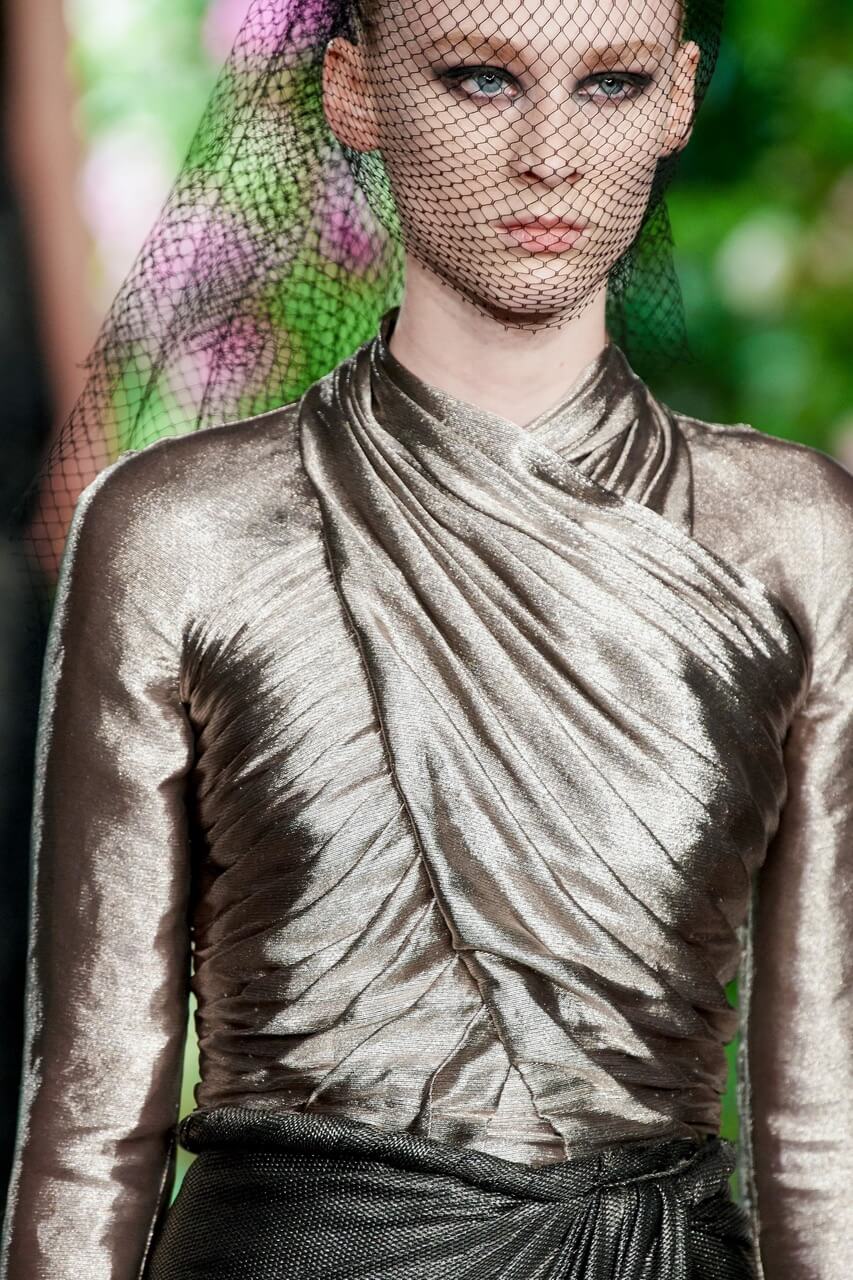 Heavy metal.
Christian Dior Haute Couture's gold lame evening gown.
The Christian Dior haute couture collection was a masterclass in quiet decadence. From the day looks to the most exquisite evening gowns, Maria Grazia Chiuri's vision for her couture client is clear: she's modern, of any age, and is proudly feminine. Set against a black and white photo-montage backdrop created by artist Penny Slinger throughout the Avenue Montaigne headquarters, models wound through various rooms, down a grand staircase, and around a vibrant garden as they presented Dior's dramatic nearly all-black collection, save for a few spectacular looks in gold, including a gold-leaf replica of the iconic Maison as the finale look.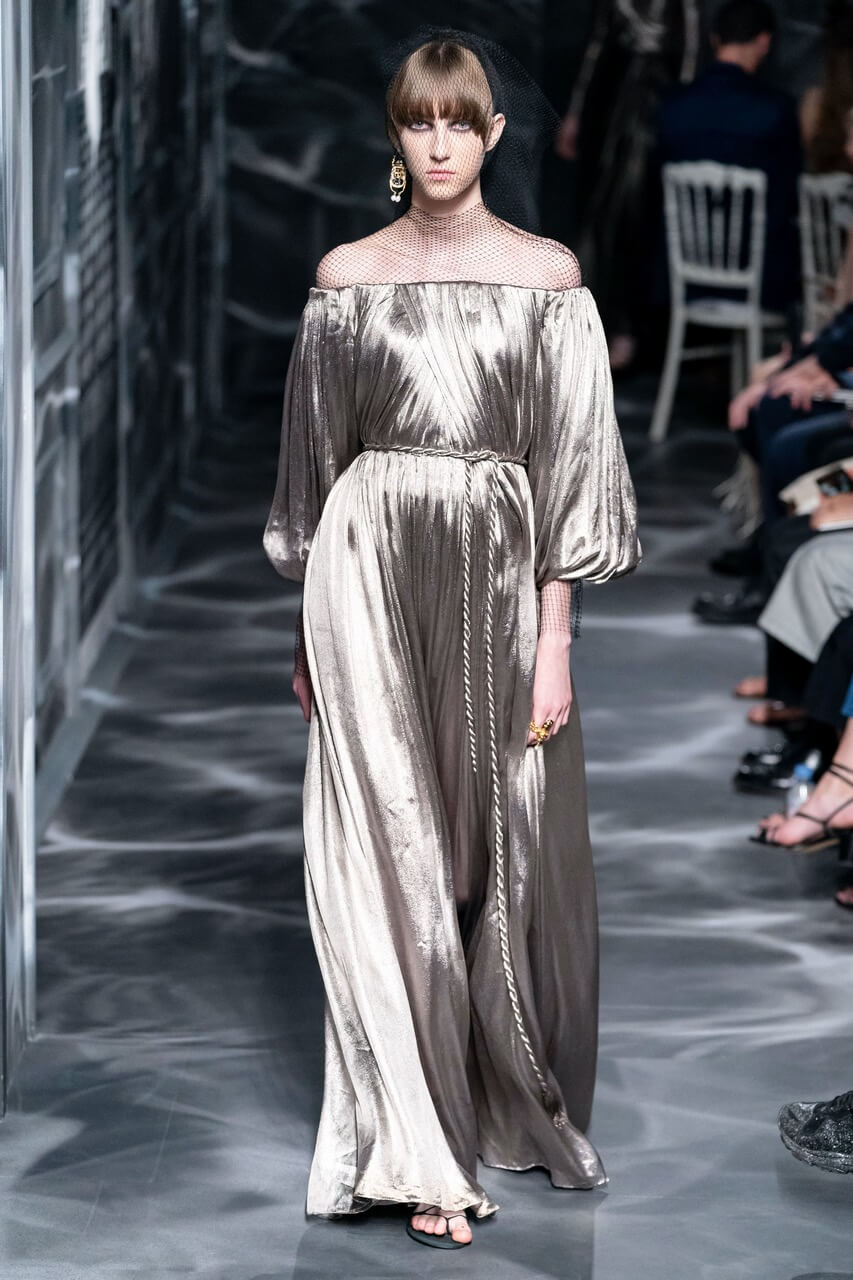 Liquid gold.
Christian Dior Haute Couture's modern golden goddess.