AUVERE GOLD DESTINATIONThe Bogota Museum of Gold
At Auvere, there's nothing we love more than discovering gold destinations around the world. What's a gold destination, you ask? It can be a building, a temple, a museum, a freestanding art installation, or an innovative retail space anywhere on the planet, always with a focus on gold. We're on the hunt to find the most interesting gold destinations across the globe so we can share them with you, because we know that you love gold almost as much as we do. Can you say 'obsessed?'
Speaking of gold destinations, if you happen to be traveling to Columbia any time soon, you will definitely want to carve out some time to visit the Museum of Gold. This spectacular, modern museum is situated in the heart of Bogota and houses the largest collection of pre-Hispanic gold in the world with over 55,000 pieces that span thousands of years worth of priceless artifacts. At least half a million tourists visit the museum each year, making it a de-facto must-see when traveling to the region.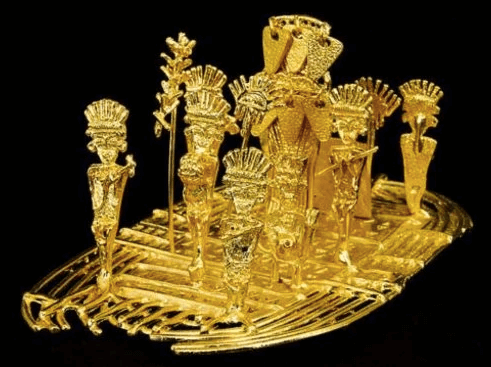 The infamous Muisca Raft discovered in 1969 and on display at the museum.
Three floors of pre-Hispanic gold fill the museum's cases with a history as rich and illustrious as the celestial substance itself. Gold artifacts date back as early as 2000 AD when gold was believed to have contained the energy of the sun, and was worshipped by Columbia's indigenous tribes who developed a unique metalwork style that was used for shaman rituals and mythological sacraments, as well as decorative objet and jewelry.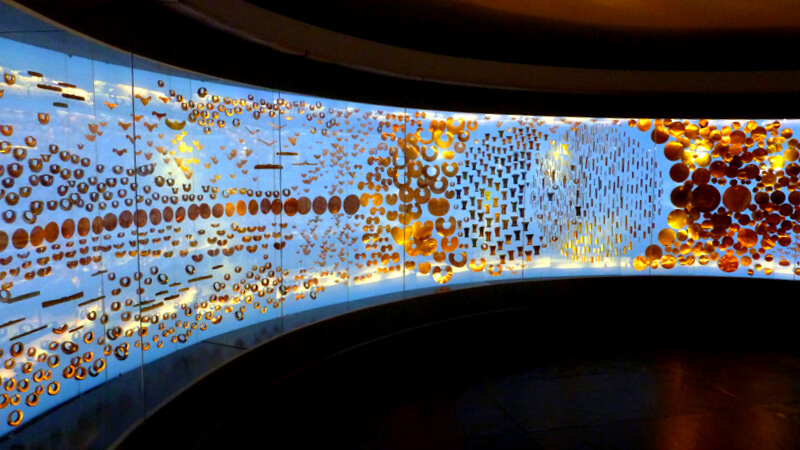 A stunning display at the Museum of Gold.
The museum not only provides the physical proof of the extraordinary gold artwork that early Columbian societies produced, but also their ingenuity as they utilized the sophisticated method of mercury amalgamation to mine their gold, a method which is still in use today.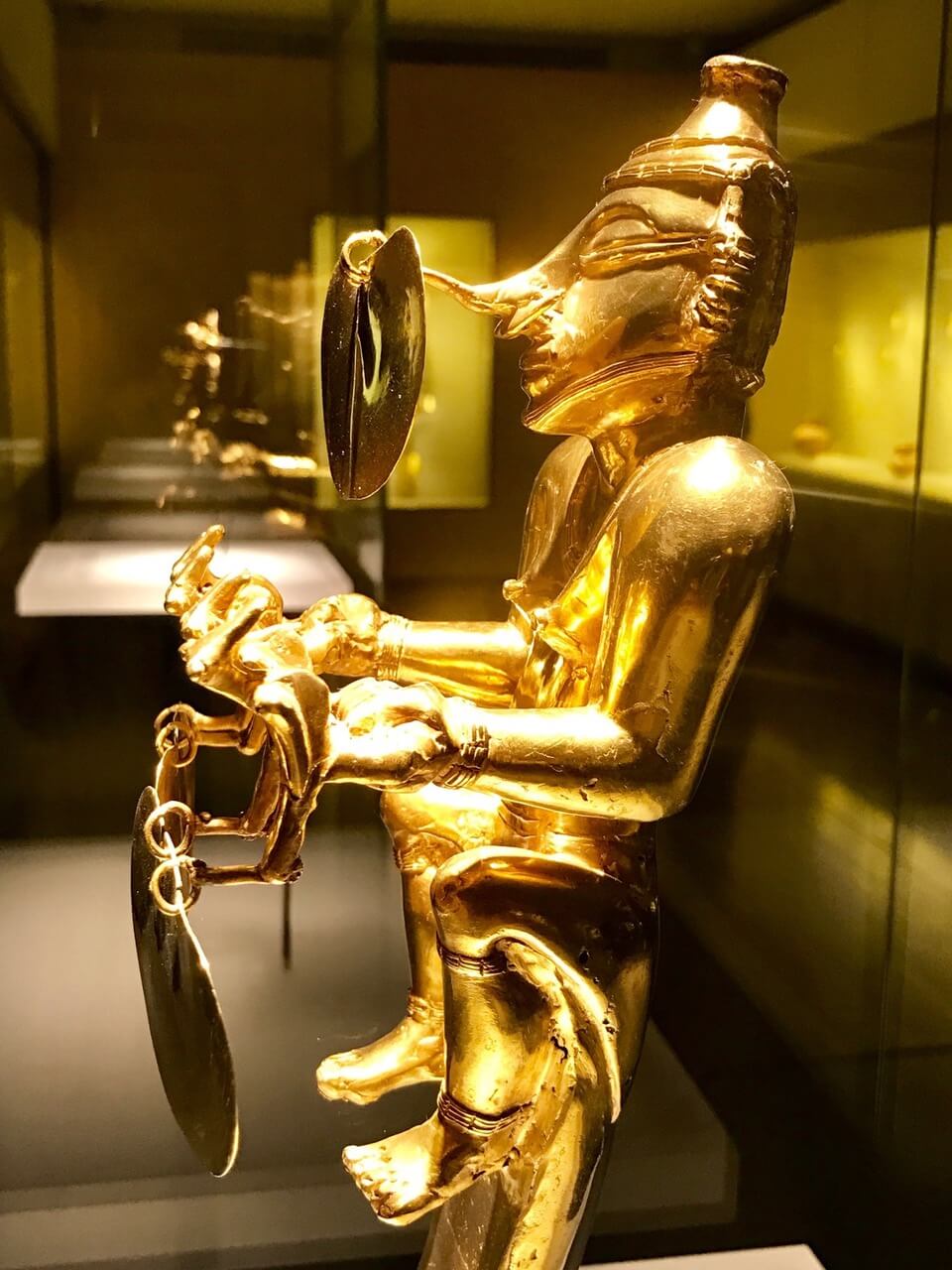 Mythical golden creatures.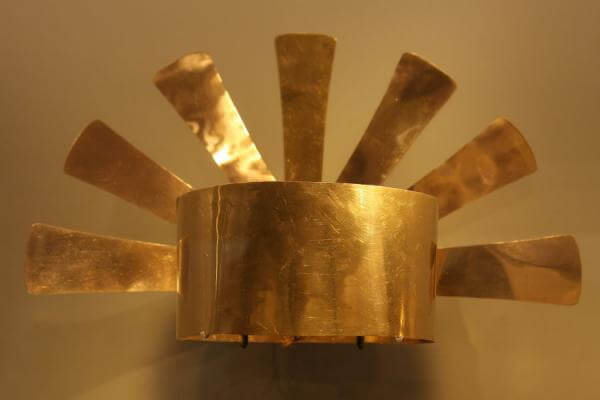 A golden crown.
A fascinating slice of Columbian history, of course, includes the Incas, (also known as The Children of the Sun). Famous for their love of gold and the mystical world, the Incan period produced prolific amounts of extraordinary gold artwork and jewelry, only to be robbed of their golden fortune when Spanish conquistadors later invaded and colonized South America in 1525. The Inca's gold lust was so celebrated that travelers came from around the globe looking for a piece of the golden pie, in what was believed to be the fantastical Legend of El Dorado, a king who was thought to be so rich that he was literally covered in gold. Many explorers lost their lives in search of this mythical man and his gilded treasure.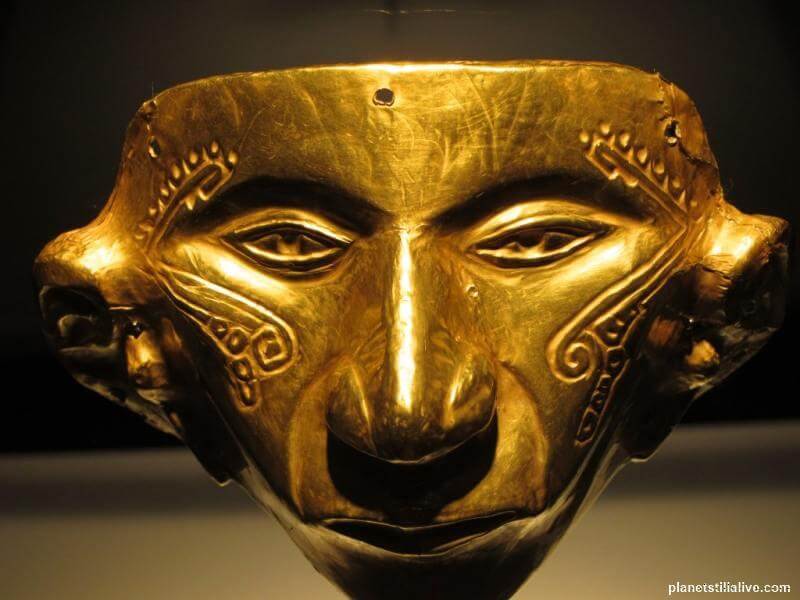 A gold mask that is both lifelike and other-worldly.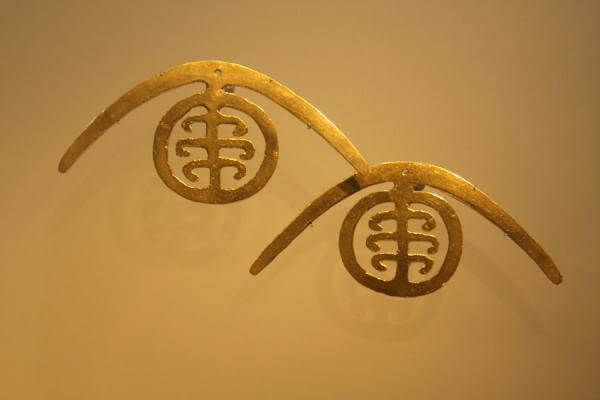 Gold earrings.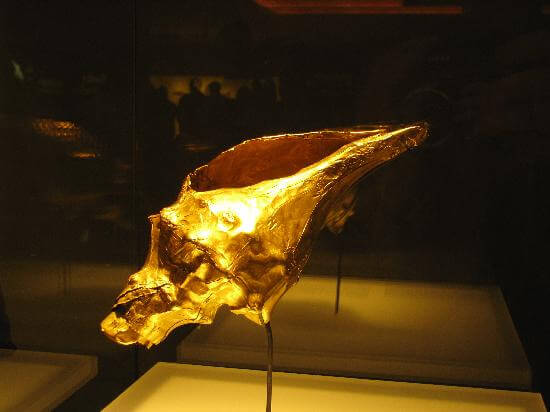 Golden conch.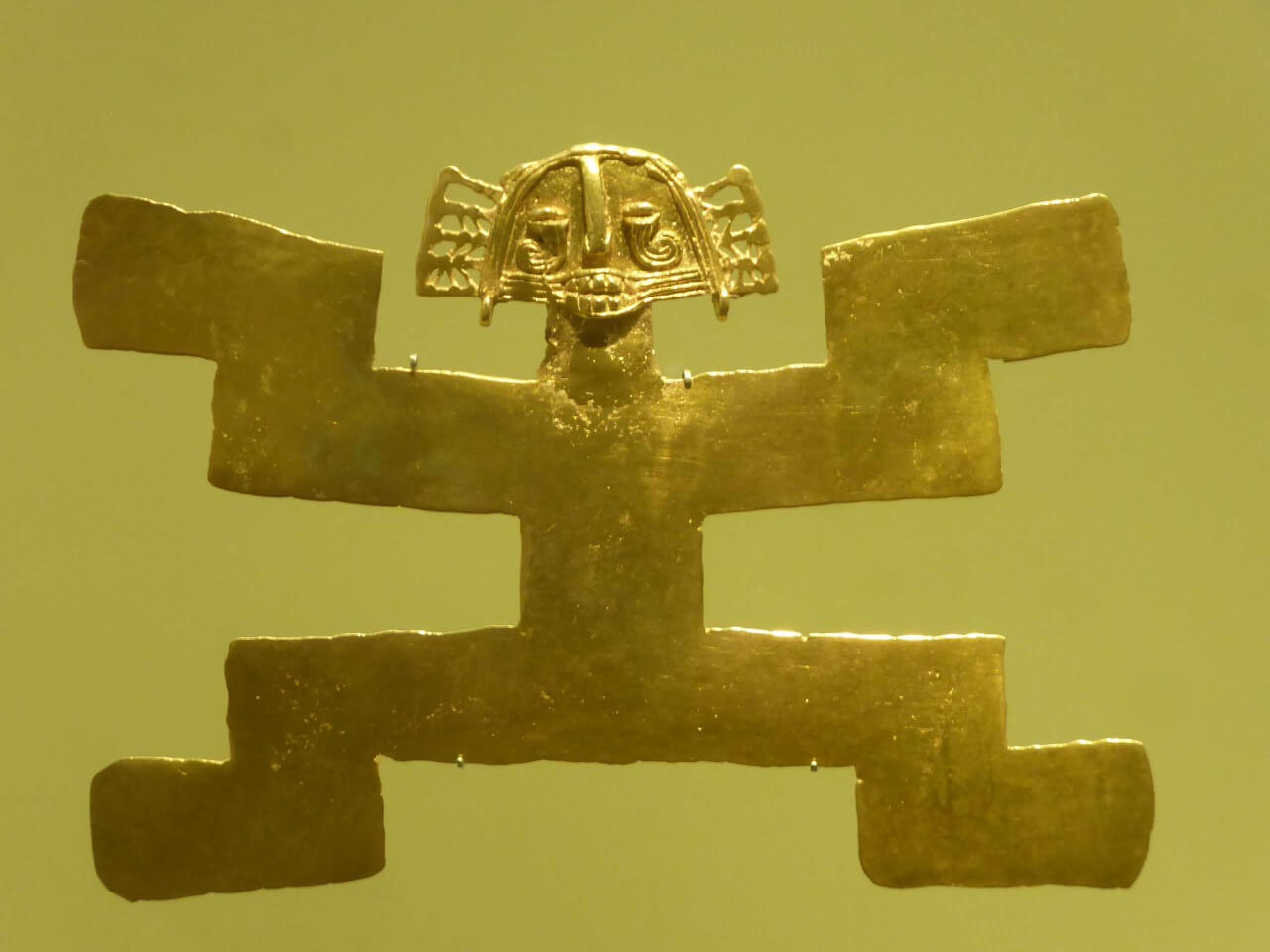 Primitive Pre-Columbian figure handcrafted in gold.
Like all cultures around the world, the early Columbians had a very distinct style. Abstract shapes, mythical birds, creatures, and primitive, human-like faces, are prevalent and on display throughout the museum. But while their work might be filled with curious supernatural beings, religious, and superstitious totems, these ancient artisans captured a spirit that combined nature, man, beast, and the universe in a surprisingly sophisticated style that expressed their intellect, desire for progress, and hunger for power as a society and culture that was clearly a formidable one to be reckoned with.
The Bogota Museum of Gold is a treasure in itself and worth the trek for all gold aficionados.