GOOD AS GOLDGold rules the runways
Imagine our surprise and delight when we noticed an interesting trend pop up on the Fall 2018 runways. From New York to Tokyo - hair, eyelids, nails, cheeks and foreheads were awash in a golden glow. The use of gold for purposes of beautification isn't a new concept. During the Age of Enlightenment, royals and women of the aristocracy drank liquid gold as a form of anti-aging. This bizarre and dangerous practice led to severe toxic poisoning and ultimately death, turning the idea of remaining 'forever young' into the ultimate feat of irony.
Today, master hair stylists, makeup artists and designers bring their runway looks to life with dustings, sprinklings, and dashes of gold. As a color, gold is universally flattering. From pale champagne to a rich burnished hue, gold suits all skin tones and hair colors and can be a fun element to add to your beauty tool kit.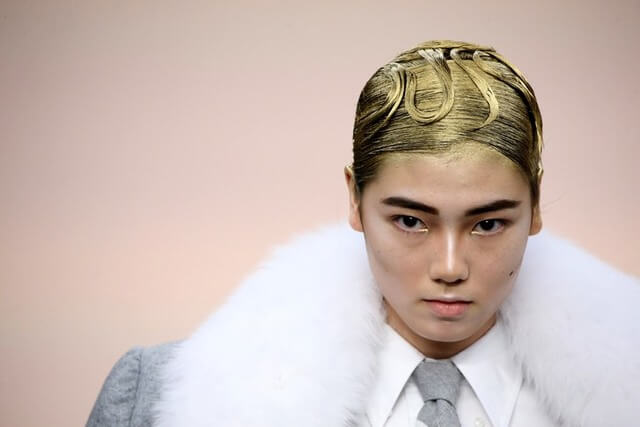 Medusa-esque swirl details on Thom Browne's runway coif.
American designer Thom Browne, a master of conceptual fashion presentation and silhouette, gave his models tiny heads, with tightly wrapped hair painted liberally in bright, gleaming gold, courtesy of hair guru, Eugene Soulieman. Taking the idea that more is more to heart, makeup artist Diane Kendal added gold highlights and contours to the models cheekbones, eyelids and high points.
Now, certainly we're not advocating for you to paint your hair gold (unless you want to), but a touch of gold highlighter at your cheekbones or on your lids is not only wearable but, divinely pretty. Case in point: Chanel Beauty's Global Creative Designer for Makeup & Color, Lucia Pica dusted model's cheekbones in a delicate veil of gold powder on an otherwise clean face, proving gold can be used as a new daytime neutral to add warmth and a beautiful outer glow to your skin.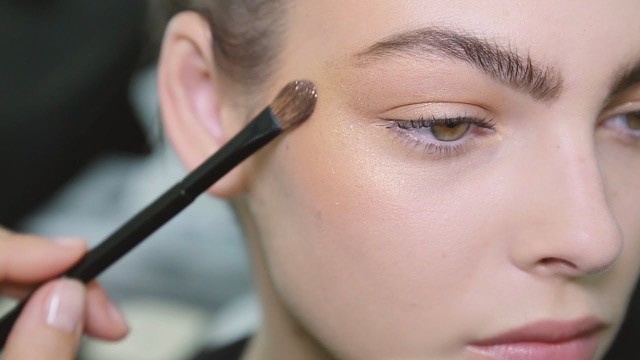 Chanel's soft golden cheekbones.
From the subtle to the sublime, golden glitter is also making a comeback. For Preen's Fall 18 runway, makeup artist Val Garland blew a puff of loose glitter onto the models faces and hair before the show, giving the girls an air of bohemian disco.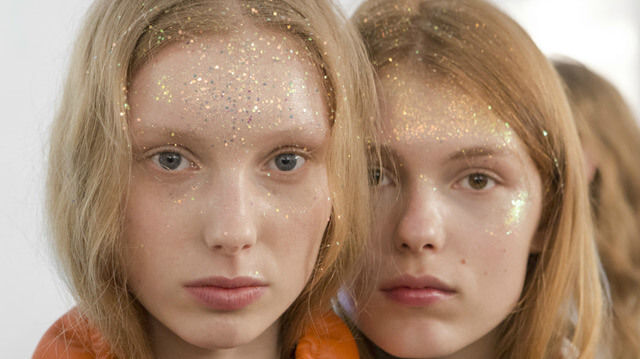 Val Garland's gold glitter fantasy for the Preen Fall 2018 runway.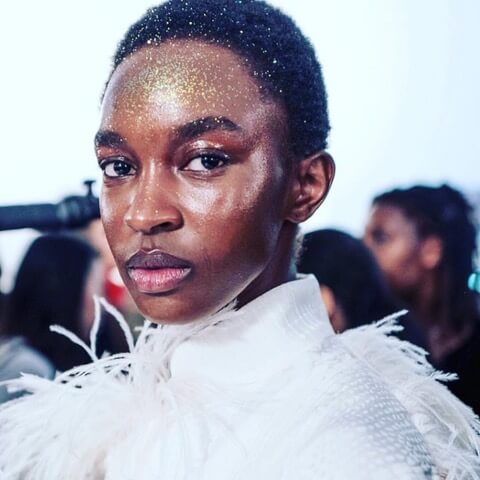 Preen's golden girl.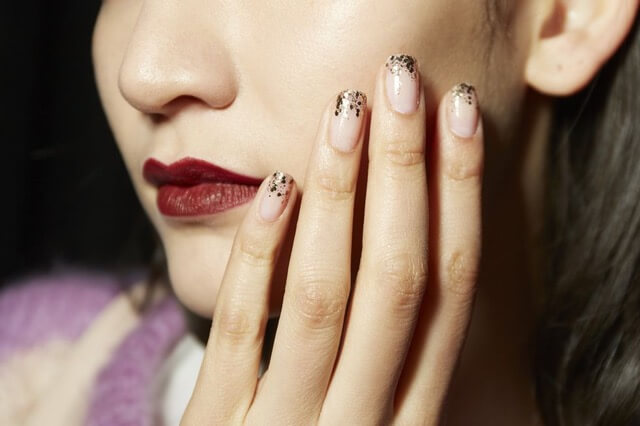 Gold flecked nail tips at Cushnie, Fall 2018.
Gold nail color is certainly not a new look, but we love how the nail team at Essie dotted the model's nail tips with flecks of gold for the Cushnie Fall 18 runway (above). Adding a splash of gold on the ends of an otherwise clean, unadorned nail looks modern and cool. It's a fresh way of adding gold without going super-flashy for a daytime manicure. Or you can take it up a few notches with a full golden nail edged in nude for your nighttime manicure, by Essie for Tanya Taylor's Fall 18 runway (below).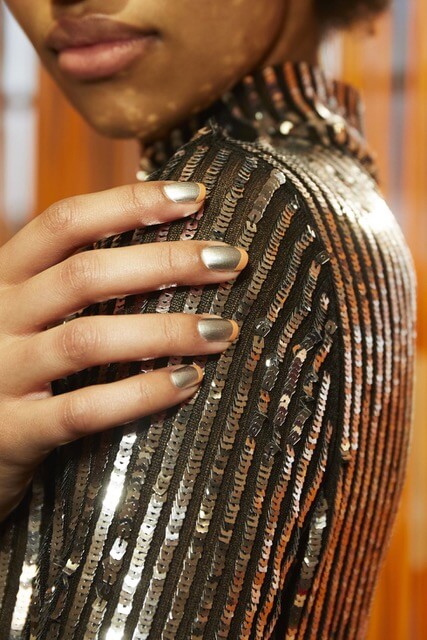 Heavy metal manicure by Essie for Tanya Taylor, Fall 2018.
Gold leaf also made a surprising appearance on the fall runways at the Ulla Johnson and Akris shows. For a fashion moment, gold leaf is a spectacular way of adding a major shot of gold to your beauty look, but it can be tricky to manage and might be better left to the pros.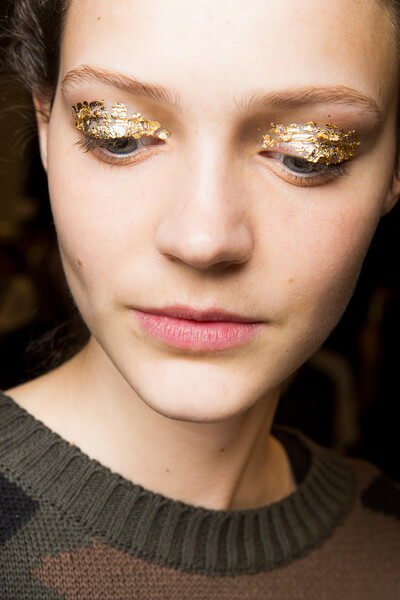 Ulla Johnson's gold leafed lids.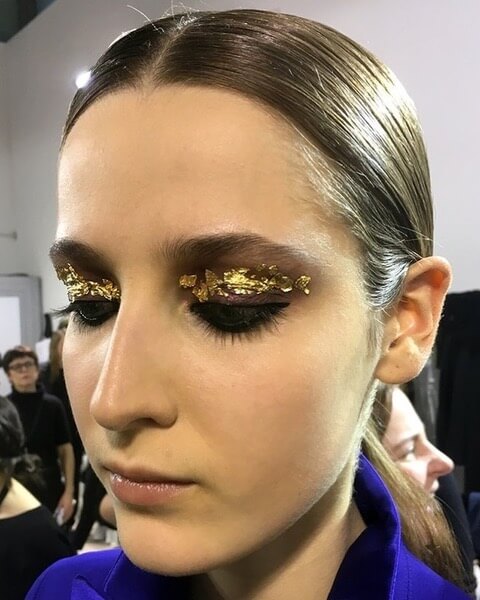 Makeup artist Diane Kendal adds an artistic touch to Akris' beauty look with abstract gold leaf.
Runway trends may come and go in the blink of an eye, but one thing we know for sure, gold has been worshipped, coveted, and loved for centuries. Gold possesses a magical, ethereal beauty, which makes it the perfect counterpoint to a modern beauty routine, whether you dab a touch at the corner of your eye, or add a golden shimmer to your locks, gold has a powerful energy that is universal and timeless.
GOLD BEAUTY PRODUCTS WE LOVE:
PETER THOMAS ROTH'S 24 KARAT GOLD MASK:
Infused with pure 24 karat gold and colloidal gold for the perfect anti-aging treatment. The gold imparts the skin with a radiant glow and is super moisturizing.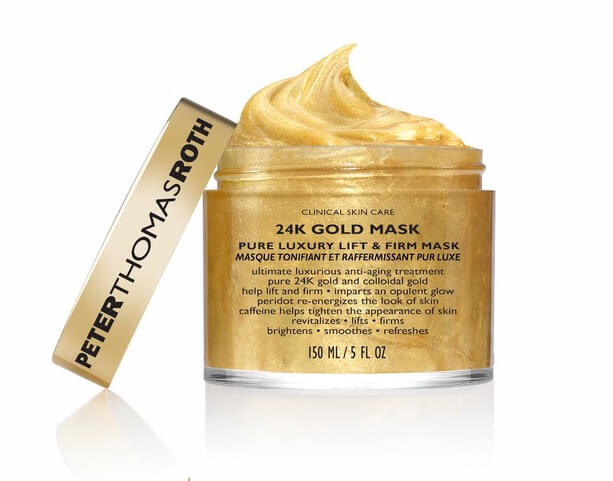 Boosts collagen and helps combat dark undereye circles. A gold infusion aids in smoothing skintone and boosting blood flow.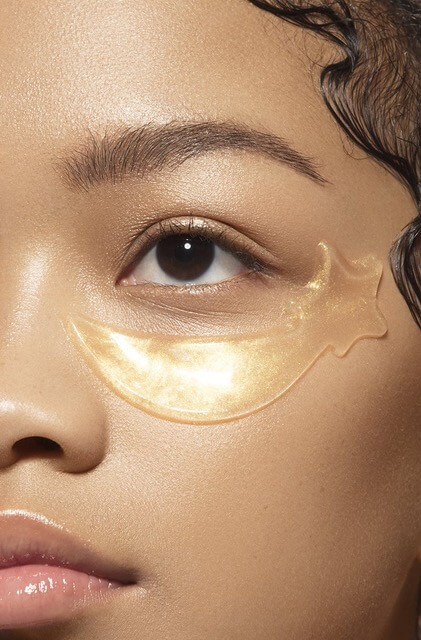 LEMONHEAD LA'S GILDEBEAST GOLD GLITTER SPACEPASTE:
Luxe 'adult' glitter that can be used on the face, body and in hair, totally mess free with zero fallout.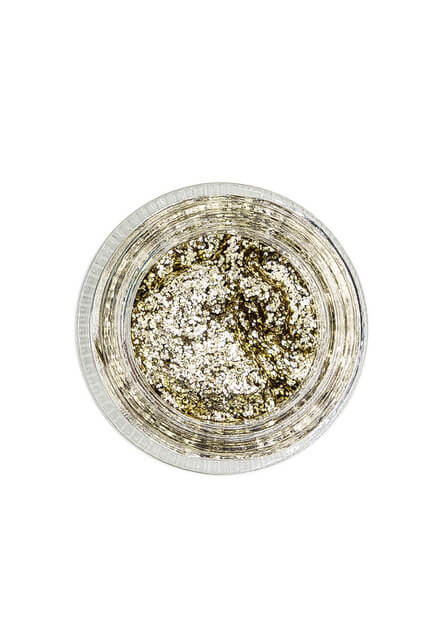 BUMBLE AND BUMBLE Bb. GLIMMER FINISHING SPRAY in GOLD DUST:
Add a touch of glimmer to hair with this gently sparkling golden spray.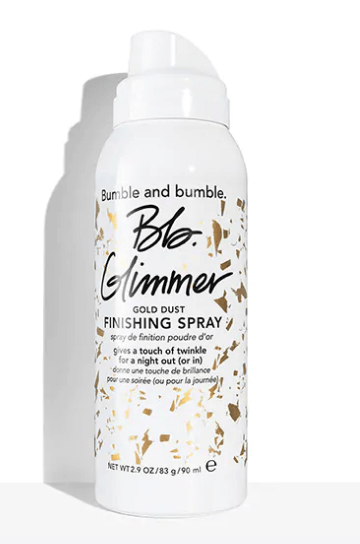 LE LION DE CHANEL ILLUMINATING POWDER:
A golden highlighter adds a warm shimmer to your face, eyelids, shoulders or décolleté.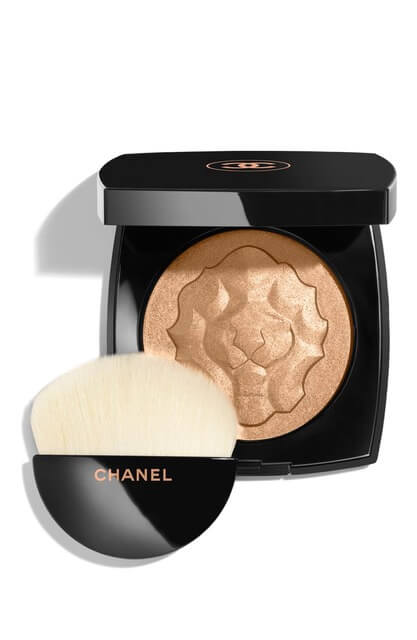 DEBORAH LIPPMAN NAIL COLOR in CAN'T BE TAMED
Nail it with a touch of gold.