If creating a brand video takes a lot of time, planning and organization during the best of times, then making one during a global pandemic is at least ten times harder. All of the regular machinations of producing a creative brand story suddenly take on a crazy new dimension. A perfect example is how we managed our model casting for the Fall 2020 AUVERE video. We typically schedule two full days in order to cast models for the project. During that time, the models try the jewelry and we take tons of photos as we try to find the right people for the project.
Enter Coronavirus. Now that Covid-19 makes every in-person activity a major juggling act, we were unable to spend two days in a small studio interviewing models face to face. So, like everyone else around the world, we took the party to Zoom. The minute we met Ash on the Zoom casting call, we knew she was the woman for the job. Yes, we saw many fantastic models, but there was something special about Ash. Every job has very specific requirements for the talent, but the one thing that can't be measured or explained is how you feel in your gut when you meet the right person. It's kind of like dating. You just know.
But don't mistake our Golden Girl of the moment for just a pretty face. She's also an outspoken cancer activist and survivor. Faced with an ovarian cancer diagnosis at only 23, Ash returned to modeling full-time after taking a year off for treatment. Polite, punctual, with powerhouse modeling skills, Ash lit up our video set with her sparkling presence and endured the broken AC and a hot studio (it was 96-degrees!) without complaint. While we withered in the heat, she "wigged-out" in a pale peach mullet and nine-inch nails.
Please meet AUVERE'S Golden Girl, Ash Foo.
A: WHERE ARE YOU FROM?
AF: I'm from Toronto, Canada.
A: WHAT IS YOUR JOB?
AF: I'm a full-time fashion model.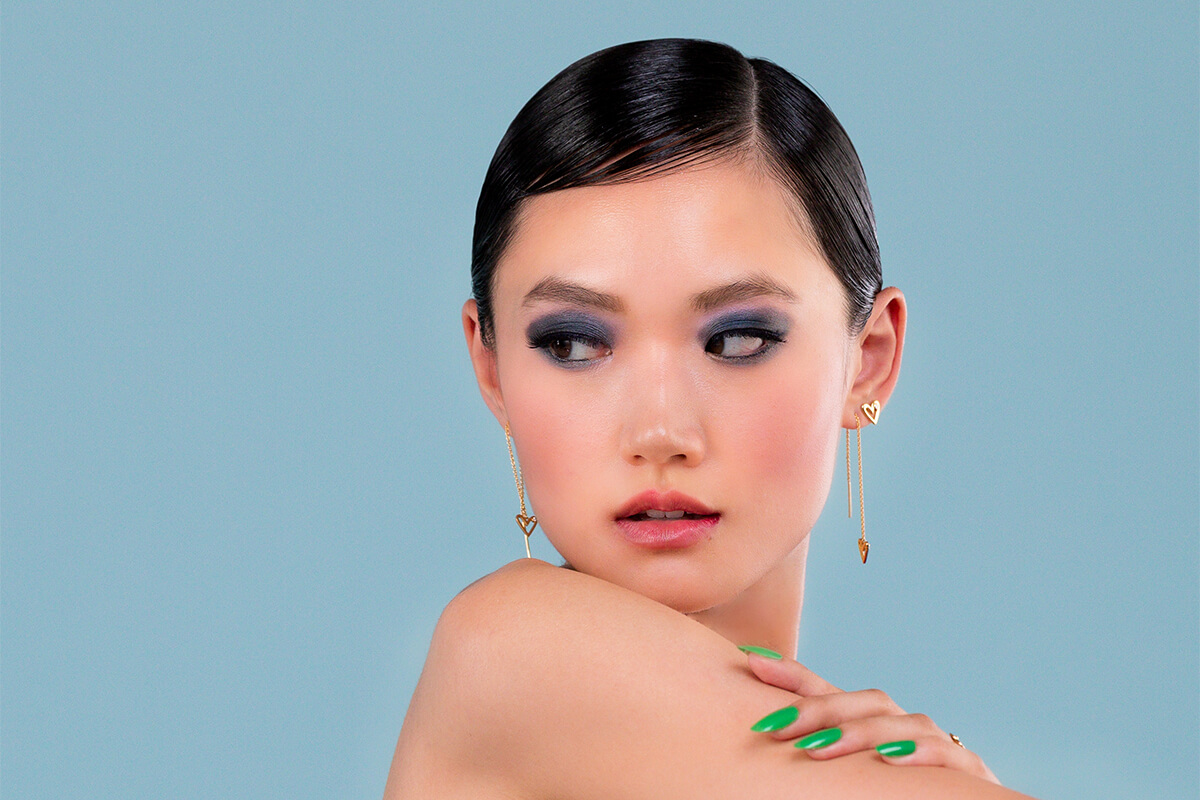 A: HOW DID YOU GET INTO MODELING?
AF: I was scouted in Toronto when I was 17. I moved to NYC by myself a year later to pursue my career.
A: WHAT DO YOU LOVE MOST ABOUT BEING A MODEL?
AF: I've always nurtured a passion for fashion and creativity. Being involved in the creative vision of a project and participating and contributing to the art as part of a team is the best part for me.
A: HOW WOULD YOU DESCRIBE YOUR PERSONAL STYLE? ARE YOU INSPIRED BY THE FASHION YOU WEAR ON SHOOTS AND THE RUNWAY SHOWS?
AF: I'm definitely inspired by trends and pieces I see on the runway and on shoots. I would describe my style as 'comfortably-chic.' I'm very committed to shopping sustainably. Occasionally I will invest in a designer piece of jewelry to really bring an outfit together.
A: ARE YOU A JEWELRY GIRL?
AF: I'm more of a minimalist when it comes to jewelry. A little goes a long way.
A: DO YOU HAVE ANY PIECES OF JEWELRY THAT YOU WEAR EVERY DAY AND CAN'T LEAVE THE HOUSE WITHOUT?
AF: Yes, absolutely. I have a small ruby pendant that I purchased on a trip to India a few years ago. I wear it on a thin gold chain that once belonged to my grandmother. An astrologer told me that it would be my lucky gem, and I've never left my house without it ever since.
A: DO YOU HAVE ANY GOLD HEIRLOOM PIECES THAT YOU WERE GIVEN BY YOUR FAMILY?
AF: Yes. Another piece of jewelry that I wear every day is a gold ring purchased by my grandmother in Singapore. She bought the same ring for each of her daughters, and a few years ago, my mother passed it down to me. My hand doesn't feel complete without it!
A: HOW DID YOU FEEL WEARING AUVERE GOLD JEWELRY IN FRONT OF THE CAMERA FOR THE VIDEO SHOOT?
AF: I felt fierce, empowered, confident, glamorous, elevated, and chic.
A: WE KNOW YOU WORE A LOT OF JEWELRY FOR THE SHOOT, BUT DO YOU HAVE ANY FAVORITES FROM THAT DAY?
AF: My favorites were all the earrings I wore. I think the perfect pair of earrings can add a unique element to any outfit.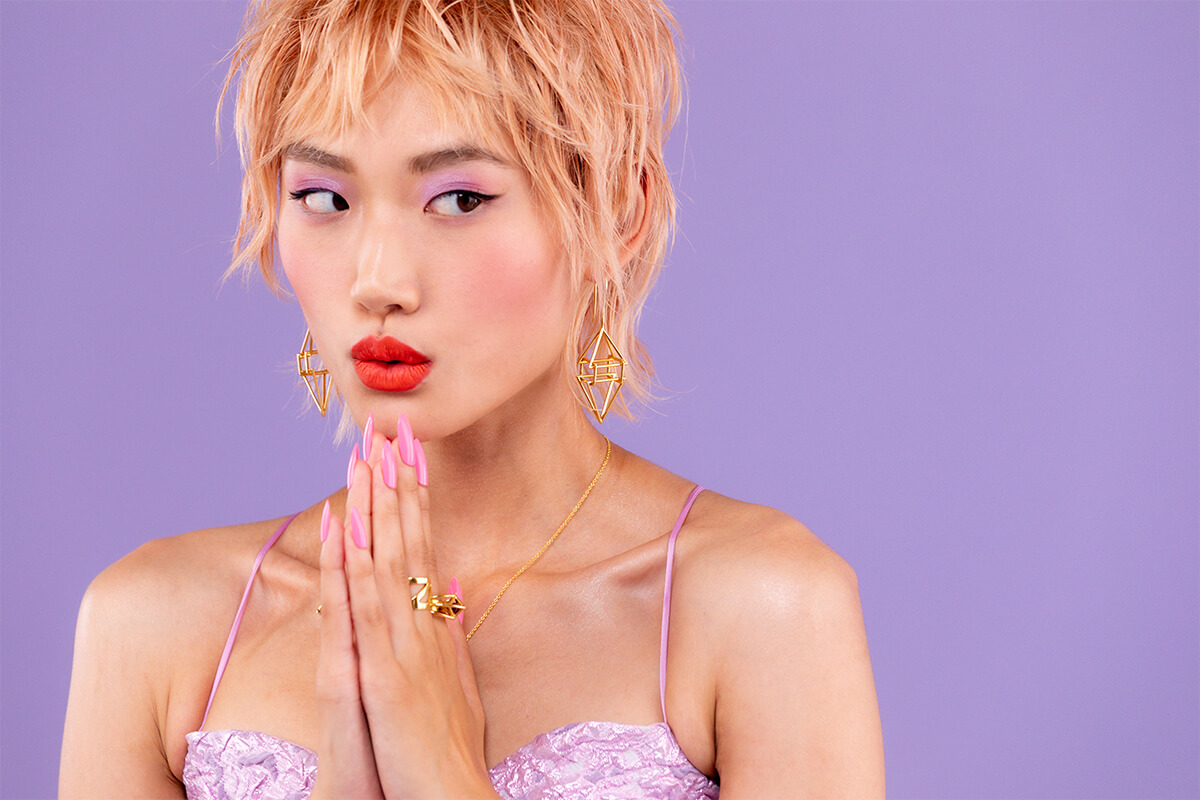 A: YOU OBVIOUSLY HAVE SOME MAD DANCING SKILLS THAT YOU SHOWED OFF DURING THE SHOOT. DO YOU HAVE A DANCE BACKGROUND?
AF: Yes, I danced for ten years, doing mainly jazz and contemporary. Now it's just become a fun hobby!
A: ON A MORE PERSONAL NOTE, YOU RECENTLY UNDERWENT TREATMENT FOR OVARIAN CANCER LAST YEAR. AS A YOUNG WOMAN, CAN YOU SHARE A LITTLE BIT ABOUT THAT EXPERIENCE WITH US AND OUR AUDIENCE?
AF: Last year, I was diagnosed with dysgerminoma, a type of cancer that is treatable in most cases. It's a common type of cancer for young women in their 20's. Shortly after finding out, I had a very intense surgery to remove my right ovary, which had grown to about 20cm in size. After the surgery, I started four months of chemotherapy. By the third month, we realized that the chemo wasn't effective on the tumor on my left ovary, so I had to have a second surgery to remove it. The whole process was long and extremely unexpected. Before this happened, I was a fairly healthy individual. I was 23, ate very clean (fully vegan), exercised 4-6 times a week, slept eight hours almost every night, so discovering this diagnosis was definitely a surprise. Not knowing what is happening with your body can be a very stressful and sad experience. Being able to let go of having control of certain outcomes is a lesson from this journey that has helped me immensely in my current, everyday life. I'm very grateful for the support system I had and the excellent doctors that allowed me to continue living a beautiful, healthy life.
A: DO YOU HAVE ANY ADVICE FOR WOMEN OF ALL AGES ABOUT THE IMPORTANCE OF PAYING ATTENTION TO OUR BODIES AND GETTING REGULAR CHECK-UPS AND EXAMS?
AF: From my personal experience, and as a young person like a lot of others in their early 20's, I thought I was, in a sense, "invincible." We tend to take our bodies and health for granted, and have the misconception that the disease only affects older people. But illnesses do not discriminate. Thankfully, being a Canadian citizen, I have access to great healthcare, which includes check-ups and medical care at my fingertips. But living in New York has made me realize the inadequate level of attention I placed on my routine check-ups due to the lack of healthcare I had access to in the US. Ovarian cancer is specifically known as "the silent killer," so it's important to listen to your body and not ignore the small signs that may not seem to affect you now, but should be checked out before it's too late.