Let's start 2022 right by introducing you to one of our favorite fashion models. Meet Lew Caine. We think he is a dynamo and by the time you've finished reading his interview, we are sure you will think so too.
They say creativity is fueled by curiosity. Well, ever-curious Lew is more than an unforgettable face. In addition to being a fantastic model, Lew is a poet, musician, Mr. Fix It, student of high fashion and life — all while possessing an incomparable sense of style. We are grateful to have met and worked with Lew and cannot wait to introduce him to you.
AUVERE: Hi Lew. Since almost everybody in NYC is from somewhere else, where are you from?
LEW CAINE: I'm originally from Los Angeles. I moved to NYC when I was 19.
A: How did you get into modeling? Were you scouted, or did you pursue being a model?
LC: I was scouted by the late Michael Maddox. He thought I was 18 or 19 and couldn't believe it when I told him I was only 15. He gave me his card and told me to have my mother contact him.
A: If hair is power, then you've got the power. Do you consider your afro a part of your identity as a model? In other words, if you were required to cut it for a job, would you?
LC: My afro is definitely power. It stands for something greater than just me. My friends have always called me a chameleon because I'm never into one style or look, so I wouldn't say that I'm super attached to it. For now it's me and the look I'm comfortable with. Cut it? Well, I guess I would if the job was big enough, but we would have to be talking about a serious bag or a major, major client. The concept would also have to make sense since it's not just about the money.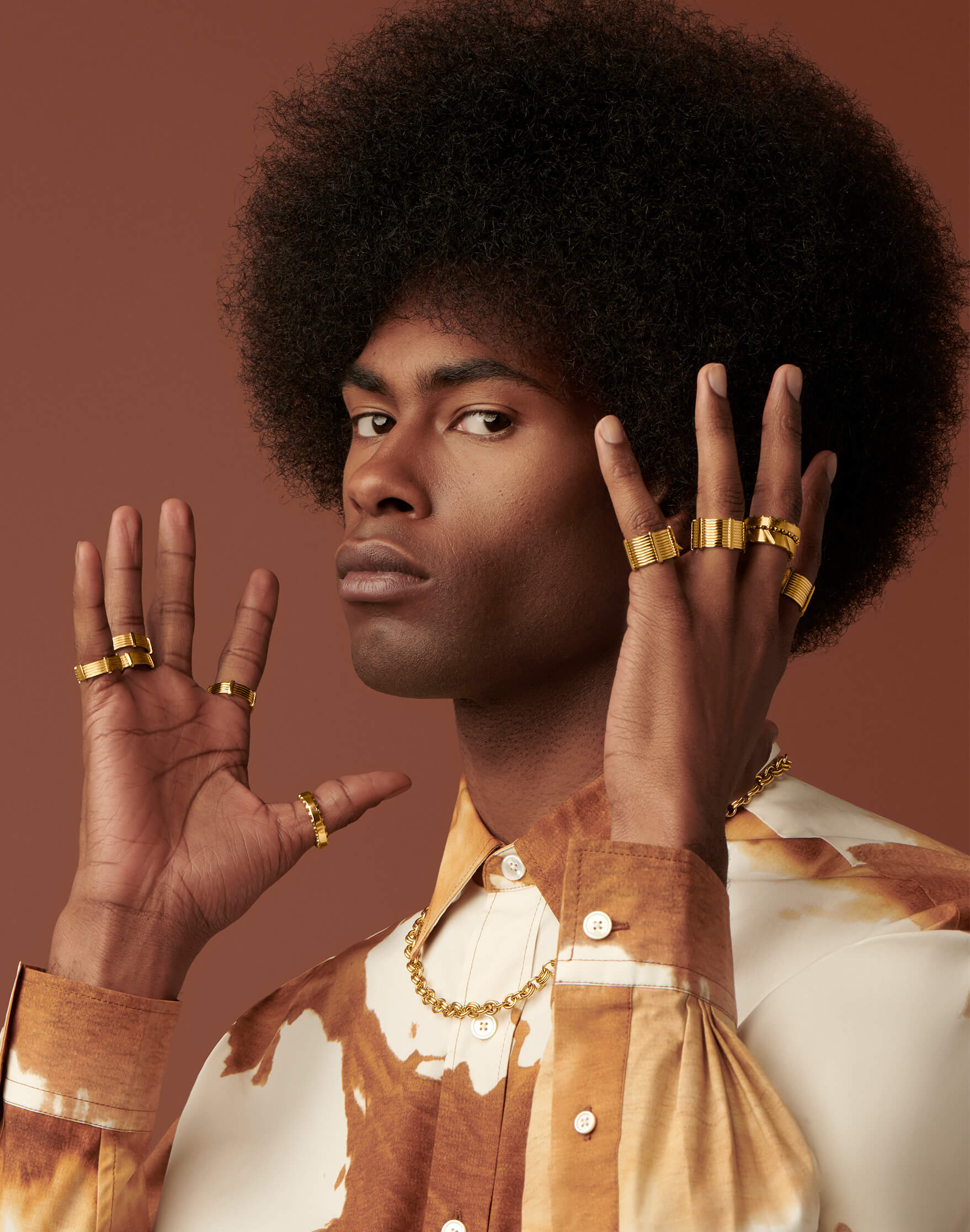 A: Based on your Instagram Page, it seems you are pursuing a few different things in addition to modeling — from music to styling to producing short films. Tell us more about what you love doing when you are not modeling.
LC: I didn't actively pursue modeling. To be honest, the opportunity presented itself, so I ran with it. I was very shy, so modeling made it easy for me to express myself without using my actual voice. I've been writing poetry since I was seven years old. I love to make music. I write and engineer all my own material. I also have a great eye for style and beauty. I believe these skills will help me to become a dope director one day. I'm also interested in acting. And believe it or not, I build things. I'm a low-key mechanic. It's so funny; my friends are always calling me to fix something.
" I've been writing poetry since I was seven years old.
A: Your personal style is brilliant. We noticed that the first time we met you at our video casting in the summer of 2020. Do you have an interest in fashion that goes beyond being in front of the camera?
LC: I really appreciate Auvere recognizing my personal style and labeling it brilliant! But it wasn't always that way. I used to have horrible style and didn't start to catch the eye until around the eighth grade when I moved to a diverse and fashionable school, which changed my perspective. Since then, I always thought I would be a stylist or director working behind the scenes, but somehow I ended up in front of the camera.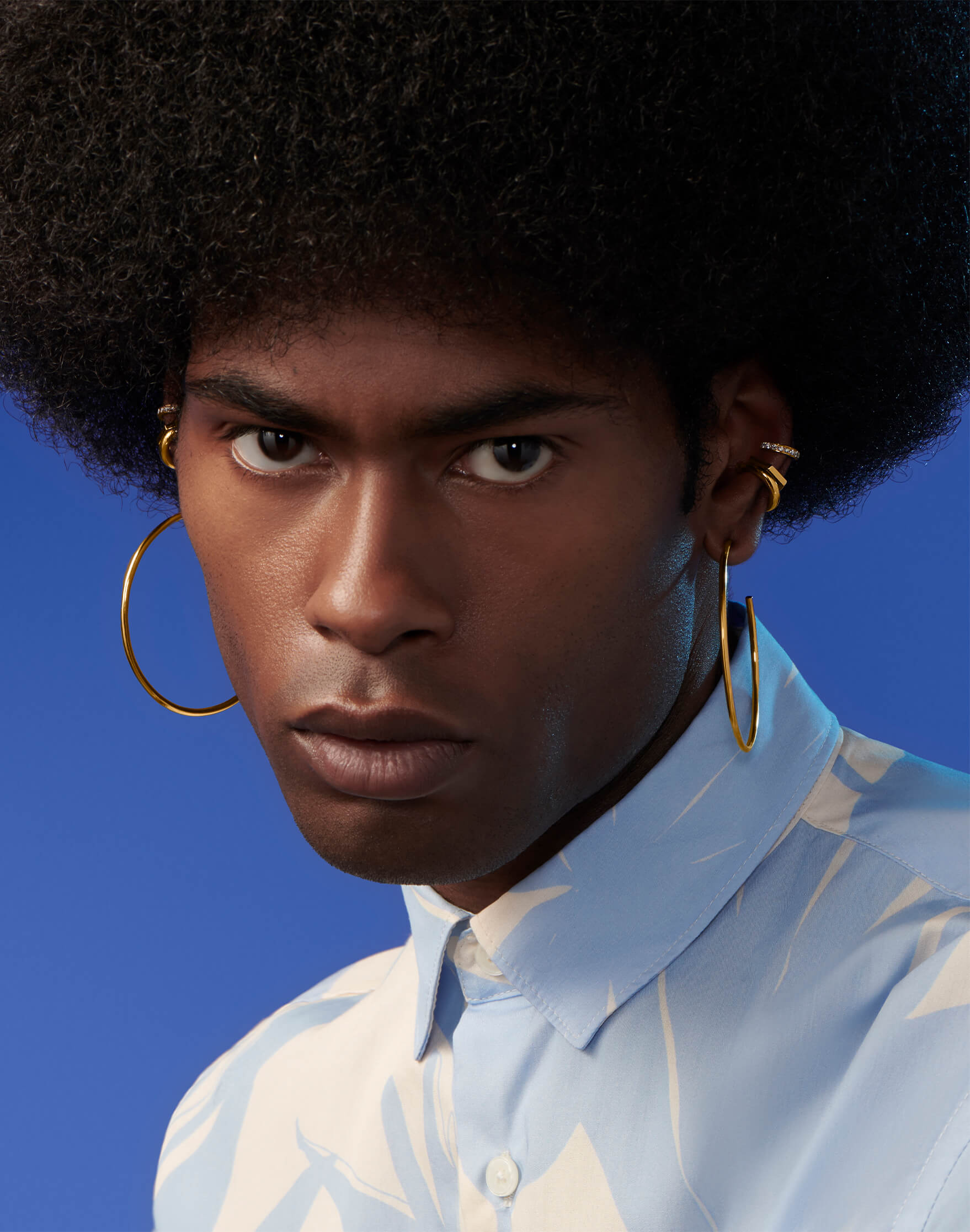 A: We know that you are a fan of vintage pieces. Tell us more about how you curate your look.
LC: That's a difficult question. If I told you everything that inspired my looks, the list would never end, but it's more about nature than fashion. I'm a chameleon, so it's more spontaneous for me. I have days when I'm fly, and just sit around and listen to classical music because it makes me feel good. Some days I change outfits four or five times and just go for walks to see how people react. But I can say that my style usually reflects my current mood. My "baggy" days represent freedom; maybe I was looking at birds that day. But I also have dark days and might have been looking at Lee McQueen's (my favorite designer) work. It's always a mystery.
A: Who are your style icons, and why?
LC: Lee Alexander McQueen! I wish I could have had just one conversation with him. Talk about brilliant — that was Lee. He was an evil genius with an angel approach. It's deeper than fashion. Lee came from nothing. Lee had no training. He was his own influence. Most designers see something and just manipulate it, but not Lee. It was all from within, and I respect that. His pieces and shows were literally a representation of what he was feeling. If I could hop in a time machine and go anywhere, it would be to see his Spring/Summer "Voss" show in 2001.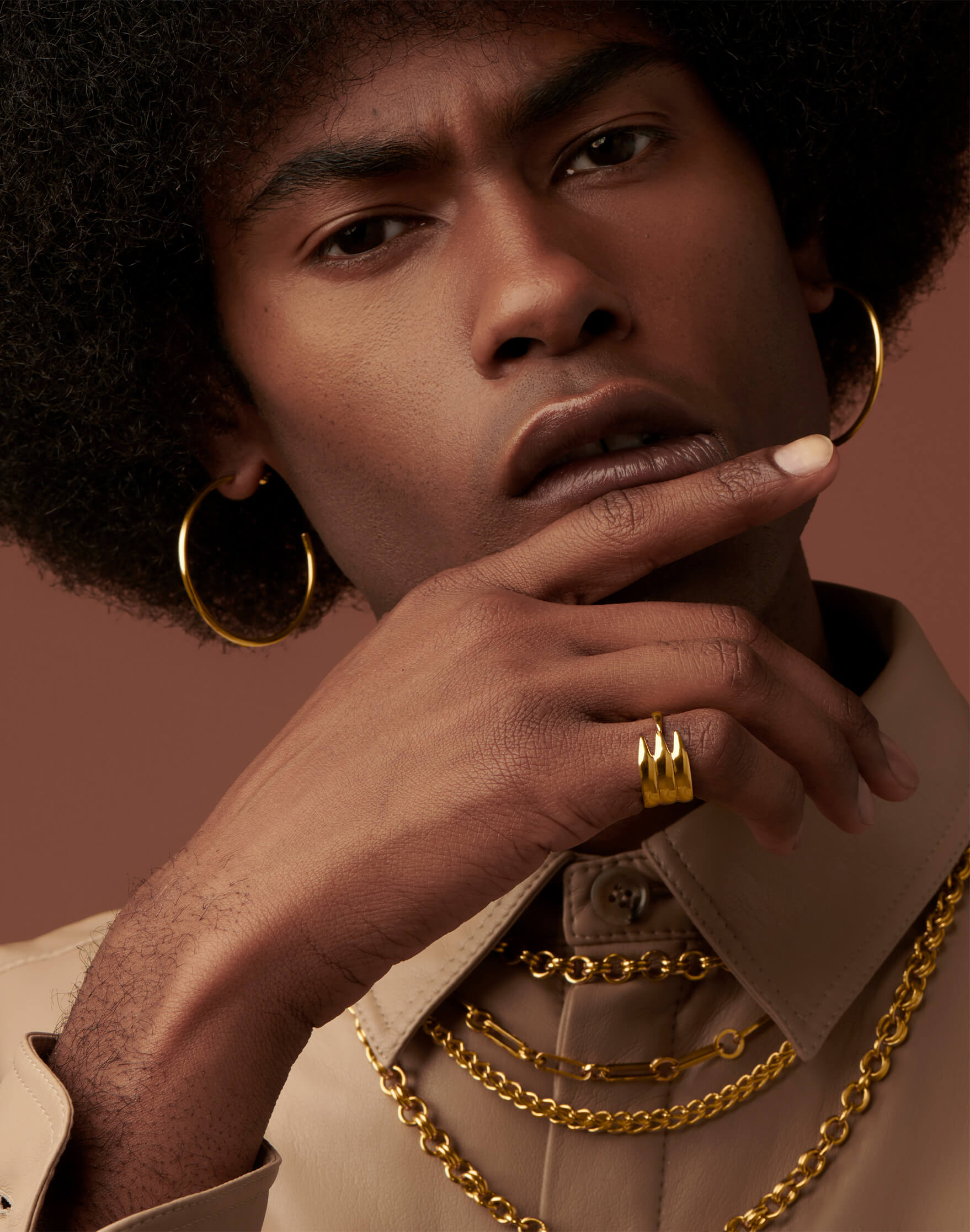 A: Let's talk about jewelry. Do you consider yourself a jewelry guy? Are there pieces in your collection that you wear every day, or do you prefer to mix it up?
LC: Jewelry has always been a thing for me. Who doesn't love accessories? I've gone through a lot of different stages with it. Most of my pieces come from friends who design them. Supporting my culture is big for me, and I would say that I like to switch it up.
" Gold is definitely an asset.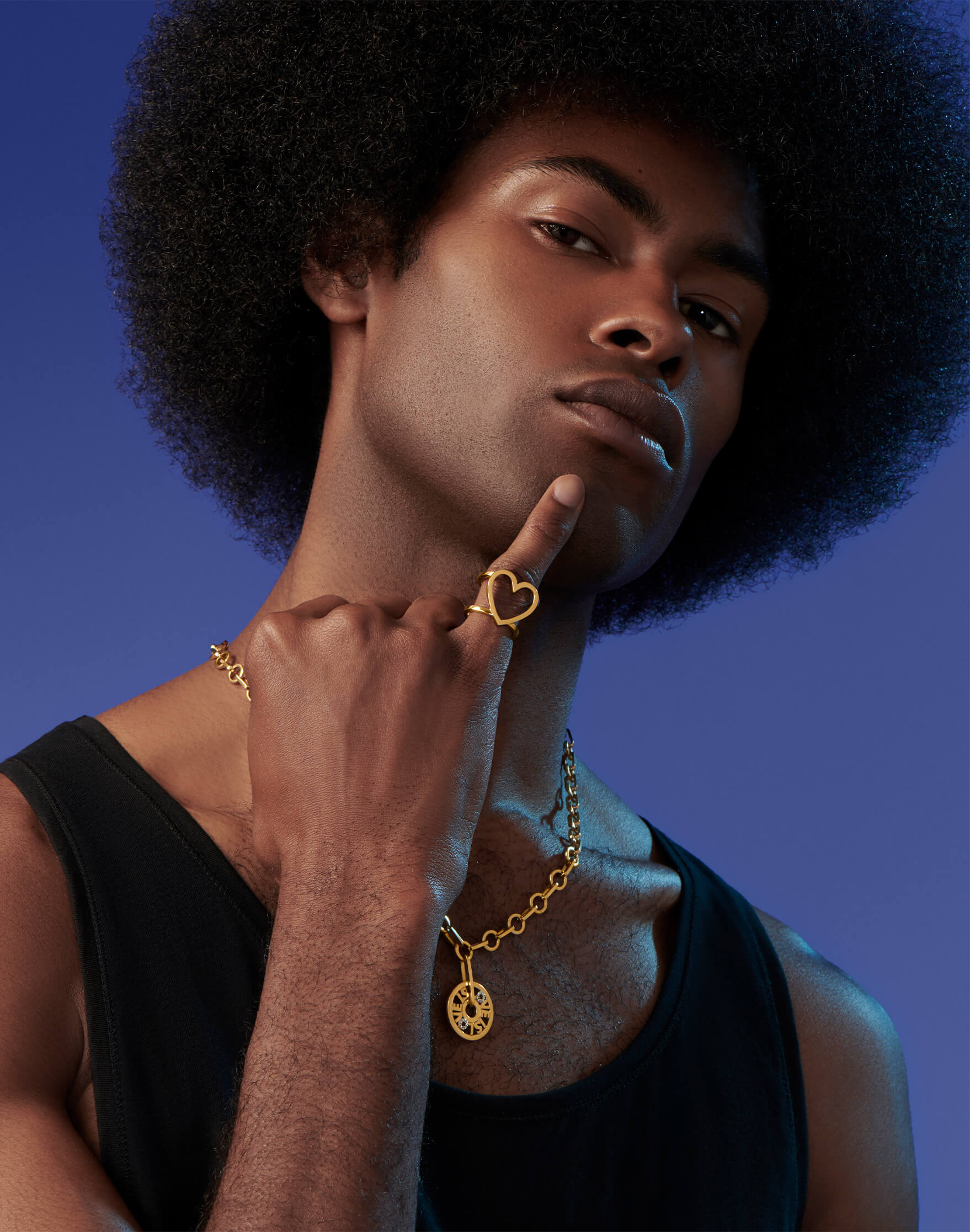 A: We love how you look in our 22 and 24 karat gold jewelry. Are you a fan of gold jewelry? If so, why?
LC: Auvere's 24 karat gold pieces had me shining like the real deal! Some of the pieces from the shoot that are very unique. I find myself wearing and collecting gold jewelry and diamonds. Gold is definitely an asset.
A: What style advice would you give to men who are interested in wearing jewelry but might need a little help in building their own collection?
LC: My advice to any man (or woman) would be to follow your gut. Whenever you pick up a piece of jewelry or clothing and put it on, don't ask your friends what they think. Go off how it makes you feel. At the end of the day, only you truly know what makes you happy. Don't look for influence. Be unapologetically you, and you will become the influence. Just be like Lee! And definitely check out Auvere's collections. They are so fire!
A: Thank you, Lew. We think you're fire too!