Our love of gold goes beyond jewelry. From our point of view, gold exists not only as an adornment for the body, but also in the worlds of art, design, architecture, cuisine, and beauty. Gold illuminates and creates an instant rich glow wherever used, including on the face. Unlike our jewelry, where we celebrate the weight and heft of true 22 and pure 24 karat gold, when used as makeup, a light touch is advised.
We met up with one of our favorite makeup artists, Paul Venoit, to give us some insight into the how and why of his dramatic gold makeup on fashion model, Maryse, for one of our photoshoots.
Auvere: YOUR GOLD EYE ON MARYSE IS FABULOUS! IT'S UNCONVENTIONAL AND UNEXPECTED. WHAT INSPIRED YOUR GRAPHIC APPROACH TO GOLD EYE MAKEUP?
Paul Venoit: Thank you for your kind words. I was inspired by the modern elements of Auvere's jewelry. My objective was to create an alternative look that complimented the model's skin tone and features and added to the luxurious experience of wearing gold. The bold graphic liner was the sole element that tied the look together. The burgundy lip created balance and anchored the look without competing with the jewelry.
A: WHAT PRODUCTS DID YOU USE TO CREATE THIS LOOK?
PV: Prepping the skin is the basic starting point for all my makeup looks. I applied several serums, oils, and moisturizer before adding any makeup. Good skin prep is key to achieving a modern, illuminating finish. Once I finished the skin prep, I applied a sheer wash of gold pigment on the eyelid to create a veil for the gold liner. Using a wet angled brush dipped in gold pigment powder, I dragged the brush along the lash line and slightly extended it at the end to give drama and width to the eye. And to pull it all together, I used a bold lip color.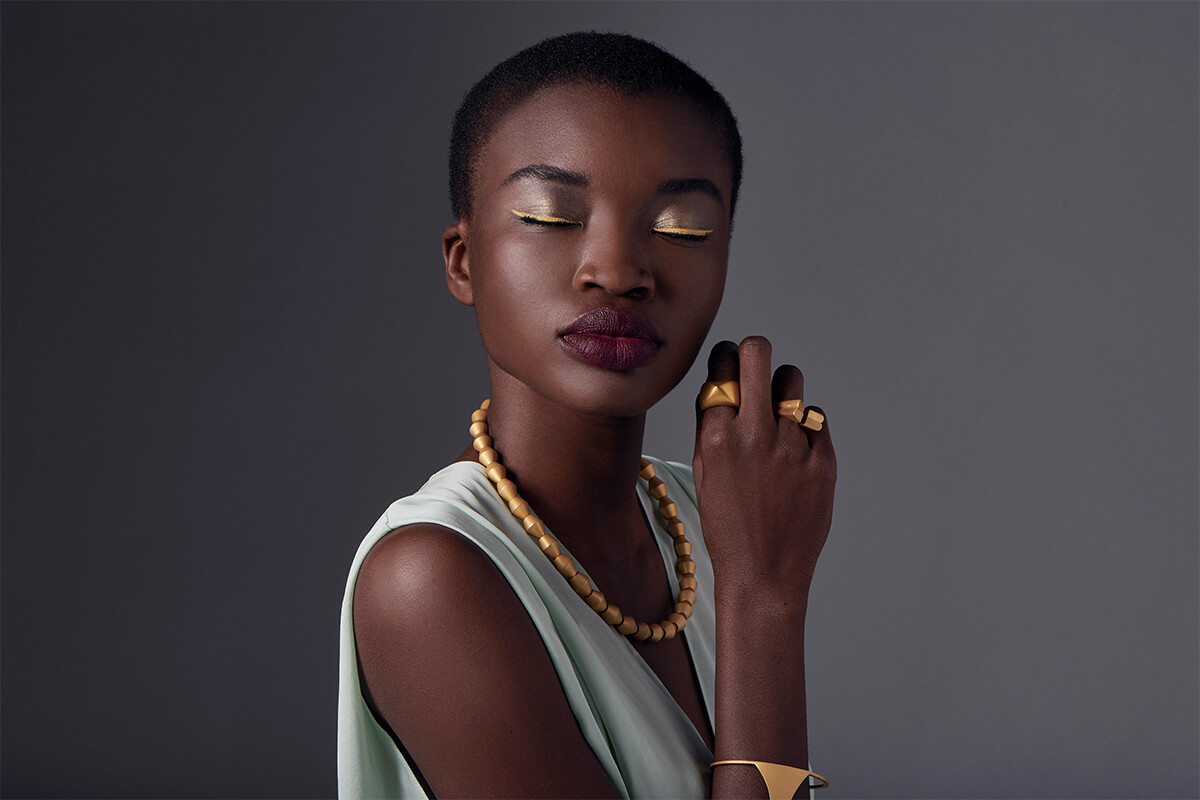 A: HOW CAN A WOMAN INTERPRET THIS LOOK AND MAKE IT HER OWN?
PV: My advice is to step outside of your comfort zone. Be different. Remember that it's only makeup – it's not permanent. I always tell my clients to play with color. Opt to replace the traditional black eyeliner with color, and in this case, gold.
A: DOES GOLD MAKEUP WORK FOR EVERYONE? CAN YOU SHARE SOME TIPS FOR MATCHING GOLD TONES TO VARIOUS SKIN COLORS?
PV: Depending on your skin tone, not all golds will be flattering on the skin. Generally, yellow gold compliments warmer & darker skin tones. If you have fair or cool-toned skin, try not to use yellowy golds, they tend to accentuate the red pigment in the skin and can wash out your look.
A: WHAT ARE OTHER WAYS WOMEN CAN USE GOLD IN THEIR MAKEUP LOOK?
PV: Try incorporating elements of gold in eye shadows, highlighters, glosses or in a body glimmer. Nothing looks sexier than gold flecks of sparkle on a body, especially on tanned legs, arms, and décolleté. Spring and summer are coming, and this is the perfect time to experiment with gold on the body.
A: WHAT ARE YOUR FAVORITE GOLD BEAUTY PRODUCTS?
PV: Golden glosses. I use them on the lips, cheekbones, and eyelids. A touch of gloss elevates the look and doesn't overpower the face.
A: WHAT DO YOU ENJOY ABOUT WORKING WITH GOLD?
PV: I love the richness and depth of gold. Golden tones on the skin feel powerful and magical, just like Auvere jewelry