Welcome to Fashion Speaks! In our newest AU Journal series, Auvere's co-founder and designer, Gina Feldman Love, speaks with fashion insiders about their roles in the fashion industry, shares their opinion on how the fashion and beauty fit into the current environment and gets their take on the latest trends in jewelry. Our second edition of Fashion speaks features freelance fashion and lifestyle content creator and fashion editor, Ashley Kiely!
Gina Feldman Love: Welcome to Fashion Speaks, Ashley! Tell us a little bit about yourself, your role in fashion, and how you got there.
Ashley Kiely: Thank you! Well, I'm a freelance fashion and lifestyle content creator, which encompasses writing and editing, styling, brand consulting, and more — I wear many hats. Prior to freelancing, I was the Fashion Editor for PeopleStyle magazine (sadly it's no longer around) where I covered all of the ready-to-wear markets and developed fashion editorial concepts for print and digital. This was an important time of growth for me — I started as a Fashion Assistant and worked my way up to edit top-rated stories, spearhead special fashion projects, and style feature stories. Before joining PeopleStyle I was a Fashion Assistant at SELF magazine and I also freelanced as an assistant for market editors and stylists.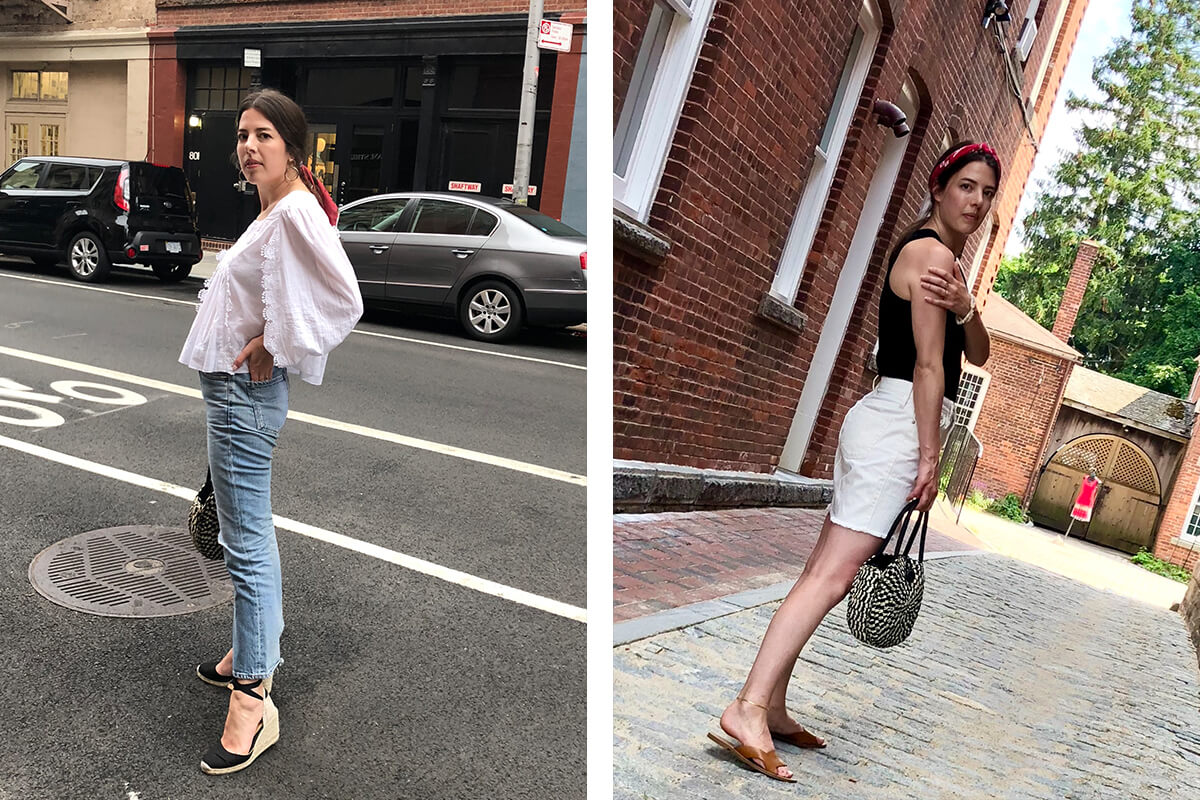 As far as my journey goes, for as long as I can remember I was into fashion, dressing up, and creating stories. I studied strategic communications and English literature in college. I was fortunate to land internships in New York City for the summers and post-grad in different parts of the industry — advertising, public relations, and editorial — which gave me a greater understanding of how they all functioned and interacted with one another — knowledge that still helps me to this day.
GFL: What's the most glamorous part of your job?
AK: Being able to get a first look at new collections and products at fashion shows and industry events is an exciting part of the job. I also love meeting new people I can learn from and this career path has put me in the same room with talented designers, creatives, and business leaders, which is very inspiring.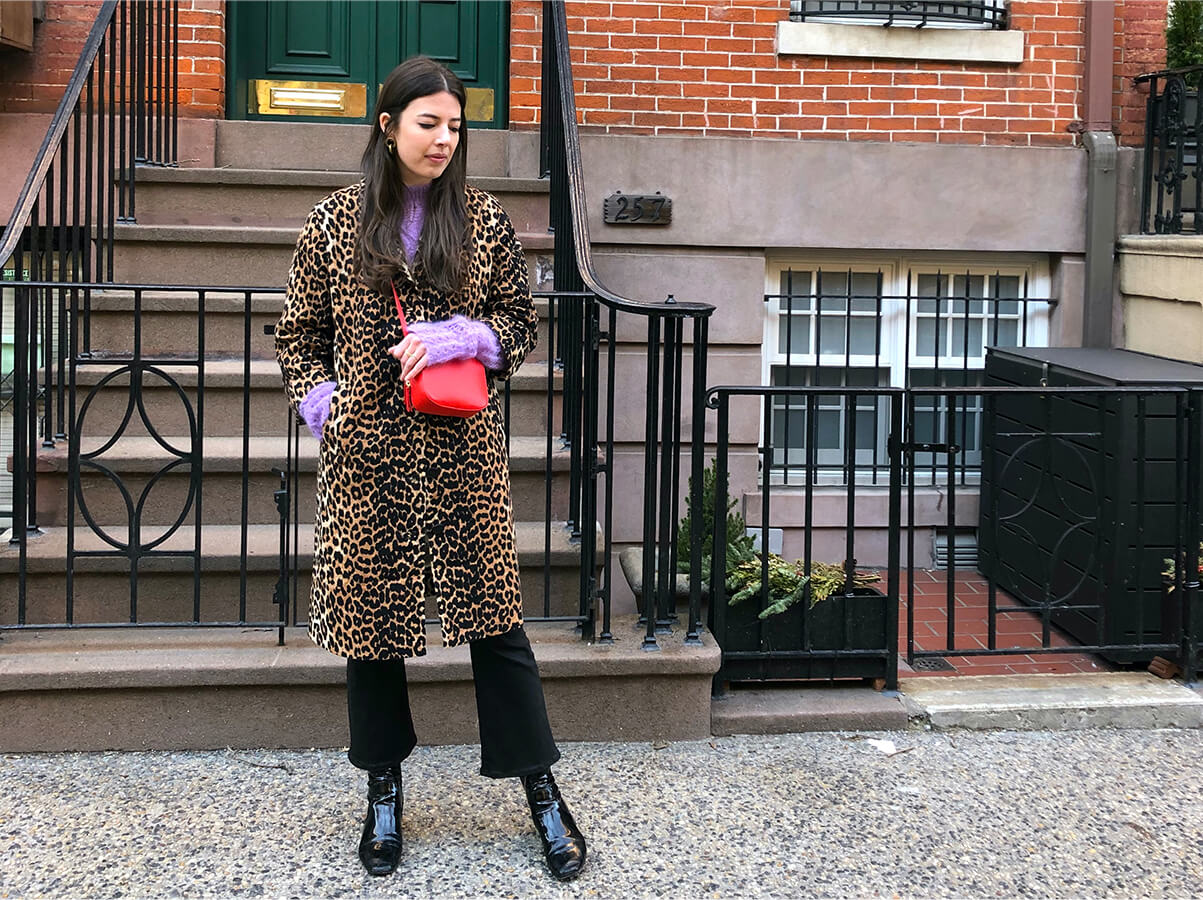 GFL: How has your work changed since the "stay at home" order was put into effect in NYC on March 22?
AK: Since I started freelancing, a lot of my work has been remote, so in many regards, there hasn't been a big change in how I operate. However, all on-site projects have now shifted and I'm now viewing new collections and products over email, Instagram, and video calls instead of in a showroom.
GFL: The pandemic has thwarted so many of our plans for, and expectations of, 2020. Can you tell us how this new reality has affected you?
AK: I'm a planner and the uncertainty during this time is stressful, so I've been trying to just focus on one day at a time — some days I'm better at doing this than others. This time has made me even more grateful for what I do have and will make me even more appreciative and excited about getting to do the things I love when it's possible again — like spending time with friends and family, traveling, enjoying a delicious meal at a restaurant, and going to favorite spots in NYC.
GFL: Many of us are trying to create some normalcy in our lives during abnormal times. Is there something specific that you are doing that may inspire us to do the same?
AK: When it comes to remote working, sticking to a routine, and creating a designated workspace has helped me maintain a sense of normalcy. I also have Zoom and FaceTime calls with friends and family (wine and/or cocktails are often involved, too) each week, which allows me to still feel connected to my loved ones even though we can't be together in person.
GFL: How do you see fashion, jewelry, and accessory trends changing in the near future?
AK: Given the current situation, many people may be more cautious about what they put their money toward. Keeping that in mind, I think we may see shoppers gravitating to timeless, investment pieces they'll turn to for years to come (a/k/a "forever pieces") instead of trendy styles that could fall out of favor after a season.
GFL: What item in your jewelry collection will you be most excited to wear out when we are able to socialize again?
AK: A set of vintage, chunky gold hoops that my grandmother literally took off her ears and gifted to me when I saw her this past winter.
GFL: Ready for a few personal questions relating to jewelry and style?
What's your favorite piece of jewelry?
AK: Anything my grandmother and my mother have given to me holds a special place in my jewelry box and my heart. If I had to pick one piece, I would say it would be a birthstone ring (I'm a May baby, so it's emerald) that my mom gave me when I was a little girl.
Favorite jewelry trend right now?
AK: I'm into the chain-link jewelry trend that's been popping up all over — especially the necklaces. A gold chunky chain style will bring a nice touch to an outfit when worn alone, yet it's also a versatile piece that'll play nicely with other necklaces.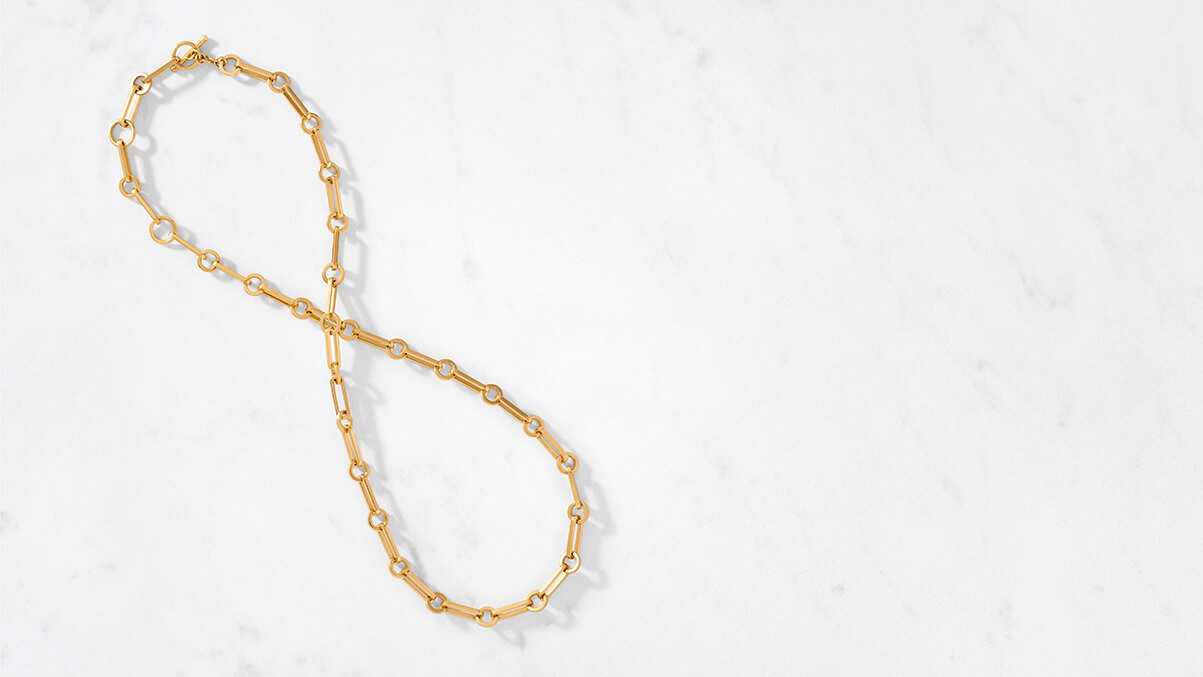 Jewelry trend that you are not willing to try?
AK: Hmm... I can't think of one I wouldn't at least give a try.
AK: I'm going to pretend this question was plural because it's too hard to choose just one—Audrey Hepburn, Jacqueline Kennedy Onassis, Françoise Hardy, Jane Birkin, Carolyn Bessette-Kennedy, Sofia Coppola, and Mary-Kate and Ashley Olsen.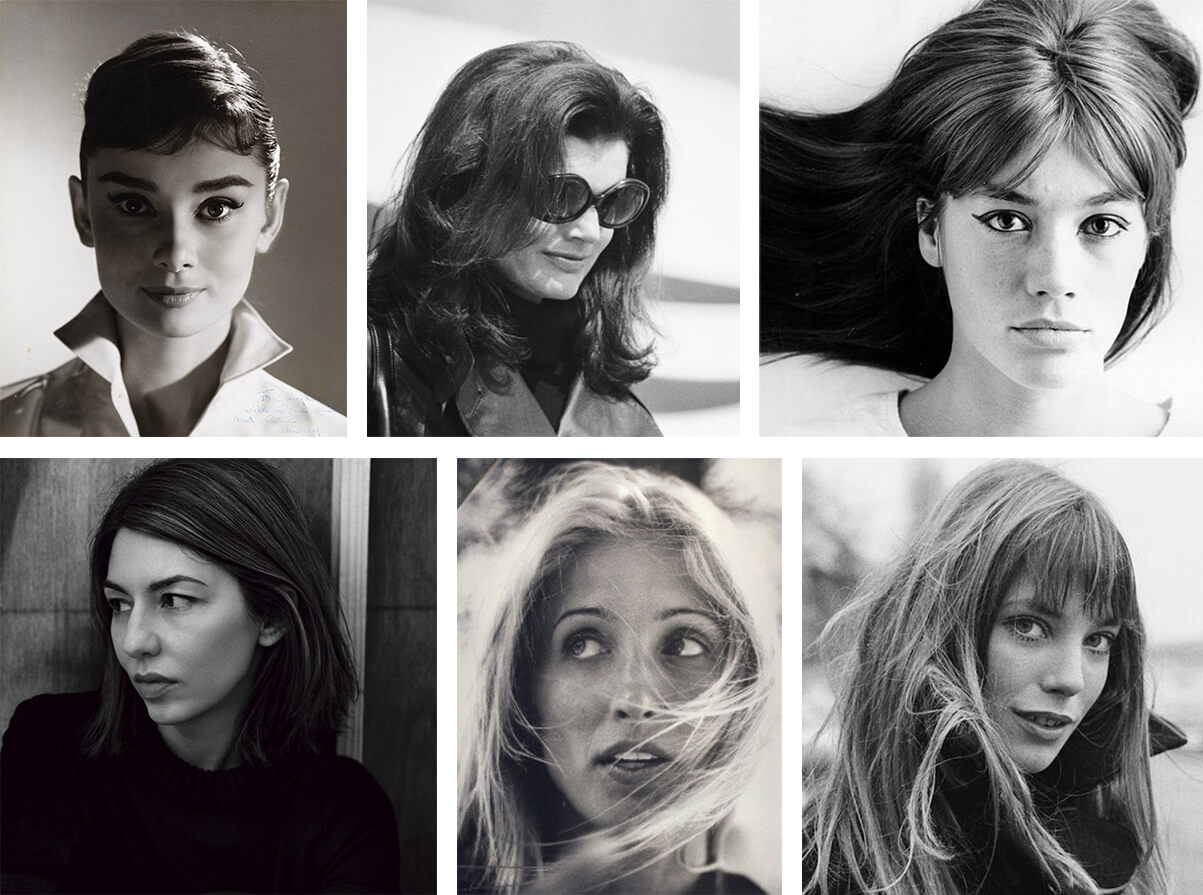 Favorite style social media influencer at the moment?
AK: Same goes for this one! These women are so much more than just social media style influencers, but I'm checking their fashionable feeds more often as of late: @pernilleteisbaek @leandramcohen @camillecharriere @alexachung @lisa.aiken.
GFL: If you could wear any piece of Auvere jewelry right now, which piece and why?
AK: Easy! The Byzantium 24k Ring with rubies. I have a family of rings I slip on every day, and this piece would fit in perfectly. I love the ring's vintage-meets-modern look and that its simple silhouette has been given an eye-catching twist, thanks to a few luxe rubies.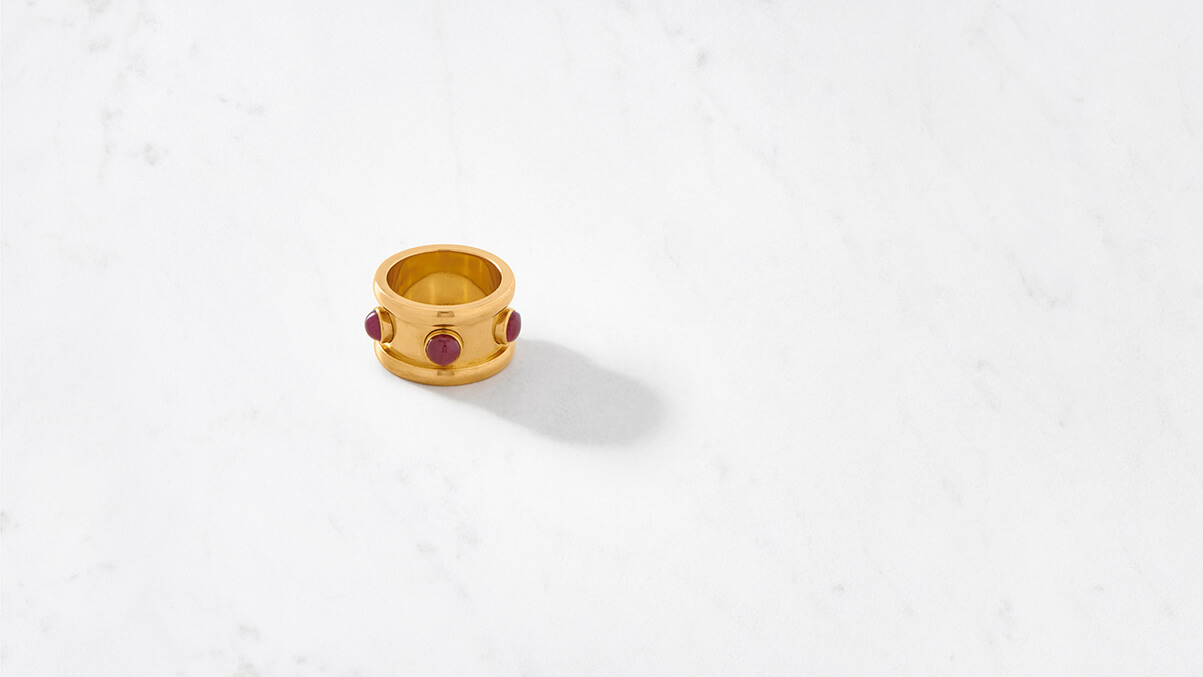 Want to know more about Ashley? Check her out here and here.