Welcome to Auvere's newest series, Fashion Speaks! In our newest AU Journal series, Auvere's co-founder and designer, Gina Feldman Love, speaks with fashion insiders about their roles in the fashion industry, shares their opinion on how fashion and beauty fit into the current environment and gets their take on the latest trends in jewelry.
Up first is Harman Kaur Pradhan! Harman has over 15 years of experience in the fashion industry. She's worked with several top magazines and fashion houses, including W Magazine , Harper's Bazaar, Versace and BCBGMaxAzria. Previously, Harman served as the Senior Fashion & Accessories Editor at Life & Style Weekly while also coordinating celebrity shoots and television segments for Life & Style Weekly and InTouch Weekly that were aired on various major networks, including NBC, ABC, and E! Harman is an expert at what translates well on camera and on the red carpet. Her knowledge has garnered her a tremendous amount of exposure across digital and print platforms. Currently, Harman freelances for a range of monthly and weekly publications, including an array of digital media and focuses on the fashion, beauty and lifestyle markets.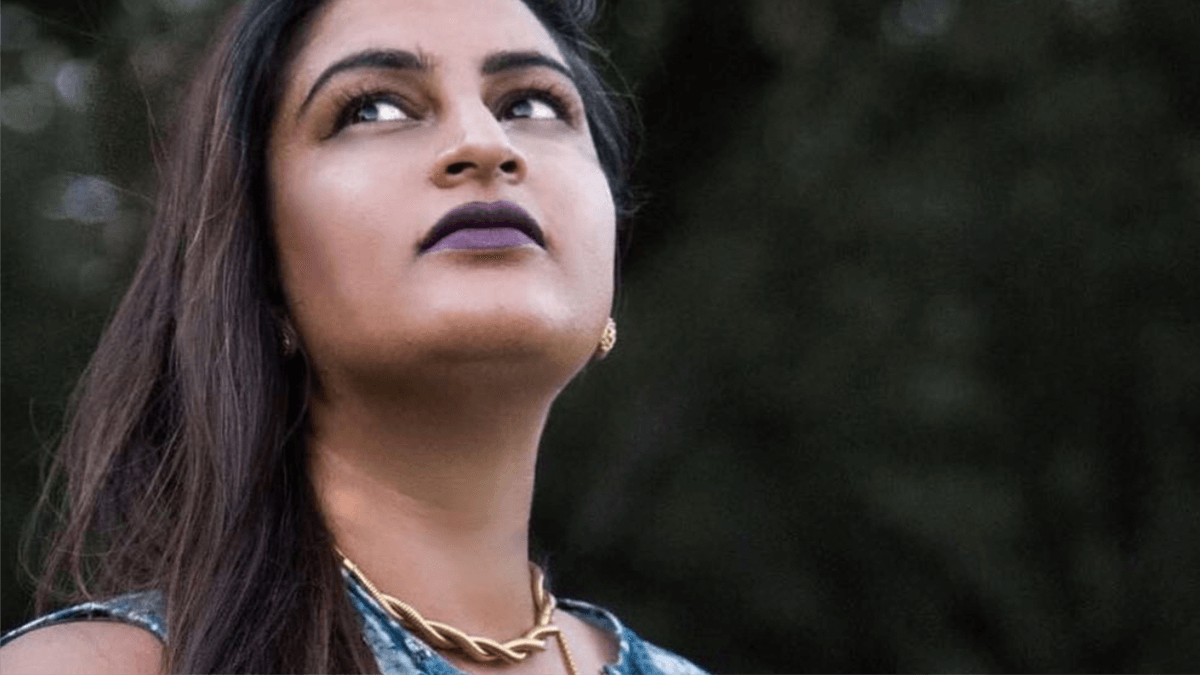 Harman Kaur Pradhan via Instagram.
Gina Feldman Love: Harman — it's a pleasure to meet you! Can you tell us a little bit about yourself and your role in the fashion space?
Harman Kaur Pradhan: Absolutely! I am a freelance Fashion & Beauty Editor and contributor to a range of national and regional publications as well as several online outlets. My work ranges from styling cover shoots with the latest seasonal trends to bringing awareness to the most current launches in the beauty marketplace .
GFL: What's the most glamorous part about the job? What is a common misconception about your job? HKP: I love being at the forefront of trend predictions and trend creations as well as getting my hands on the latest launches from my favorite beauty brands before they are released to the public. It's quite exhilarating. Although my job offers many perks, it takes a lot of patience and perseverance to sustain yourself in this extremely competitive industry. In addition to being a master multi-tasker and coordinator when dealing with publicists and working with samples for shoots and stories, it is critical that I maintain good and honest relationships with my peers as well as fashion and beauty brands.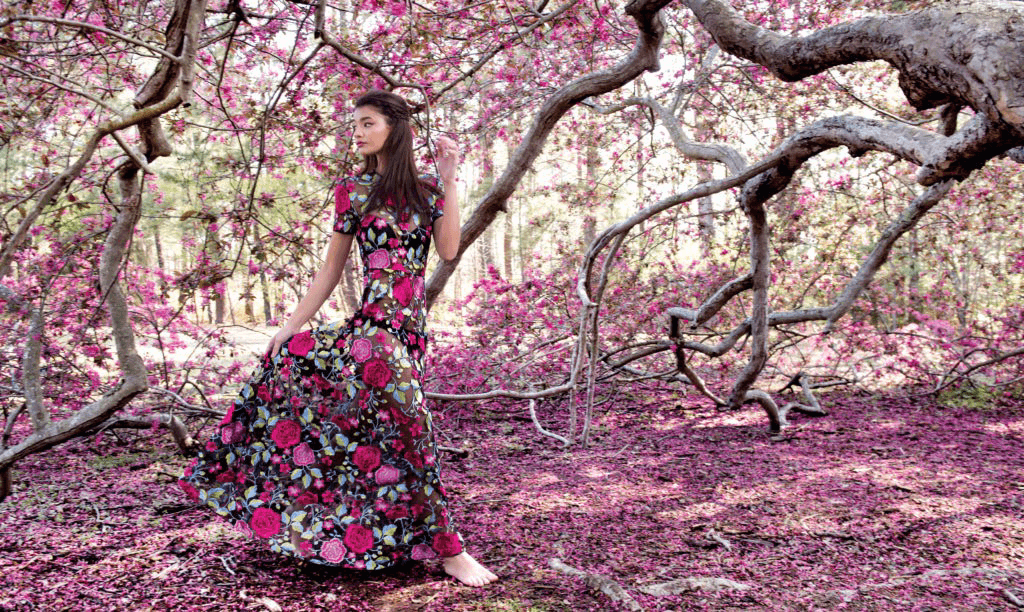 Styling by Harman Kaur Pradhan
Photographer: Todd Wright
GFL: How has your workflow changed now that you are working from home?
HKP: As many publications have put their fashion shoots on a temporary hold, I am now working on stories that don't require photography and can be templated and created from home. I have been working remotely with graphic designers who are now designing the print pages from home. In that sense, work is pretty much business as usual, even if performed remotely.
GFL: The coronavirus pandemic occurring right now has changed so many of our plans. How has the current crisis affected the way you work?
HKP: Working on beauty stories is challenging. In order to truly assess a product, one must touch and test it. With most publicists working remotely from home and hesitant to receive packages, making product selections for stories hasn't been easy.
GFL: How do you see jewelry and accessory trends changing in 2020?
HKP: In the current climate, I think that people will buy less costume jewelry and more investment pieces that include precious metals. With disposable income potentially shifting downward for many people, I believe consumers will want a piece of jewelry that will retain its value over time and not just for the current season.
GFL: What item in your personal jewelry collection will you be most excited to wear out when we're able to get back to out again?
HKP: As soon as I am able to go out for a normal dinner again, I will immediately return to stacking up my statement rings. I have a teardrop emerald ring that I am particularly excited to wear.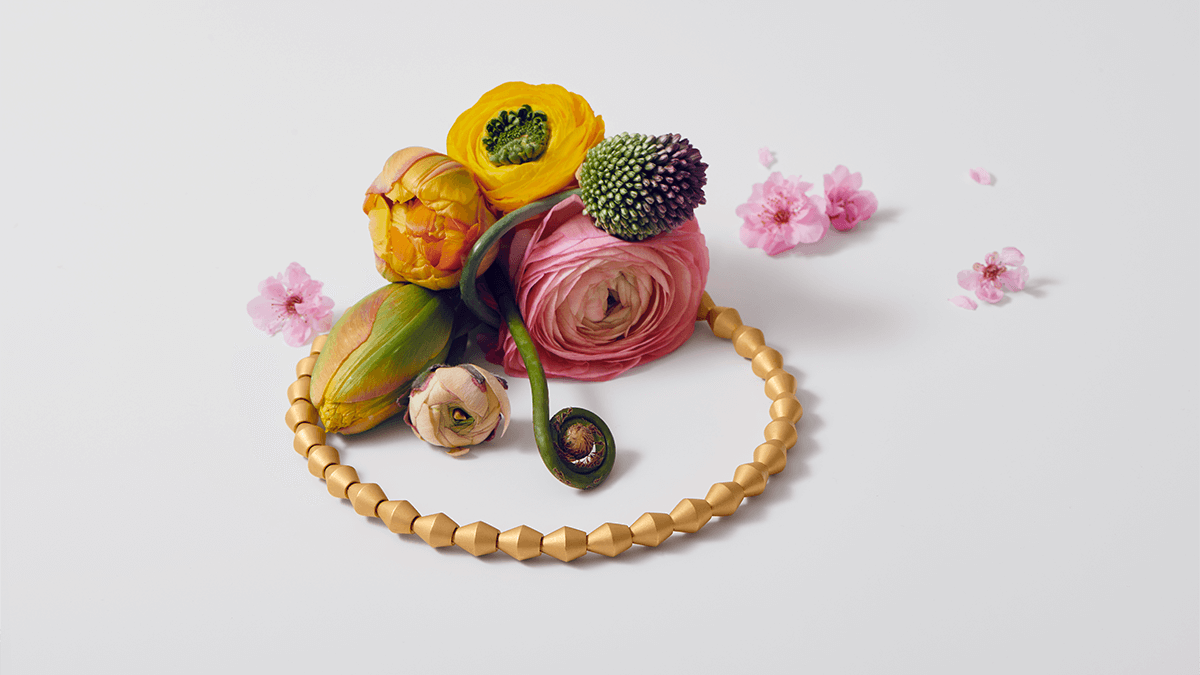 Auvere's Valo L Necklace handcrafted from solid 22 karat gold
GFL: Many of us need to create a sense of "normalcy" in these uncertain times. What are you doing to create your own sense of peace these days?
HKP: Currently, with a 5-month-old baby, I haven't had much time for "free time activities"; however, I've been organizing my closets and creating a proper filing system in my home office — two things that I've wanted to do for years. It feels so nice to be so organized!
GFL: What's your most treasured piece of jewelry?
HKP: My most treasured piece of jewelry is a solid 22K gold bangle I bought during a trip to India to do wedding shopping before I got married. When I visited the few family members I have left in India, some still living in very tiny and rural villages, they gave me money as a blessing for the new life I was about to embark on. I knew that it took a lot for them to make such a kind gesture, so I pooled all of the money together to buy the bangle as a keepsake. It's my way of remembering them, acknowledging where my family's roots and how far we have progressed. I never take it off. Not ever!
GFL: What's your Favorite jewelry trend right now?
HKP: Culturally, as I am of Indian descent, I am a sucker for anything 22 karat gold and am so excited that brands such as Auvere are making 22 karat gold jewelry more accessible in a modern and wearable everyday type of way.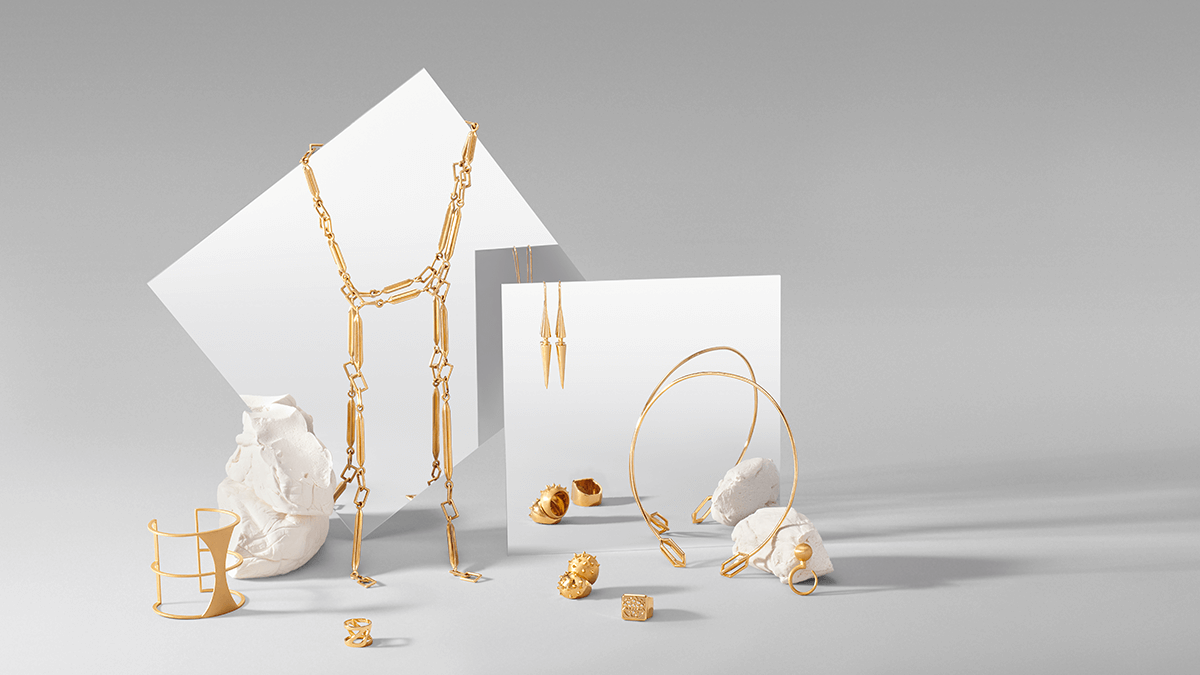 GFL: Who is your favorite style icon?
HKP: Shay Mitchell.
GFL: If you could wear any piece of Auvere jewelry right now, which piece would you choose and why?
HKP: Auvere's Stud Band Polished would be my first choice, hands down. This ring is easily stackable and can be worn alone or paired with other rings. I love how it has an edgy yet refined feel, giving any look equal parts drama and sophistication. Jewelry lovers will quickly appreciate this piece of luxury.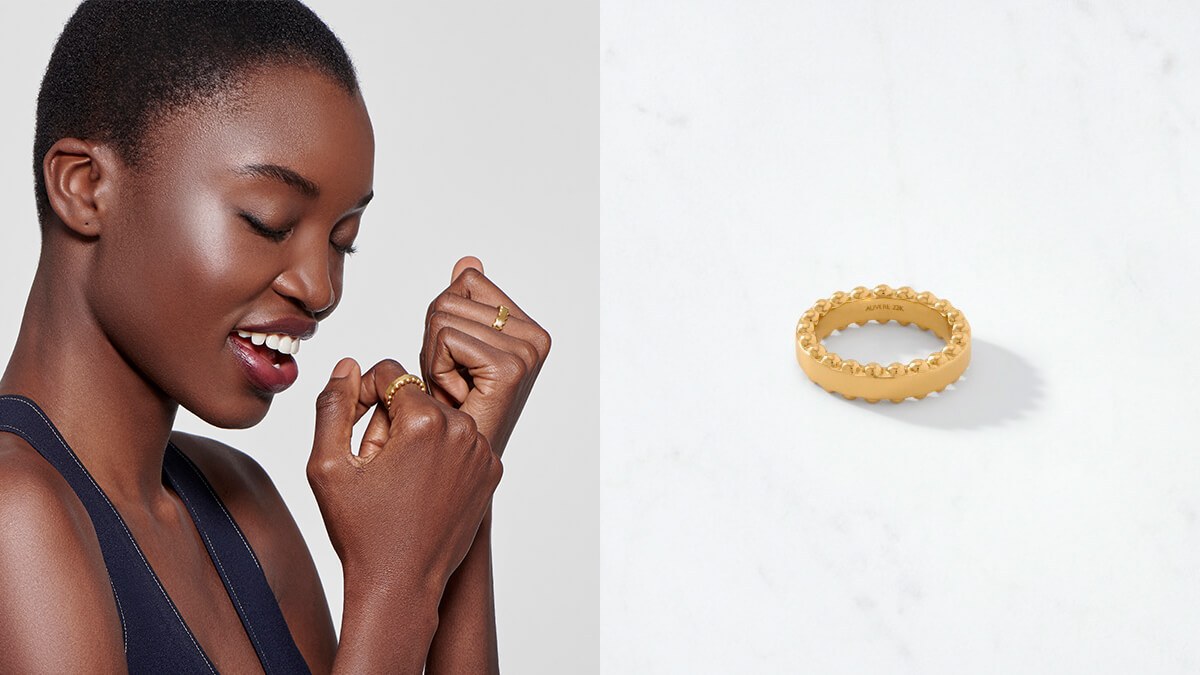 Want to know more about Harman? Check her out here and here.