Isn't it great when someone just gets your vibe without a whole lot of explanation on your part? That's how we felt when we first saw a sketch of our jewelry created for us by fine artist and illustrator, Hillary Sorrentino. She understood immediately our linear, but playful approach to design and pure gold. Her sense of our brand and what we try to evoke with our jewelry was so spot on that we commissioned two more drawings and we got her to chat with us about herself and her work.
Passionate about art and design from an early age, Hillary trained to be a fashion designer at Rhode Island School of Design. After spending 15 years in the world of fashion design, she pivoted back to her first love because she missed the process of drawing and painting. Nowadays, Hillary traverses between fashion illustration and fine art.
As designers and makers ourselves, we enjoy learning about what makes fellow creatives tick and how they do what they do. So, without further ado, please meet Hillary Sorrentino.
Auvere: Tell us a little bit about your background.
Hillary Sorrentino: I've enjoyed drawing and art from a young age. I grew up on the Jersey Shore. Being so close to NYC helped to nurture my passion for art because I was able to visit museums fairly easily and soak up the city's atmosphere. During high school, I participated in summer art camps and began attending a nude figure drawing classes. I always took my art seriously and I've worked hard to improve my skills.
A: You STARTED OUT in fashion design. How did you transition into fine art and fashion illustration?
HS: I planned to major in Illustration at RISD, but once I was exposed to other areas of study, I became intrigued by fashion design. It offered a nice balance between illustration and working in 3D, which was a new and exciting challenge! After working as a designer in NYC for almost 15 years, I found myself doing less and less hands-on work. I realized that what I missed the most was drawing and the process of creation. After my older son was born, I decided to pivot and get back to my passion for illustration and painting.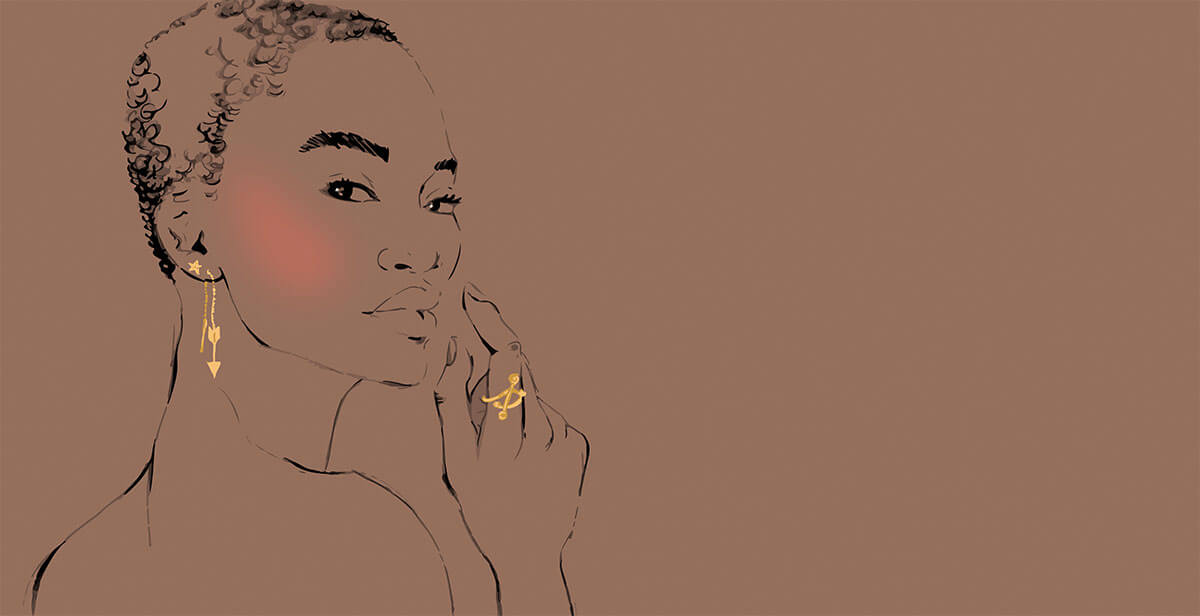 A: What drew you to Auvere and what inspired the drawings you made for us?
HS: I love the wearability of Auvere. The collection may be worn daily or for a night out. Auvere is a quintessential NYC brand with a vibe that is unfussy, strong, and confident. The designs are clean and modern, yet exude warmth and ease. And I adore gold. Is there any color more perfect? When creating the drawings I felt it was important to think about simplicity of line and curve (likely very similar to how Gina designs Auvere's collections). I decided to pare down my usual loose brushwork and create precise line art drawings that would showcase the jewelry.
A: Walk us through your process for making these illustrations?
HS: I began the process by selecting a series of model shots that had a nice variety of pose and angles. From there, I created a rough pencil sketch, and then re-drew my image on watercolor paper using black pencil and a brush with India ink. I also work digitally, so after scanning in my drawings, I tweaked them in Adobe Illustrator and added in the cheek blush and color fill. I love working in a mixed media way. Especially traditional methods mixed with modern.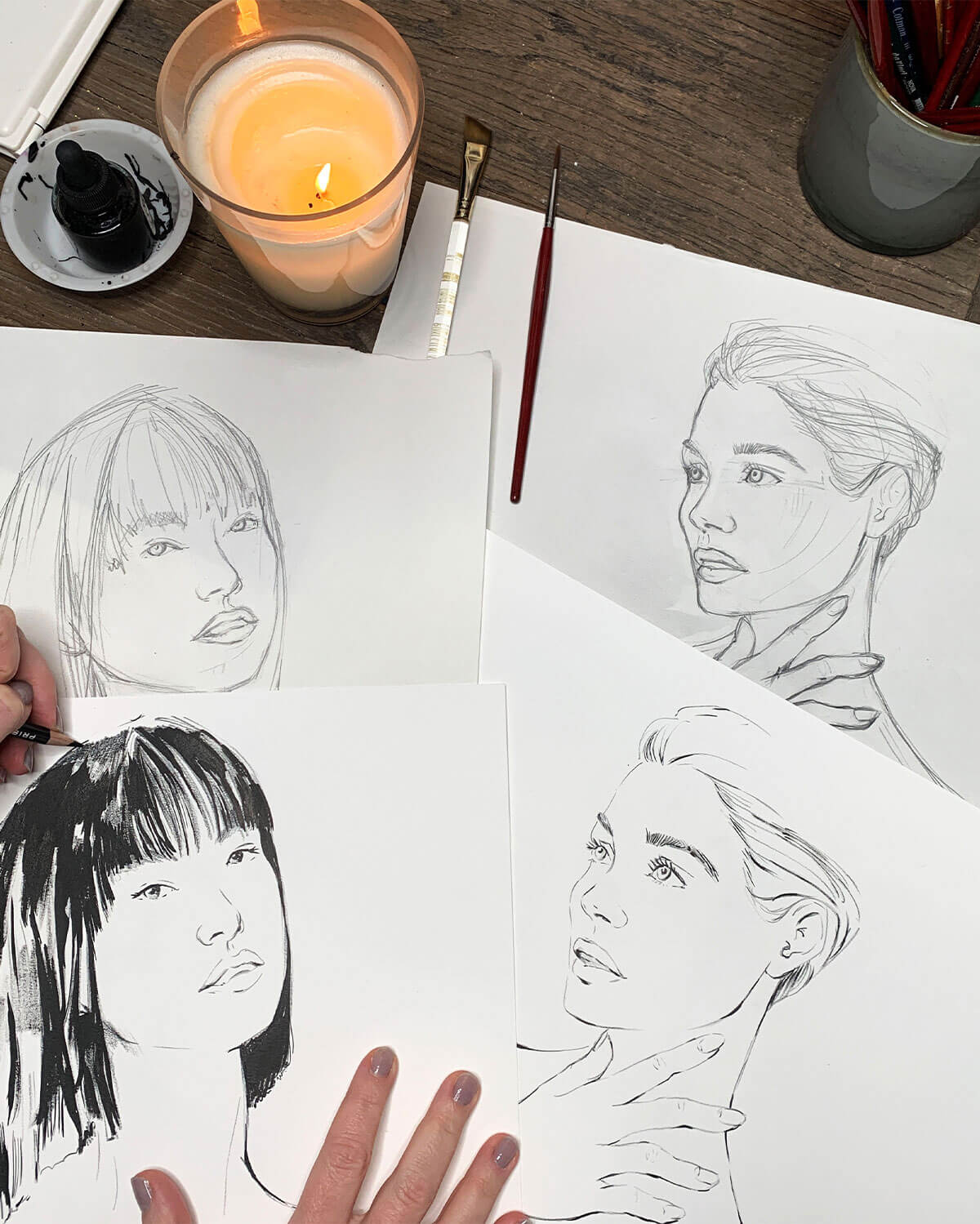 A: What's your favorite medium to use when creating illustrations such as these?
HS: Even though I illustrate using many mediums, I think it's always best to do a pencil sketch first. That said, I like the clean line work of a brush with India ink. It's so graphic and committed. You can't erase or fix any of your lines so you just have to go for it! Being spontaneous and allowing happy accidents to happen can be really liberating!
A: How do you know when the piece is "final"?
HS: It's hard to know when a piece is final. For me, it's usually because I am ready to move on to something new. I always have a few "work in progress" pieces in my studio or ideas in my head that I want to begin, so that gets me motivated to call a piece finished.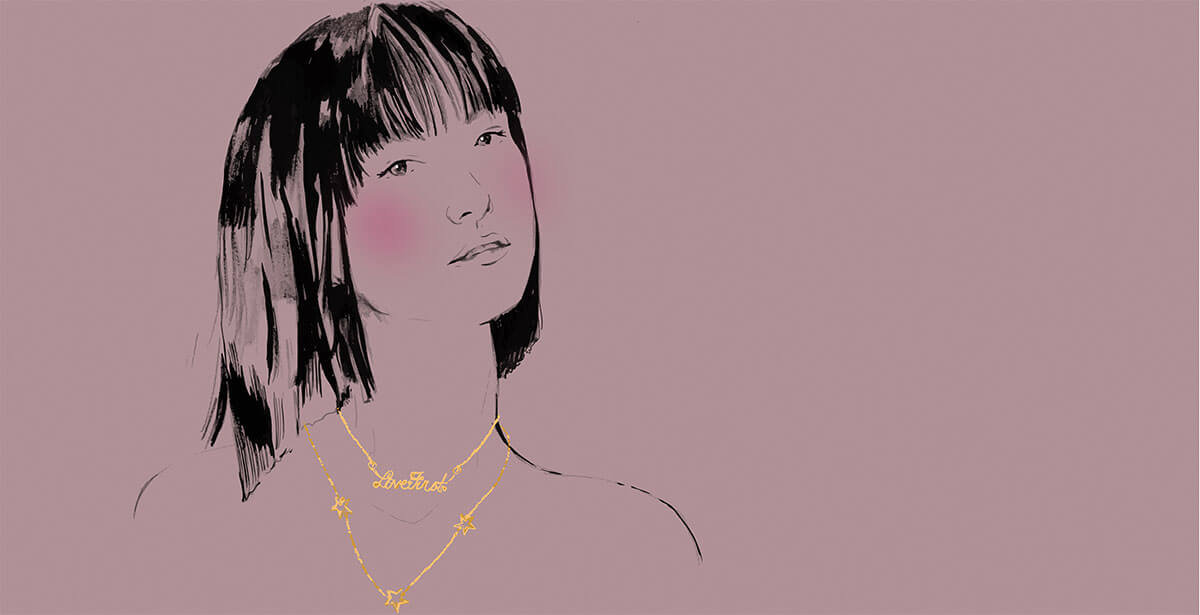 A: We understand that you are a fine artist as well. Tell us more.
HS: I enjoy painting more abstract work on canvas and experimenting with special effects and acrylic gel mediums. These materials allow you to build up layers of different of texture and sheen — even tiny glass beads. It's fun and doesn't need to be so representational. My illustration work is commissioned, so there is a client in mind and we are working together to achieve a specific vision. My fine art painting offers me an opportunity to play. It's pure joy!
A: What do you love most about your career?
HS: I really enjoy collaborating with different designers and brands. It's wonderful that my fashion background has allowed me access to inspiring resources, to meet so many talented people, and to travel. One of the exciting aspects about freelancing is that you never know what amazing project could be around the corner!
A: Are you a fan of jewelry? Gold jewelry we hope?
HS: I love jewelry! My favorite pieces are the ones I wear every day, the ones that have special significance, such as my wedding band and the bracelets that represent my two sons (a different stone for each). I love jewelry that you live in your life in.
A: What's your favorite piece of Auvere jewelry and why?
HS: It's so hard to pick! I love the new 3 Star Necklace. It's so unique and sophisticated. I am also obsessed with the bold rings such as the Spike Ring and the Golden Moon Ring. Both are amazing! And all the stacking rings. There are so many great ones!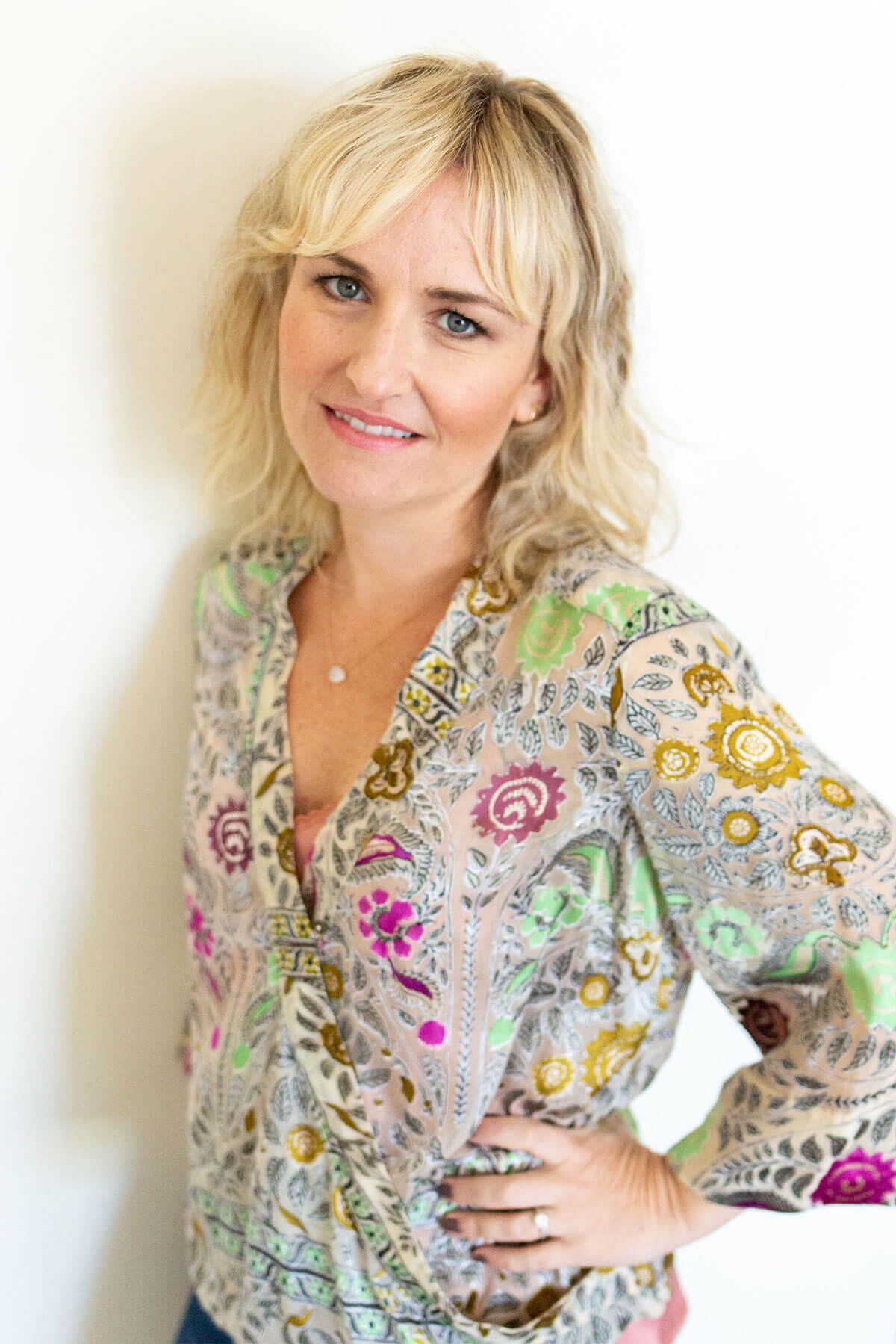 A: If someone is interested in seeing more of your work or collaborating with you, where's the best place to find you?
HS: Please visit my website hillarybottsorrentino.com or my Instagram https://www.instagram.com/hillary.b.sorrentino/ and reach out. I would love to hear from you.
A: Last words?
HS: We are living in such challenging times right now. I have been encouraging friends and family to draw paint, or even just color in a coloring book in order to relieve some stress. Art isn't about what you make. It's about freeing your mind. Art is therapeutic! Go pick up a new box of 64 crayons and see the possibilities. Playing with color can really bring joy!