When it comes to architecture, most people have a pretty classic sense of what constitutes a beautiful house or a well-designed building. More recently, a number of pretty radical modern architects have worked vigorously to change the way we think about and look at structural design. Zaha Hadid, Frank Lloyd Wright, Le Corbusier, and Renzo Piano are just a few of these architects who have challenged traditional views, turning the very notion of architecture on its head with buildings that look more like they belong in another galaxy rather than on planet earth.
Lately though, we couldn't help but notice a very distinct trend of gold structures popping up all around the world. Regardless of their purpose, these buildings are brilliantly dressed in gold leaf, or gold colored glass or metal, standing like symbolic beacons to the sun. Shiny, gleaming and proud. Was there a memo that circulated around the design community that gold was suddenly in? Perhaps, but whoever put this into motion was clearly in the throes of a serious case of gold fever. Not that we're complaining.
If you're a seasoned world traveler, then you have probably seen numerous, stunning golden temples and structures with gilded architectural details in places like India, Thailand, Japan and the Middle East. Many of these temples were built centuries ago and are ripe with the ancient mysticism and powerful spiritual energy that gold comes with. Early civilizations had no shame when it came to their affinity for gilding the lily. Modern man, however, has held back on the good stuff. But it seems like gold is finally getting it's architectural due with a modern-day comeback spectacular enough to rival the very sun itself.
Here are a few of our favorite modern architectural marvels rendered in our favorite material, gold.
SOLAR EGG - KIRUNA, SWEDEN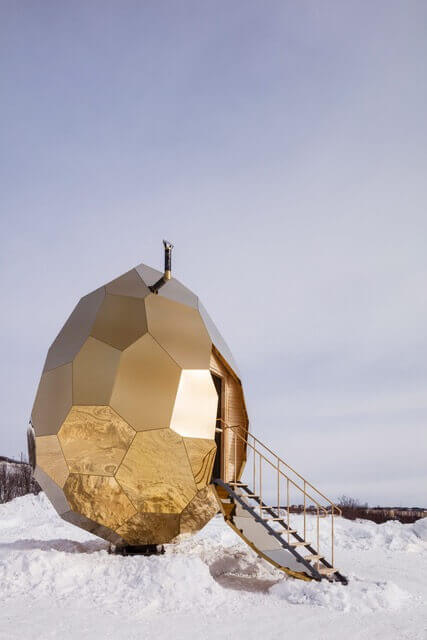 Created by Bigert & Bergstrom architects, Solar Egg is actually a public meeting space and sauna for local residents of Karuna, Sweden. Standing just five meters tall, Solar Egg is covered in 69 panels of gold-plated sheets of stainless steel. Solar Egg serves as a commemorative sculpture to the town, which had to be relocated due to iron ore mining damage of the local environment.
ACIDO DORADO - JOSHUA TREE, CALIFORNIA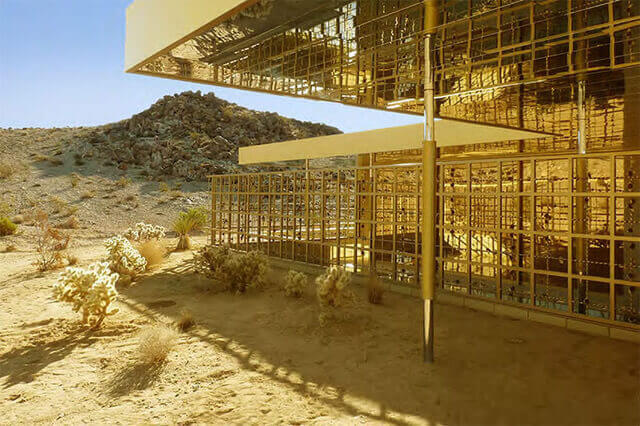 Architect Robert Stone's golden vacation home, Acido Dorado sits in the middle of the desert in Joshua Tree. Gold mirrored panels and a mesh-like exterior reflect the vacant outdoor environment and golden sand onto itself giving the entire experience a surreal reality.
COLSTON HALL - BRISTOL, ENGLAND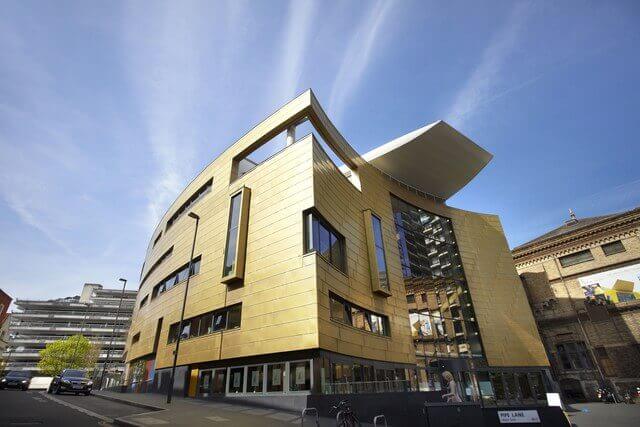 Built in 1867, the foyer of Bristol's Colston Hall concert venue was given a proper facelift in 2009 with a curved façade constructed from 70% recycled gold toned copper alloy by architects Levitt Bernstein.
DEPARTMENT OF ISLAMIC ART at THE LOUVRE - PARIS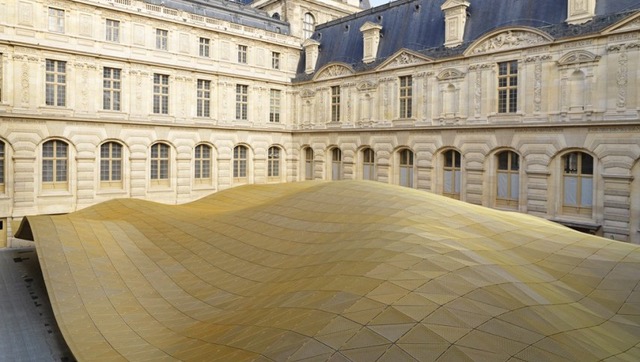 A futuristic contrast to the classic French mansions of the Louvre, the new Department of Islamic Art floats in the courtyard like an alien spaceship touching down for an afternoon of art history in the heart of Paris. Designed by architects Mario Bellini and Rudy Ricciotti in 2012, this wavy structure with its mad undulating surface is built out of gold toned anodized aluminum and golden glass triangles.
GOUD SOUK - BEVERWIJK, THE NETHERLANDS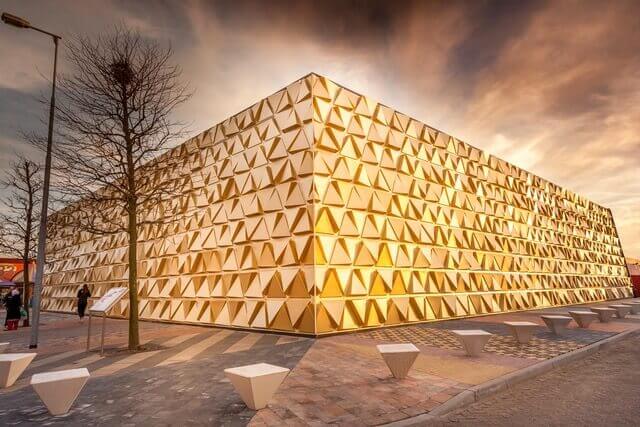 The Goud Souk or 'Gold Souk' is part of the largest indoor market in Europe housing gold dealers and goldsmiths each weekend. Designed by Liong Lie Architects, its shiny, three-dimensional faceted exterior looks like a giant golden nugget. On the contrary, the interior is a cave-like, darkly lit exhibit space for jewelers and gold sellers.
FONDAZIONE PRADA - MILAN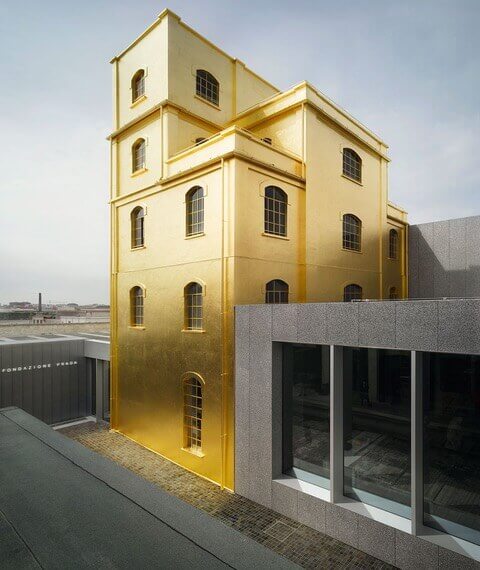 Designed by Rem Koolhaas and his OMA (Office for Metropolitan Architecture) partners, Chris Van Duijn and Federico Pompignoli, the 'Haunted House' exterior is covered entirely in 24 karat gold leaf, leaving only blackened barred windows for contrast. This modern gothic structure holds a permanent art installation for Louise Bourgeois and Robert Gober artworks.
THE DUBAI FRAME - DUBAI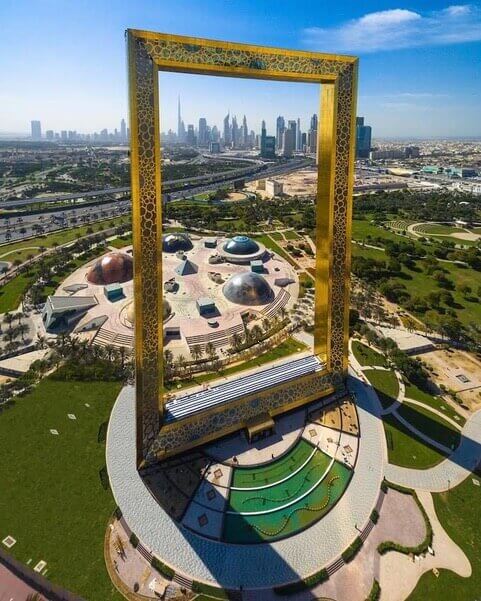 Standing 50 stories tall smack dab in the middle of Dubai's old and new sections of the city, this gilded, gold-leafed glass monument to the future was literally built to 'frame' Dubai by architect Fernando Donis. The Frame is home to a museum, a spectacular 360-degree panoramic view of the city and a 'swirl tunnel' feature on the mezzanine level that creates the impression of time travel using special audio and visual effects. Visitors brave enough can also view the city from the top 48th floor of The Frame and walk along the central glass flooring panels that provide a clear, unobstructed view below.
NGOOLARK STUDENT SERVICES BUILDING - PERTH, AUSTRALIA

Designed by JCY Architects & Urban Designers in 2015, the Ngoolark Building is covered in 1500 perforated gold anodized aluminum screens that form an exterior, angular skin around its elongated, rectangular surface. Created specifically to respond to environmental conditions, its skin morphs from warm gold to light gold to rose gold as natural light reflects off this modern university campus structure.
MATRIMANDIR - AUROVILLE, TAMIL NADU, INDIA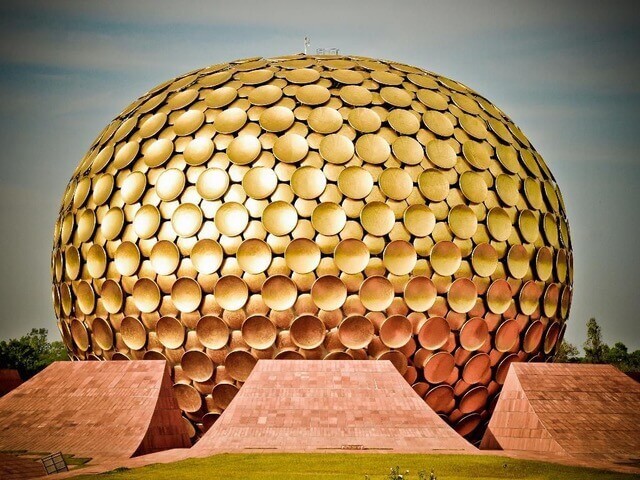 A designated UNESCO structure, the Matrimandir dome was completed in 2008 after 37 years of painstaking building. Designed by architect Roger Anger, this incredible geodesic dome serves as an integral yoga center and meditation hall. Gold leafed stainless steel concave and convex discs cover the entire exterior of the dome, radiating and reflecting light around the sphere that sits on a vast open public space.
GRAND LISBOA HOTEL - MACAU, CHINA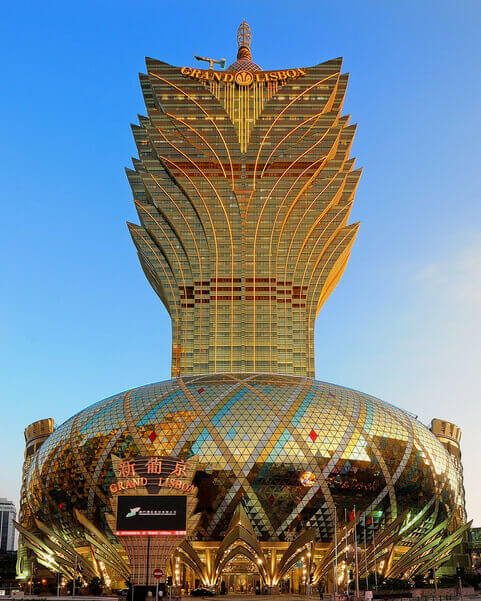 Designed by Dennis Lau & Ng Chun Man Architects & Engineers in Hong Kong, the Grand Lisboa casino and luxury hotel is a fantastical ode to the lotus flower inspired by the feathered headdresses of Brazilian showgirls at carnival. Completed in 2008, the 846 foot tall tower covered in golden glass is connected to a gold sphere at ground level which houses the main casino floor.