We all know at least one person who takes great pleasure in shopping; however, many of us need some help every now and again — especially when it comes to shopping for fine gold jewelry. Whether you live to shop or shop to live, buying gold jewelry can be a lot of fun. It's so easy to become mesmerized by the rich golden hue of 22 karat gold and 24 karat gold. Nevertheless, before you press the 'BUY NOW' button for that solid gold pendant & chain, it would be wise to read our guide on how to shop for a gold necklace.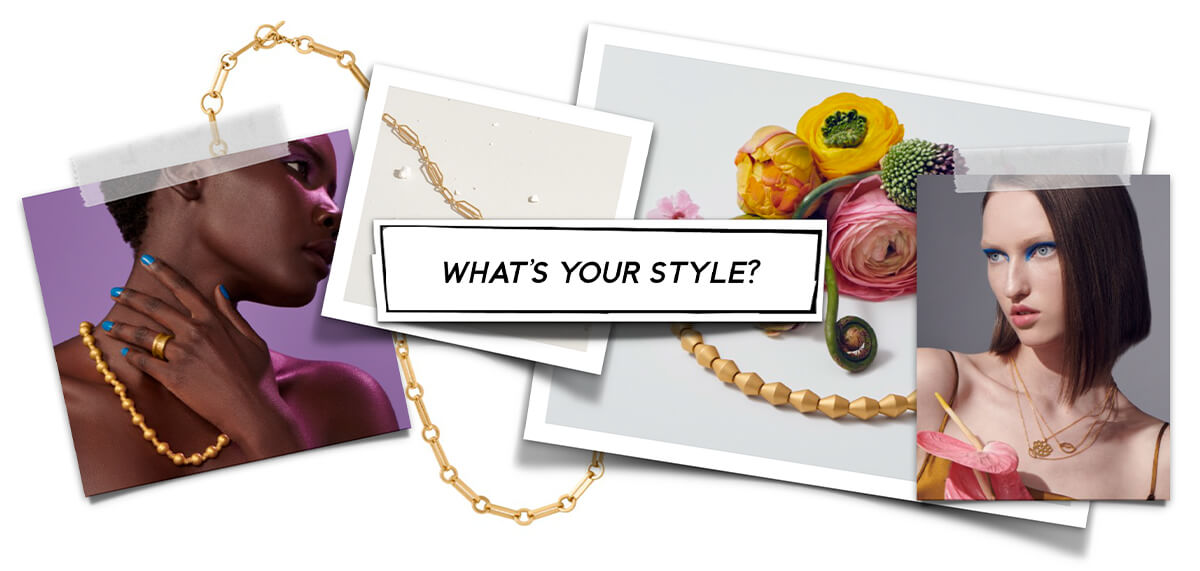 DEFINE YOUR STYLE.
First things first — determine your jewelry style. " And how do I do that? " you ask. Think about defining your jewelry style in terms of who you are, how you live, and what you like to do. When you shop for clothes, do you lean towards conservative and classic looks or do you veer towards sexy and vampy attire? Are you a minimalist who dresses in neutral colors (which look good with gold, by the way) or are you an avant-garde risk taker who wears the latest trends before anyone else?
Once you've identified your persona and style of dress, think about your lifestyle. If you are someone who plays sports most days of the week, your jewelry needs may be different from someone who prefers to lounge about. Experimenting with your style is good — and necessary. But figuring out what suits you is even better.
Now that we know your style, let's think about the necklace. Auvere sells a variety of necklaces — from heavy chains and chunky medallions to delicate cable links with small and talismanic pendants. Moreover, we have five collections, each of which offers different styles of necklaces.
Our 'S' clasp design is one of the oldest forms of clasps in existence. This type of clasp has withstood the test of time and remains one of the best ways to secure your necklace, especially if you are active and forget to remove your jewelry at night.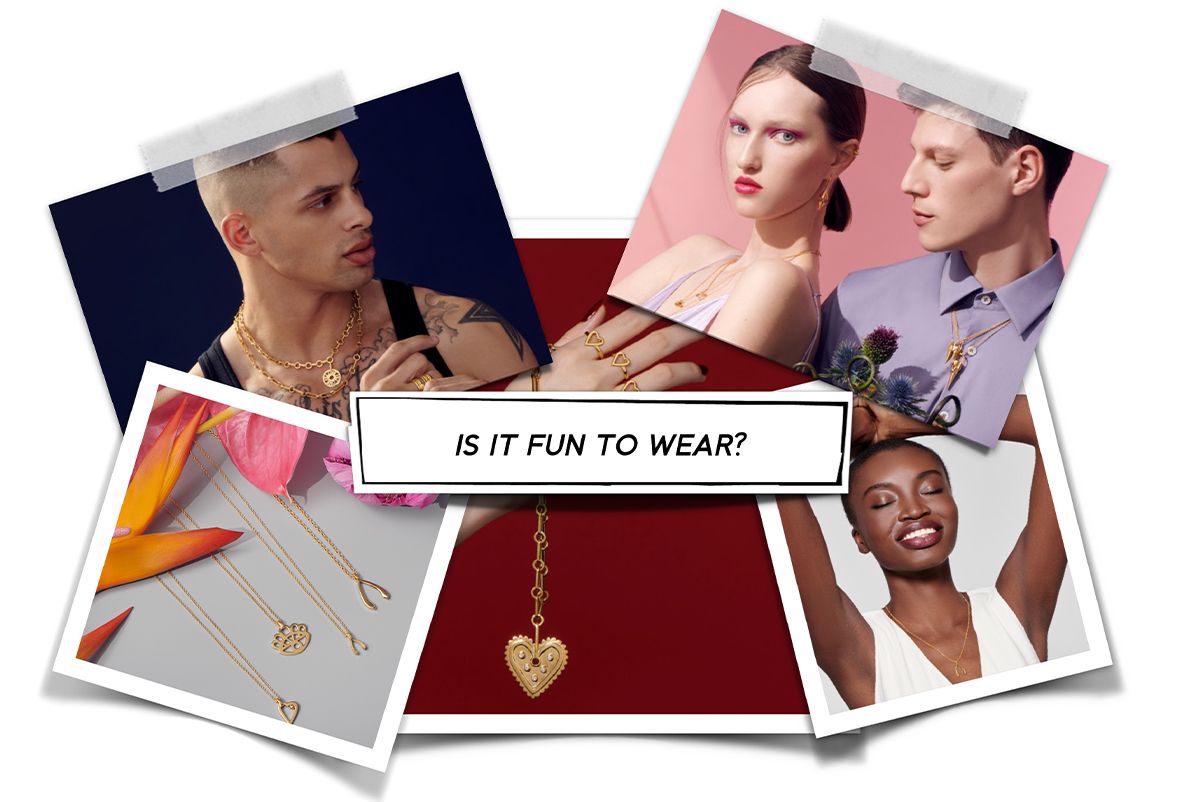 DETERMINE WEARABILITY.
Now that you know your jewelry style, think about the wearability of the necklace that you are interested in purchasing. Sometimes we fall head over heels in love with a gold necklace only to find out that it's too small, a bit heavy, unflattering or uncomfortable. So how do you avoid the pitfalls of buying a gold necklace?
Think about the necklaces you already own. Which ones do wear over and over? Do you prefer to wear layers of delicate necklaces that you live in daily because they feel good against your skin and represent a tiny spark of your personality? Or do you feel naked without a major statement necklace that expresses who you are in one bold solid gold stroke? No matter what, you want to make sure that your new gold necklace is something you will not only treasure for its beauty, but one that you enjoy wearing time and time again.
If you are unsure about how a necklace will look or feel, we have a few suggestions to address your uncertainty.
1. All of our items of jewelry, including necklaces, are shown on a model to help you to understand size, length and proportion.
2. Contact our customer support team for help. We may be reached at support@auvere.com or 866-317-7779.
3. Buy the necklace and try it out. You have 30 days from the date of receipt of the jewelry to return it if you determine that it's not right for you.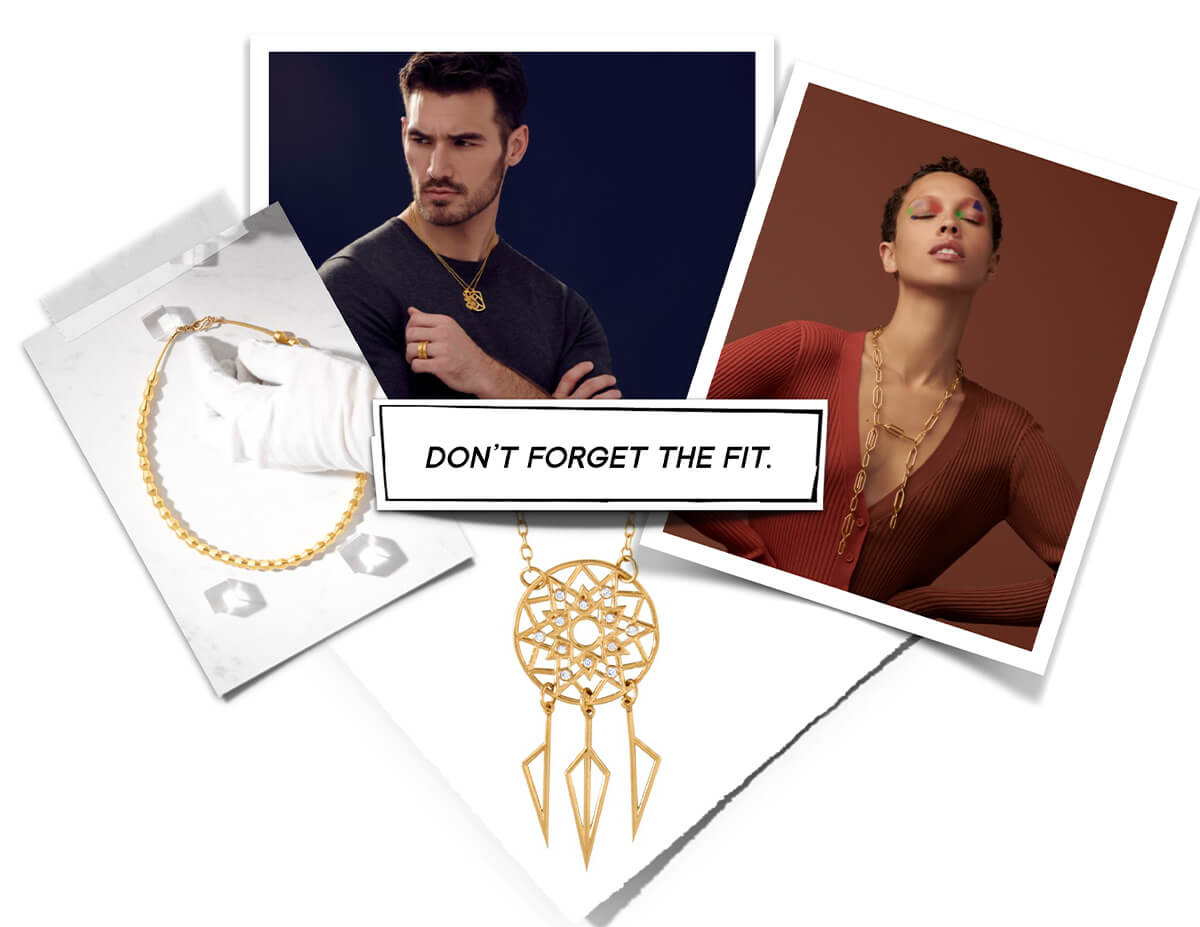 CHECK THE FIT.
Size and fit matter as much with respect to jewelry as clothing. That is why you want to make sure that you buy a gold necklace that suits the size and the length of your neck. Almost all of our solid gold necklaces come with jump rings at adjustable lengths, which makes it easy to change the length.
If you're looking for a necklace to wear with a specific piece of clothing, keep the neckline of your clothing in mind. Make sure the necklace doesn't interfere with the neckline of your top, dress, or jacket. Choose styles and lengths that flatter the neckline so that you can show off both your necklace and your outfit.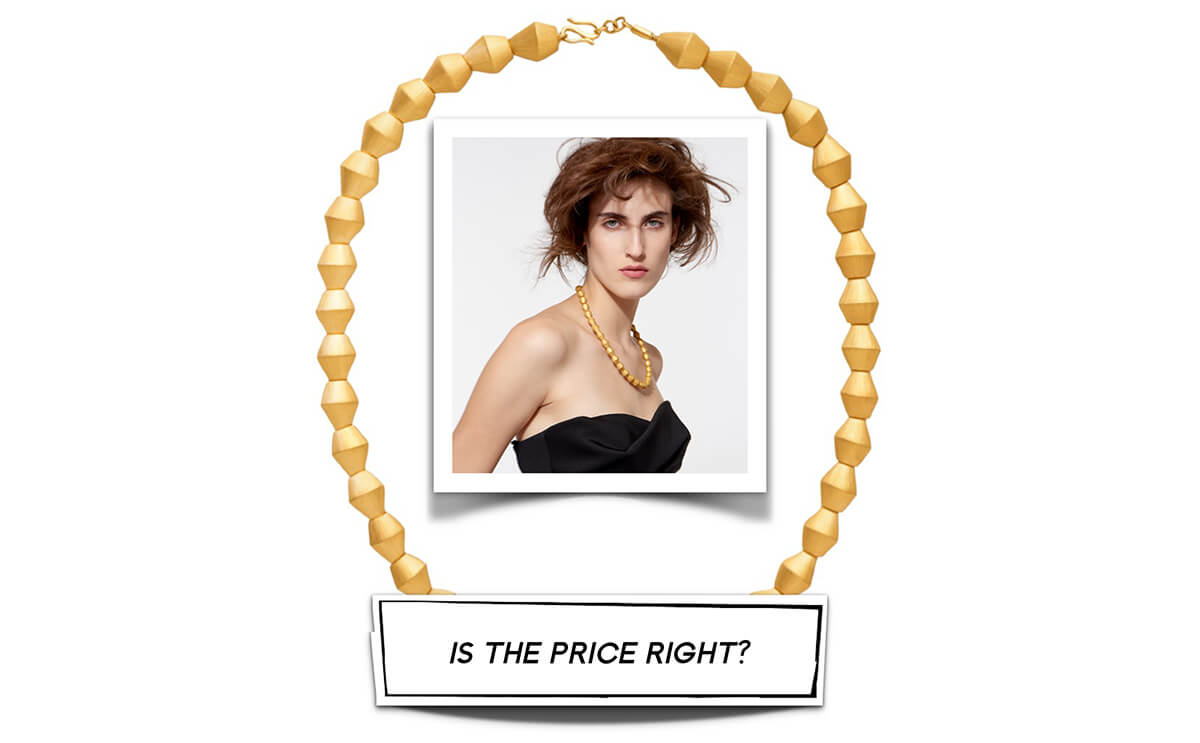 OH YEAH. . .THE PRICE.
It goes without saying that price is a key factor in deciding which gold necklace to buy. Auvere offers 22 karat gold jewelry and 24 karat gold jewelry in a wide range of styles and prices, so there is a good chance that you will find something that suits not only your taste, but your budget.
When you choose to buy 22 karat gold jewelry or 24 karat gold jewelry over costume jewelry or 10 karat gold, 14 karat gold or 18 karat gold, you are making a great investment in jewelry. Our 22 karat gold jewelry and 24 karat gold jewelry generally costs the same or less than similar 18 karat gold pieces. Moreover, high karat gold pieces increase in value over time, unlike most other pieces of jewelry.
Do you want to know more? Contact a member of our customer support team at 866-317-7779 or support@auvere.com.
Happy shopping!