Determining your personal style and finding the pieces that support that style season after season takes patience, and a keen sense of what items of jewelry make a sensible investment. Building a jewelry collection is an art in and of itself.
Clothing is the foundation of any woman's wardrobe. But jewelry and accessories are the pieces that make your look personal and unique. Here's a simple approach to figuring out what works best for you. Let's break down your wardrobe, including jewelry and accessories, into three buckets: (1) Basics; (2) Investments; and (3) Trends.
The Basics are those pieces in your closet and jewelry box that are your work-horses. These are the items that you reach for regularly, you know will work and never let you down. The Investments are your special pieces. Evening wear, luxury items and the pricier pieces in your jewelry box live in this category. The Trends are where you can have some fun. Price is not the point — just cheap thrills and pure joy.
When it comes to gold jewelry, we hold fast to this philosophy; it really works for any category. If you love gold jewelry as much as we do, it makes sense to take stock of what you own now and what you might want to consider for your collection. No matter how much we spend on indulging the beast that is our personal style, we all collect on some level. From gold pinky rings to vintage rocker t-shirts, we each have something that lights our fire.
22 and 24 karat gold jewelry is not only an investment in style but also a store of value. True gold is an asset and one that we really love to wear. As any great collector will tell you, begin with pieces that are easy to wear and work well with your wardrobe and build from there. Here are Auvere's tips for collecting consciously, carefully, and creatively.
THE BASICS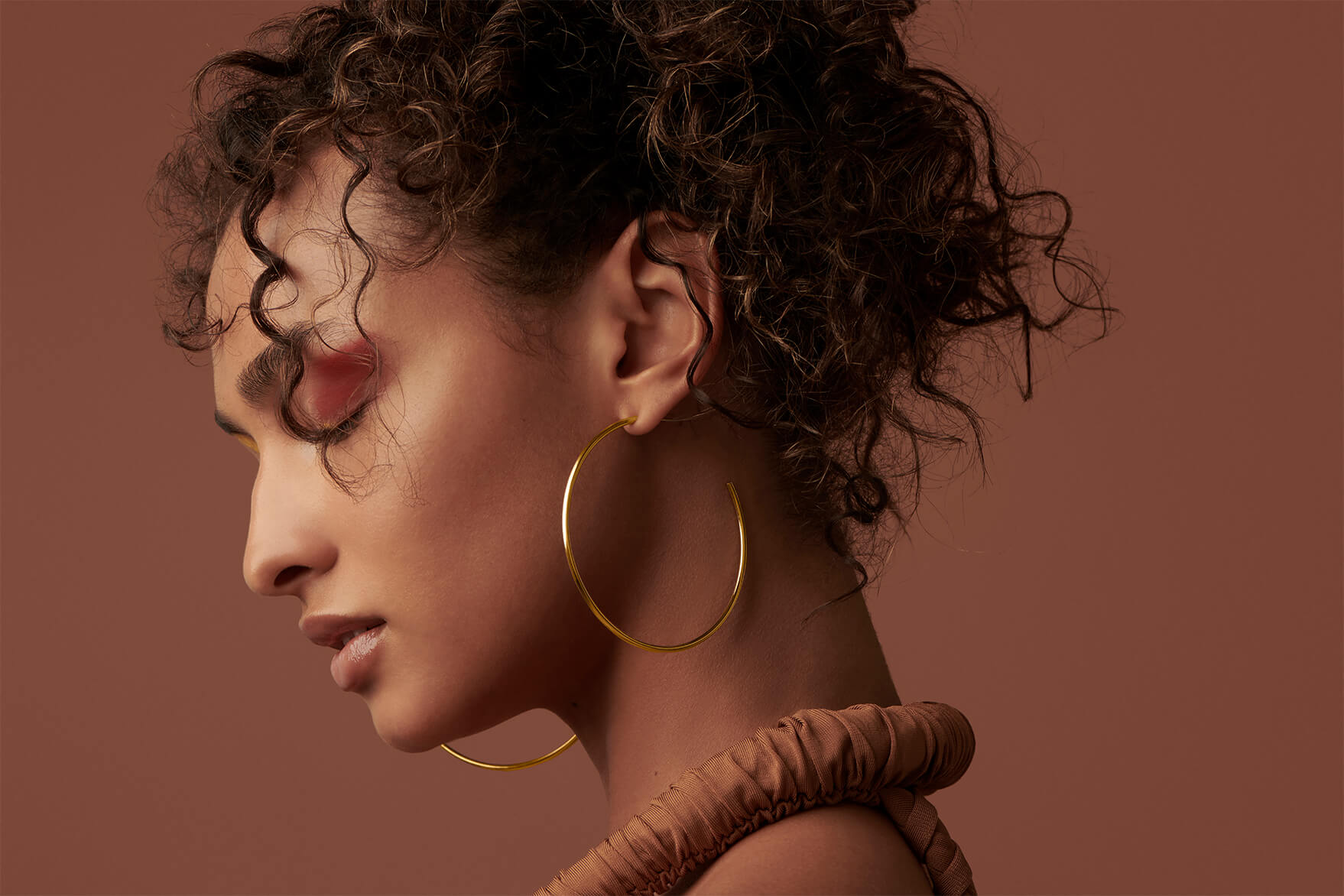 What do we mean by the basics? These are classic jewelry styles that transcend trends. Universally adored for their versatility, these items of jewelry are appropriate for any time of day and for any occasion.
1. SUPER STUDS
Stud earrings are tiny but mighty. These little guys can stay put in your ear for as long as you want with zero fuss. Stud earrings add a pretty glow of gold on your lobe with no effort and forms the basis of a great ear stack. A jewelry collection wouldn't be complete without at least one good pair of gold studs. Shop Earrings and Ear Cuffs.
2. HOOP DREAMS
From tiny huggies to saucer-sizers, Hoop Earrings are beloved for their ultra-cool look. A pair of petite gold hoops convey a totally different message from the flex of an extra-large hoop; however, both exude a classic flair. Every woman should own a few hoop sizes that work with her personal style. Shop Earrings and Ear Cuffs.
3. CHAIN LINKS
Gold chains pull so many looks together that they are unmatched in the jewelry category. This unisex piece is so incomparably versatile that we are hard-pressed to find a reason not to wear one. Super-fine chains hold our precious pendants, charms, and talismans close, while bold, heavier chains function as statement pieces. Find a chain link necklace or bracelet that suits your personality and mix it into your wardrobe. You'll soon find gold chains to be one of your favorite accessories. Shop Necklaces, Pendants & Chains.
4. A BAND OF GOLD
Bands of gold aren't just for weddings. Cigar bands, barrel styles, and clean-cut narrow bands add a simple flash of gold to your fingers and hands. The trick is to find the perfect width for your fingers. Once you've determined which finger you want to wear it on, follow this simple rule: the longer the finger, the wider the band. Always keep the length and width of your finger in mind. A band should never squeeze your finger or obstruct your knuckle. Narrower bands can also be stacked for a sleek look. Shop Wedding Bands.
THE INVESTMENTS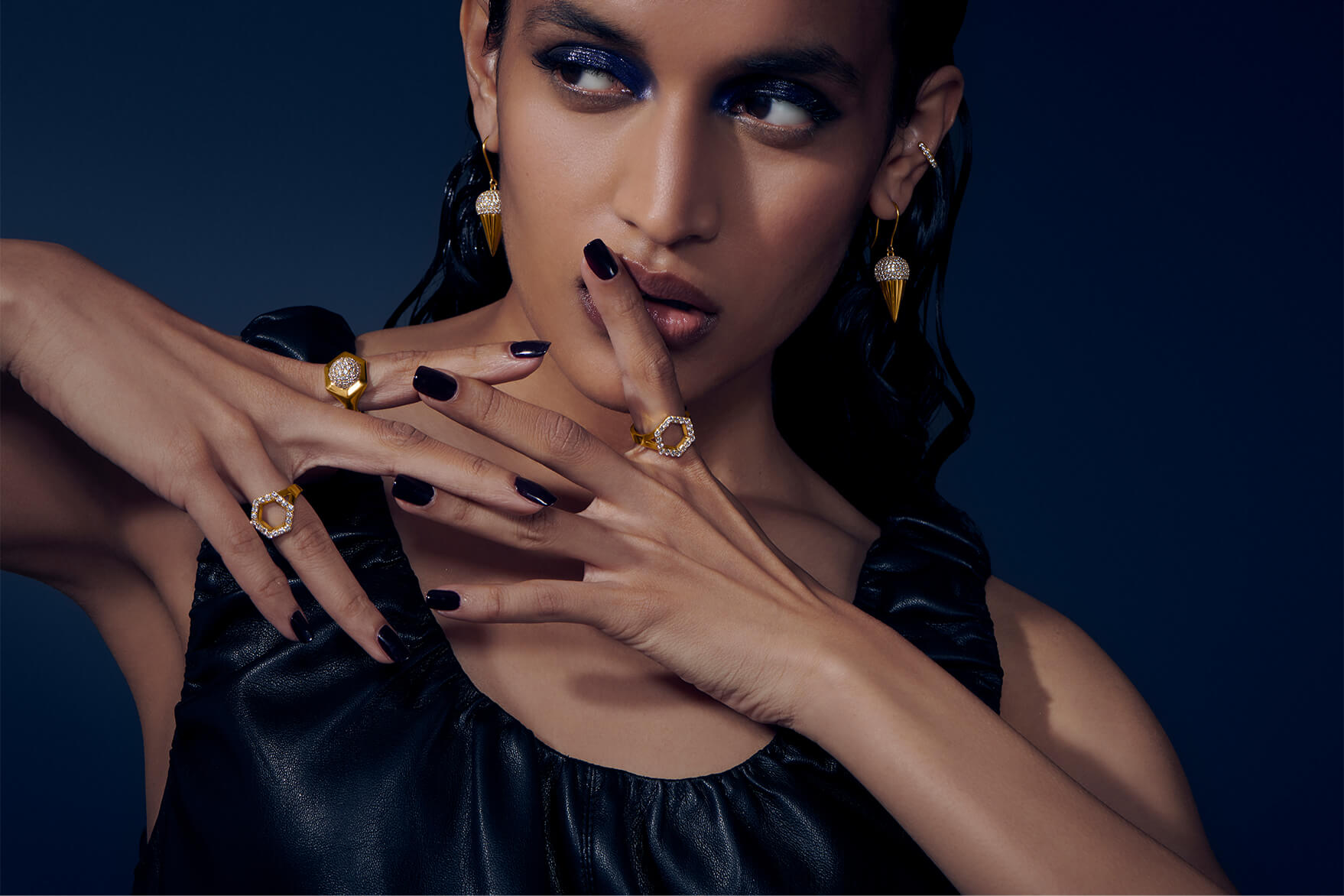 22 and 24 karat gold jewelry is always a good investment; however these high karat pieces should not be purchased solely for its gold content. The beauty and design of each piece should beckon. Invest in pieces that thrill you every time you wear them. Love is the name of the game when it comes to jewelry.
1. GOLD & DIAMOND BLING
It's hard to beat the fiery combination of high karat gold and diamonds. What better way to pair these two shining elements together than in a ring? Most of us use our hands to express ourselves, which makes our fingers the perfect place to flash some gold and diamond bling. Shop Rings.
2. THE STATEMENT NECKLACE
A statement necklace may mean different things to different people. For us, a statement necklace is a significantly larger and more dramatic piece than the delicate, layering chains and pendants one might wear every day. A statement necklace is a major investment in your collection, so it should be purchased thoughtfully, but it should spark some major excitement too. Depending on your budget, a necklace of a certain size and stature should definitely be a part of your jewelry collection. Shop Necklaces, Pendants & Chains.
3. THE SCULPTURAL CUFF
There's nothing sultrier than a beautiful bare arm adorned with a single sculptural cuff. Indeed, wearing a single sculptural cuff can quickly become a signature look. We love cuffs for their drama and bold scale. When you wear one, you don't need to wear any other piece of jewelry. Let your cuff stand alone and take center stage. Shop Bracelets and Cuffs.
4. COLORED GEMSTONES & SOLID GOLD
Wearing gemstone jewelry is a wonderful way to connect to the natural world around us. Indeed, gemstones are rumored to provide mystical powers. If you've fallen in love with our ruby pieces, note that rubies may offer protection, fortune, and joy. Turquoise, on the other hand, is said to provide good luck and hope. Pair gemstones with solid 24 karat gold and you've got stunning jewelry that will make your lower karat gold pieces pale in comparison. Shop Gemstone Jewelry.
THE TRENDS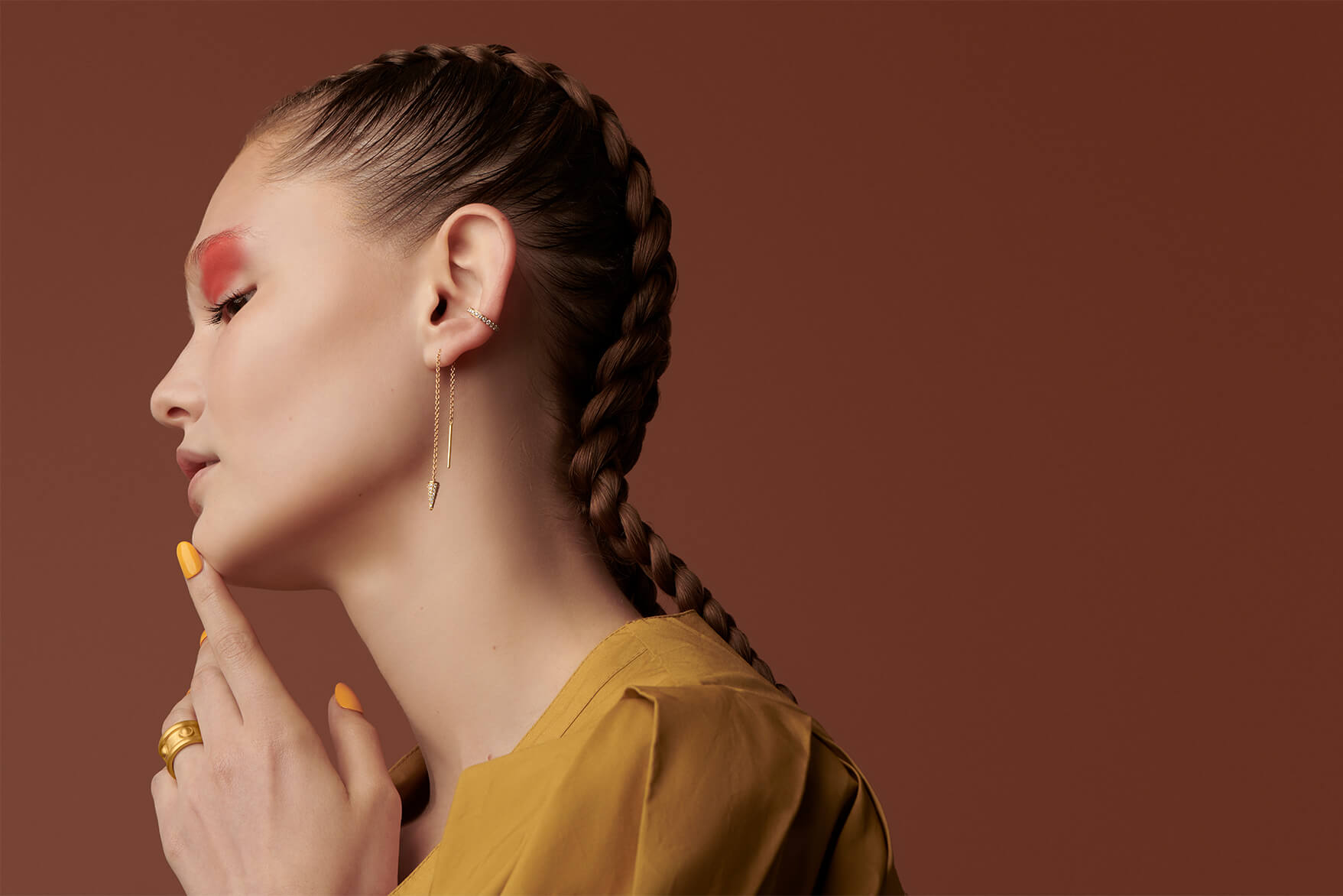 What would fashion be without trends? They keep us on our toes and challenge us to think about style in fresh and innovative ways. Trends keep us evolving and, in their best sense, bring newness and excitement into our wardrobes. Trends come in all price points, so purchase wisely with an open mind and heart. This is your opportunity to try something new and expand your style.
1. THREADER EARRING
The Threader Earring is a fun and super light way to wear a long, dangling earring without the bulk or weight of a traditional drop style. A Threader Earring combines a thin chain and a pendant or motif element that hangs from the front of the ear. Once you get past the odd feeling of sliding a chain through your ear, you'll love wearing them. In 22 karat gold, they're our new favorites. Shop Earrings and Ear Cuffs.
2. STUDDED RINGS
Pyramid studs, round studs, and spike motifs have been a favorite of the rock n' roll set for decades. Auvere's luxed-up studded rings in 22 karat gold bring a bit of high glamour to this tough-chick look. This is one trend that is destined to become a classic. Shop Rings.
3. LOVE MOTIFS
It's hard to label jewelry featuring love motifs a trend because romance, hearts and declarations of love never go out of style. Nevertheless, we wanted to express our take on love motifs in our own unique 22 karat gold way. Our expression of LOVE in 22 karat gold taps into a modern, whimsical sensibility that literally embraces the L-word in big, bold letters. Hearts range from quirky and cute to fashionably in your face. Shop Bracelet and Cuffs.
4. EAR CUFFS
There's something wildly interesting about a well-adorned ear. And while we're all for multiple piercings up and down the ear lobe (if you're so inclined), it's nice to have a piece that you can simply slide on whenever you feel like it. Ear Cuffs are a great way to switch up your ear game. We like their versatility, their gender neutrality, and the way they make the wearer look so very cool. Wrapping your ear in a slice of 22 karat gold feels both elegant and subversive. It might be new territory for some, but the ear cuff is one trendy piece that is here to stay.