By definition, a talisman is an object or charm that possesses magical powers, brings luck, and protection to the wearer. Humans have been fascinated by the supernatural since the beginning of time. Let's face it, if we can do our part to avoid a bit of bad juju, then we're on board. Inspired by mythical legends such as the evil eye and the wishbone, our new Talisman Collection was created with the intention of imparting a modern, whimsical perspective to ancient traditions, all in glorious, gleaming 22 karat gold.
At the very heart of the Auvere brand lie celestial mysteries of the universe and gold's place in it. Gold's very essence has a deep connection to the mystical, the ethereal, and even the fantastical. So what could be better than to combine the inherent magic of gold with the tradition of good luck and good vibes? And while we may love a good superstition or two, we also think they're just really charming.
HERE'S LOOKING AT YOU
With a wink and a nod to the iconic evil eye, our Floral Eye is a feminine update on the occult favorite. Known for protection against a 'malevolent glare,' the evil eye originates back to the Roman Empire and remains one of the most popular totems of superstition around the world. From Asia to Greece to Spain and Romania, the symbol of the evil eye is utilized as part pop-culture and part talismanic force.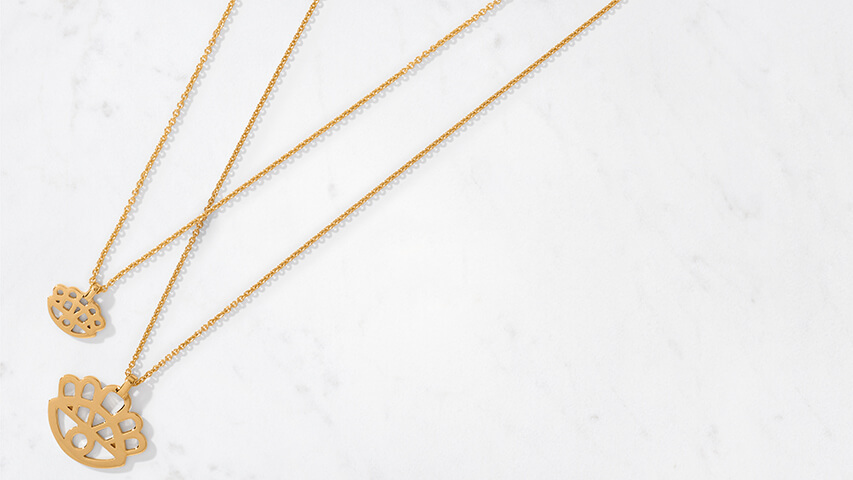 Our Floral Eye Pendant and Floral Eye Bracelet are designed to make a bold statement, whether they're worn alone or layered with other delicate pieces. Auvere's Creative Director and designer, Gina Feldman Love, added a flowery, surreal dimension to its upper lashes, citing a desire to give it a happier connotation and uplifting energy. These eyes definitely have it.
PUCKER UP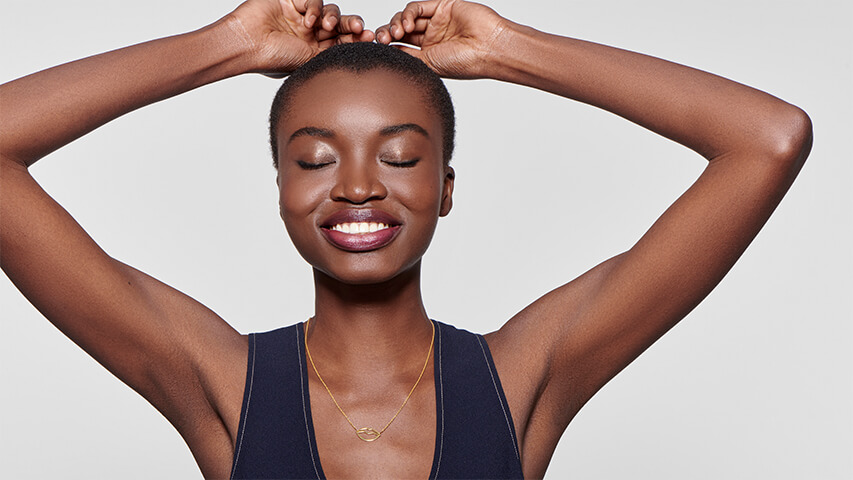 Lips symbolize sensuality, youth, and even personality. Professional face-readers believe that people with full lips are blessed with an empathetic, caring nature while conversely, people with a cupids bow lip shape have creative, artistic, and impulsive personalities. Whatever your lip shape may be, there is a laundry list of characteristics that may add insight to a person's true self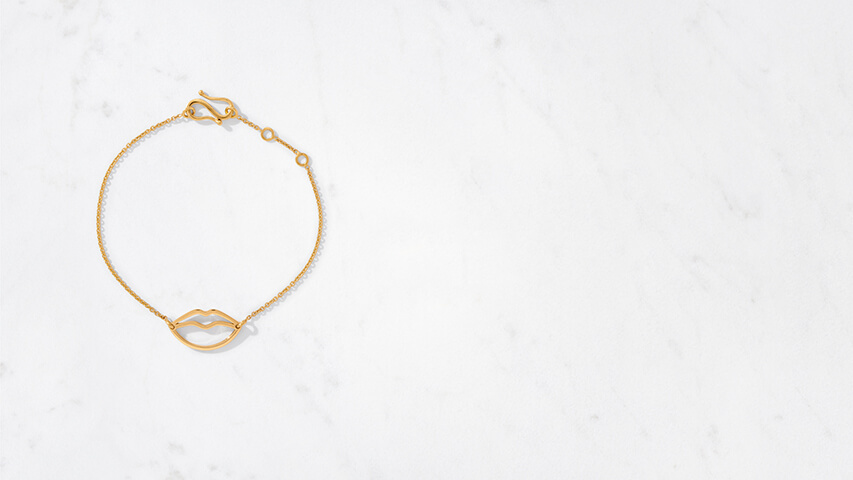 Similar to the curious art of reading palms or astrology, physiognomy is a centuriesold tradition that dates back to 500 BCE and is based on the philosophy that you can determine a person's character by judging one's features. Taking this ancient pseudoscience with a grain of salt, we prefer to celebrate all lip shapes and sizes, and what better way to do that then to create a modern talisman that serves as a reminder to love yourself (and someone special) with our sweet and saucy Lips talisman necklace and bracelet.
ALL YOU NEED IS LOVE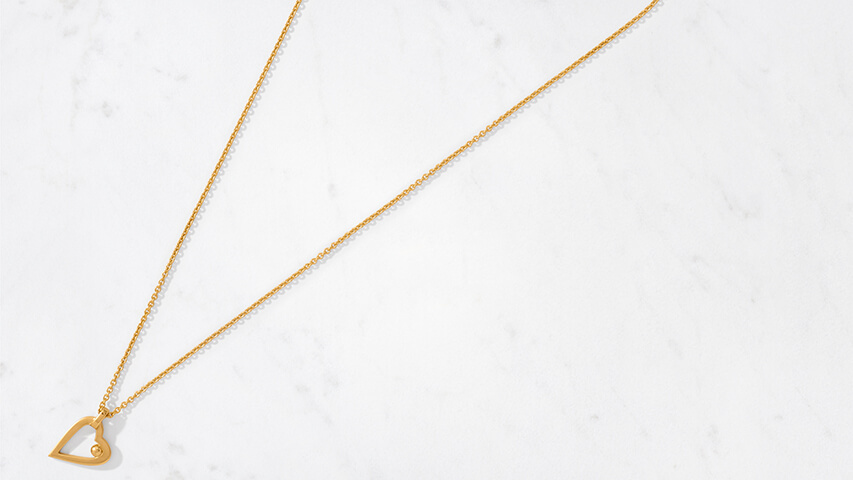 Nothing is more potent than the universal symbol of love, the heart. Our Heartbeat necklace, bracelet, and ring are designed to strike a modern, graphic tone. Familiar yet fresh, the Auvere Heartbeat collection represents the deepest of human emotions, something we all give and receive daily.
This iconic symbol is thought to have originated in the Middle Ages as an anatomical illustration for the medieval medical community. However, artists of the time were quick to assign a decidedly more romantic spin to the pictogram, utilizing the shape as a representation of pure, spiritual love and desire setting off the official birth of the heart as the undisputed emblem it continues to be today.
The legend of (Saint) Valentine's Day furthers our fascination with the heart as a symbol of romance. On February 14 th, 269 AD Roman priest Valentine was officially martyred as a saint. There are several contradictory narratives in the St. Valentine saga, but it is generally thought that he was imprisoned and ultimately beheaded for marrying Christian couples, which was strictly forbidden at that time by the Roman Emperor, Claudius. Just before his execution, Saint Valentine was believed to have written a goodbye note to his daughter with the now-iconic closing, 'Your Valentine.' St. Valentine's demise may now be centuries old and riddled with folklore, but to this day we continue to celebrate the spirit of true love and romance each and every year on February 14 th in his honor and resplendent with hearts galore.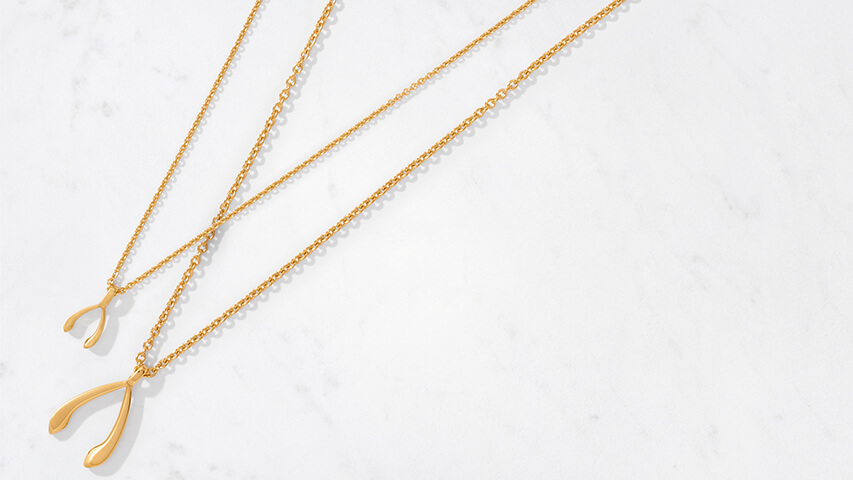 MAKE A WISH
A symbol of good luck and future fortune, the wishbone as a supernatural talisman actually originated from the furcula bone (collarbone) of chickens. The Etruscans (8th to 5th century BCE) believed that chickens (no, we're not kidding) held magical powers. They made sure to preserve the wishbone-shaped collarbone from the bird, in the hopes that their "superpowers" would transfer to them. In the 1800s, Americans co-opted this mythical action (along with the breaking of the wishbone) and applied it to the Thanksgiving meal tradition.
Our Wishbone talisman charm represents that universal, inherent desire we all share for a life filled with success, happiness, and love. In the spirit of this iconic totem and all that it represents, we do not recommend breaking the wishbone pendant but instead wearing it as a daily symbol of positive reinforcement for the good things to come in life.