Don't call it a comeback. Because gold has been loved and worn by human beings for millennia. Even so, in 2020, gold is on the rise — and not only in your financial portfolio or the upcoming 2020 Summer Olympics. Gold is the super hot, but very ancient metal that you will be seeing everywhere this year — in the news, on fashion runways and in everyday street style.
HIGH KARAT GOLD
The kind of gold that we are jonesing is not your standard fare. Our kind of gold is high karat — 22 karat gold and 24 karat gold. We are all used to seeing and wearing 14 karat and 18 karat gold jewelry. At least until now, 22 karat gold jewelry has been hard to find in the United States and 24 karat gold jewelry has been virtually unheard of since many jewelers consider it too soft and heavy. So why did we elevate our gold standards to 22 and 24? Let us give you 5 solid gold reasons.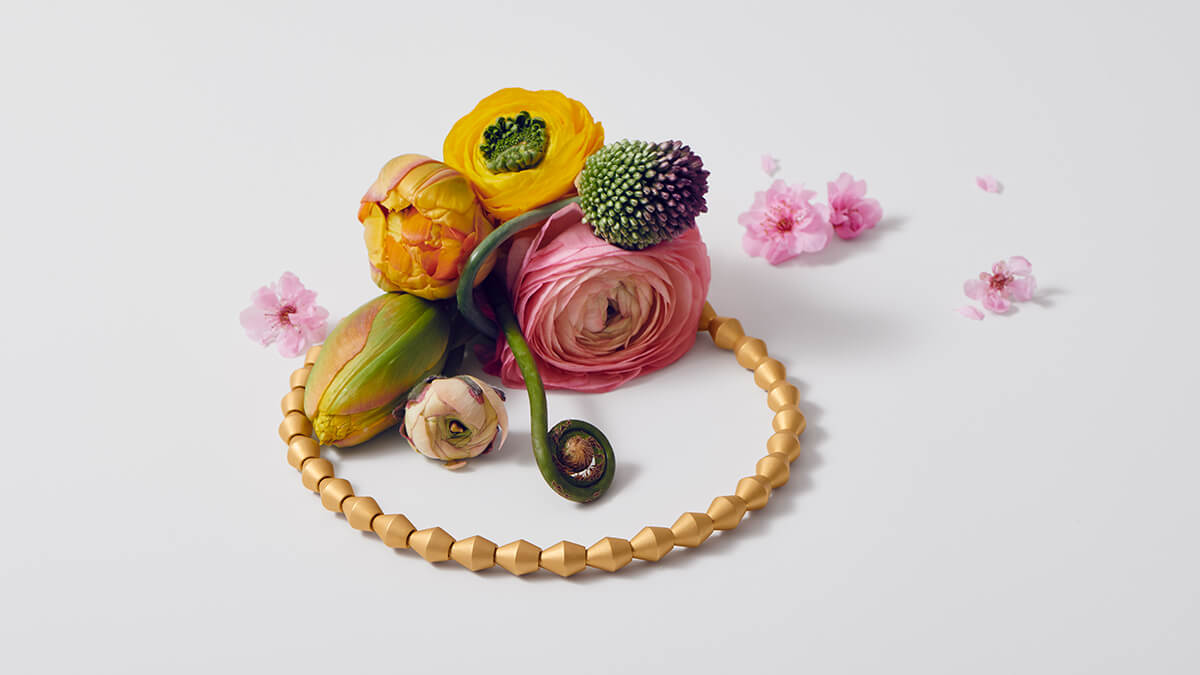 Auvere's Valo-L Necklace handcrafted from 22 karat solid gold.
We like our metal rare. Gold seems to be everywhere, but it is in fact very rare. Unlike diamonds, true gold cannot be replicated by humans. Created from colliding neutron stars in outer space, gold found its way to molten earth millions of years ago via asteroids — an event that will never happen again. Moreover, gold is eternal. All of the gold that has ever been mined or otherwise obtained is still in use today.
More is more with 22 & 24. And who doesn't want more gold per item of jewelry? Here's how the different rates of gold break down.

10 karat gold. 10 karat gold contains the lowest amount of gold that can be sold legally in the United States as "gold" — 41.7%. Since it is mostly alloyed, it has a silvery appearance and is highly susceptible to oxidation.

Pro: It costs less than some costume jewelry.
Con: With less than 50% gold content, it's hard to call it real gold. It is not hypoallergenic, may trigger skin allergies, and is very likely to oxidize and blacken over time.

14 karat gold. 14 karat gold is 58.3% gold. The remaining 41.7% consists of alloys such as copper and silver. It's probably safe to say that 14 karat gold is the most common rate of gold jewelry sold in the U.S. because it is very hard and relatively inexpensive due to the high alloy content.

Pro: It is hard, holds pronged gemstones extremely well, and is relatively inexpensive.
Con: It is likely to suffer from oxidation and blacken over time. 14 karat gold may also trigger skin allergies.

18 karat gold. 18 karat gold is 75% pure gold and 25% alloy. What makes 18K gold popular among jewelers is that it possesses a richer gold color than 14 karat gold because of higher gold content, but is hard enough to hold gemstones in tiny "high-rise" prongs.

Pro: 18 karat gold contains a sizable gold content, which makes it more lustrous than 14 karat gold. It holds pronged gemstones well and is used by top jewelers.
Con: Because 18K is used by many top jewelers who charge margins over 300% of the cost to make, you pay a lot more money for a lot less gold than you would if you purchased 22 and 24 karat gold from trusted direct-to-consumer brands.

22 karat gold. 22 karat gold is 91.67% pure gold. We love it because of its high gold content and delicious golden hue. On top of that, 22K gold is strong enough to make everyday jewelry that holds gemstones (just not in prongs).

Pro: Almost 92 percent pure gold in every piece. Lustrous yellow color when compared to 14 and 18 karat gold. Hard enough for everyday use.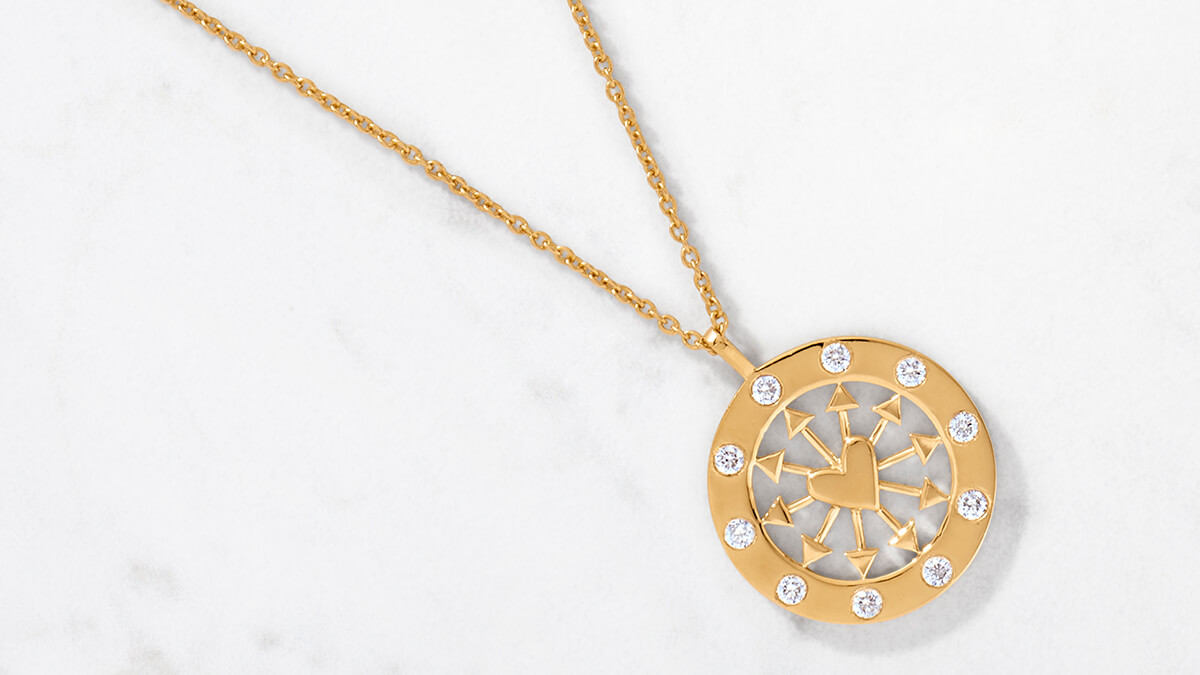 Auvere's 22 karat gold Heart & Arrows Medallion & Chain with 10 diamonds.
Con: For those used to the subtle gold color in 14 and 18 karat gold, the deep yellow hue of 22 karat gold may be too much gold. But once you get used to the true color of gold, it is hard to go back.

24 karat gold. 24 karat gold is the big daddy of solid gold jewelry. Containing 99.99% pure gold, it is incredibly precious, rare and soft when compared to 14 or 18 karat gold. But it's the rarity and softness that makes for very special jewelry — pieces that mold to your form over time. If you are someone who never takes off your jewelry or you put your jewelry through its paces, then 24 karat gold may not be for you. But if you love the idea of wearing something rich, rare, pure and with more inherent value than 14 and 18 karat gold, then consider 24K.

Pro: 24 karat gold is the richest and rarest form of gold jewelry possible.
Con: It is soft. Not so soft that you can't wear it. But soft enough that you have to take some care when you wear it.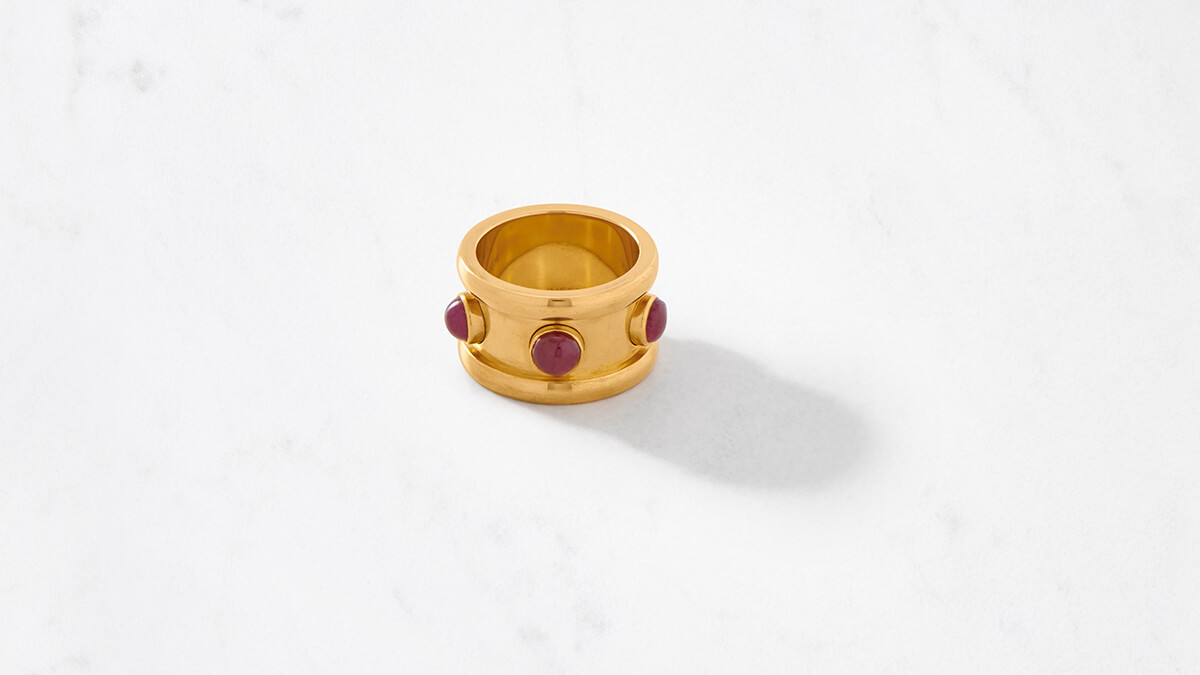 Auvere's Byzantium 24K Ring with 5 cabochon rubies totaling 3.85 carats.
Wearing a piece of the sun. Ever since its discovery, gold has been compared to the sun. One of the chemical symbols for gold — a circle with a dot in the center — is the same as ancient drawings of the sun. The Latin name for gold "aurum" means "yellow" or "golden dawn" — a reference to the rising sun. When you wear high karat gold, it feels like you are wearing your own personal hunk of sunshine.
An ancient love affair. Gold is part of a love affair that has been going on for millennia. That is the love that humans have for this precious metal. From the ancient world to the 21st century, no metal has influenced the behavior of humans quite like gold. Indeed, the ancient man associated gold with the gods and immortality — not just in one part of the world but all over the world.
Adornment meets Investment. Do you buy jewelry as an investment or for adornment? With high karat gold jewelry, you don't have to choose. You get both! That is because high karat gold jewelry is made from the same kind of gold used for investment-grade gold bullion — the kind that is stored at Fort Knox! This means that high karat gold possesses a much greater store of value than 10, 14 and 18 karat gold. Simply put, high karat gold jewelry is not only an alluring adornment, it's a pretty smart investment.
NEW GOLD TRENDS
Gold is an ancient metal. But nowadays we are seeing it rendered in some wonderfully modern ways.
Chained up. Whether worn as a lone item of jewelry or in multiples, one trend that is not going away anytime soon is the gold chain. We like ours made with bold, heavy links that may be worn alone or with dramatic pendants. At the same time, we have nothing against layers and layers of delicate chains.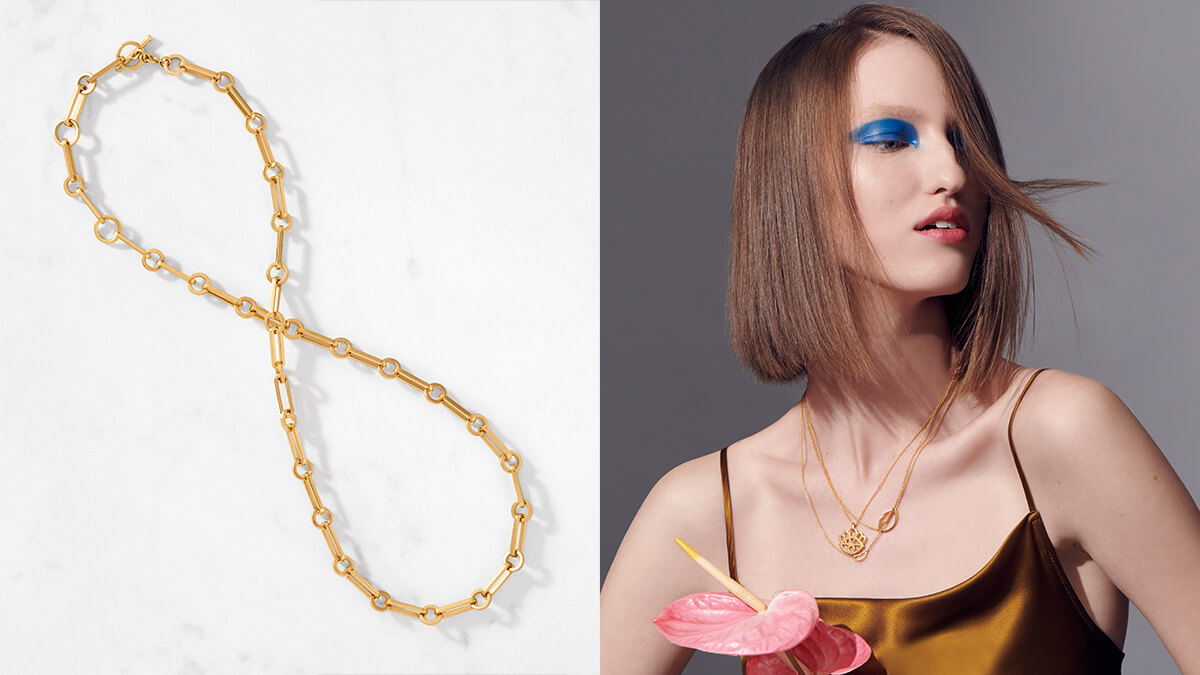 Left: Auvere's 22K gold Long Link Chain; Right: Layered chains & pendants from Auvere's Talisman Collection.
Ring Stacks. Regardless of whether you are going casual or dressing up, we recommend giving your digits, something to show for themselves by stacking up the ring bling. Stacking rings is pretty much like our approach to delicate necklaces. One is nice, but three or more is just right.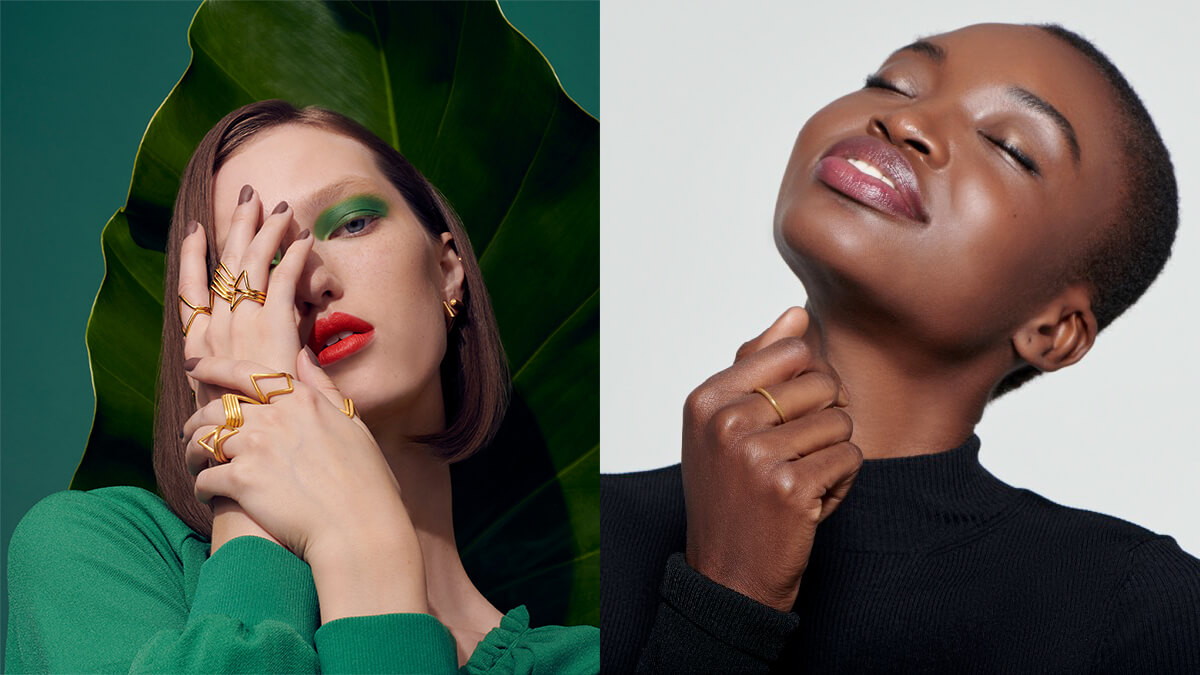 Left: Model, Liza Ostanina, wearing Auvere's V Neck Stack Rings; Right: Model, Maryse Kye, wearing Auvere's Clean Cut Ring Polished.
Making an impact. When only one piece of jewelry will do, consider a piece that will do the talking or at least start a conversation. We recommend pieces with heft — like a chunky 24 karat gold ring or a substantial, yet ultra-refined cuff.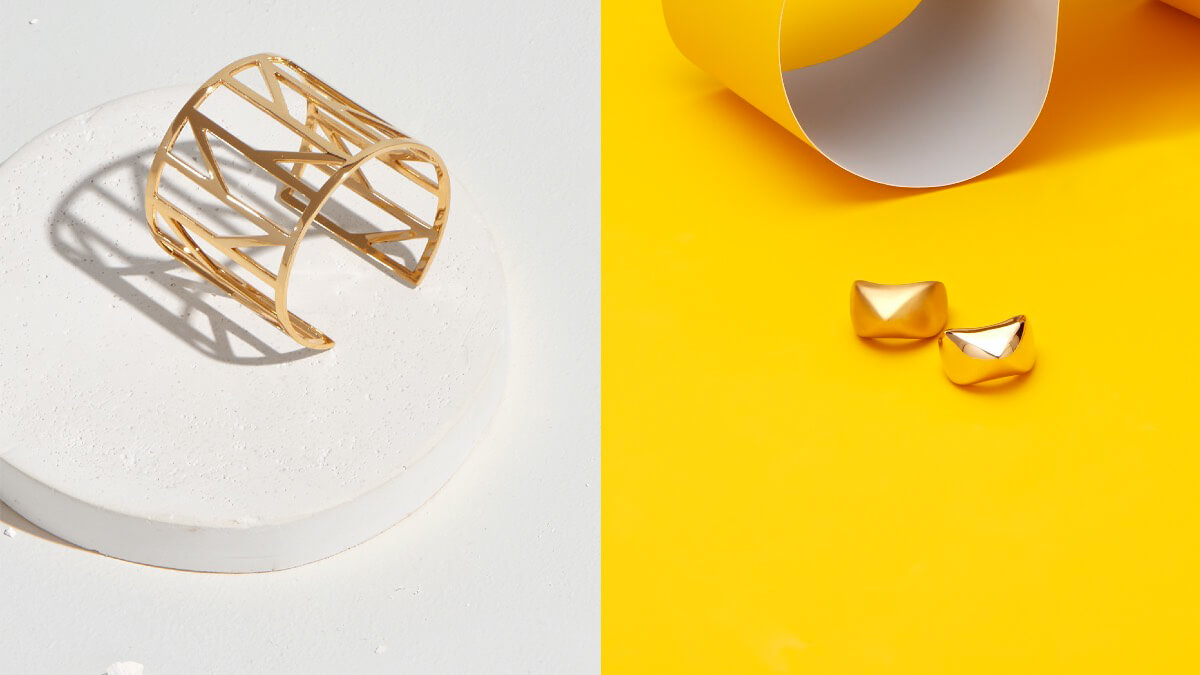 Left: Auvere's 22 karat Open Cage Cuff; Right: Auvere's 24 karat Golden Apex Ring in polished and satin finishes.
Architectural Drama. Build it and they will come. What held true for a baseball movie is pretty much the case for architectural jewelry. It's timeless, elegant and pretty irresistible!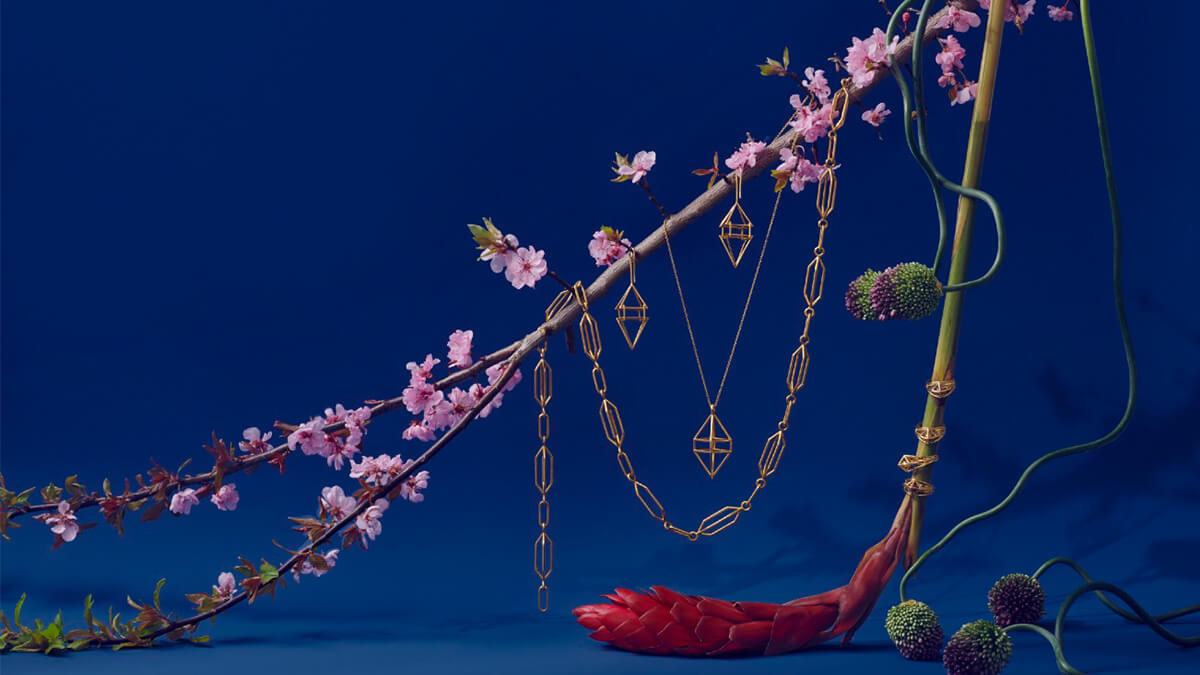 Auvere's Cage Convertible Rope Chain, Plexus Earrings, Cage Pendant & Chain and Cage Cocktail Ring/Gold Ball — all handcrafted from 22 karat gold.
Gemstones in a supporting role. We are all used to seeing diamonds and colored gemstones front and center while supported by precious metals. These days, in a refreshing change of pace, we are seeing gold take the main stage with diamonds and gemstones performing the supporting role.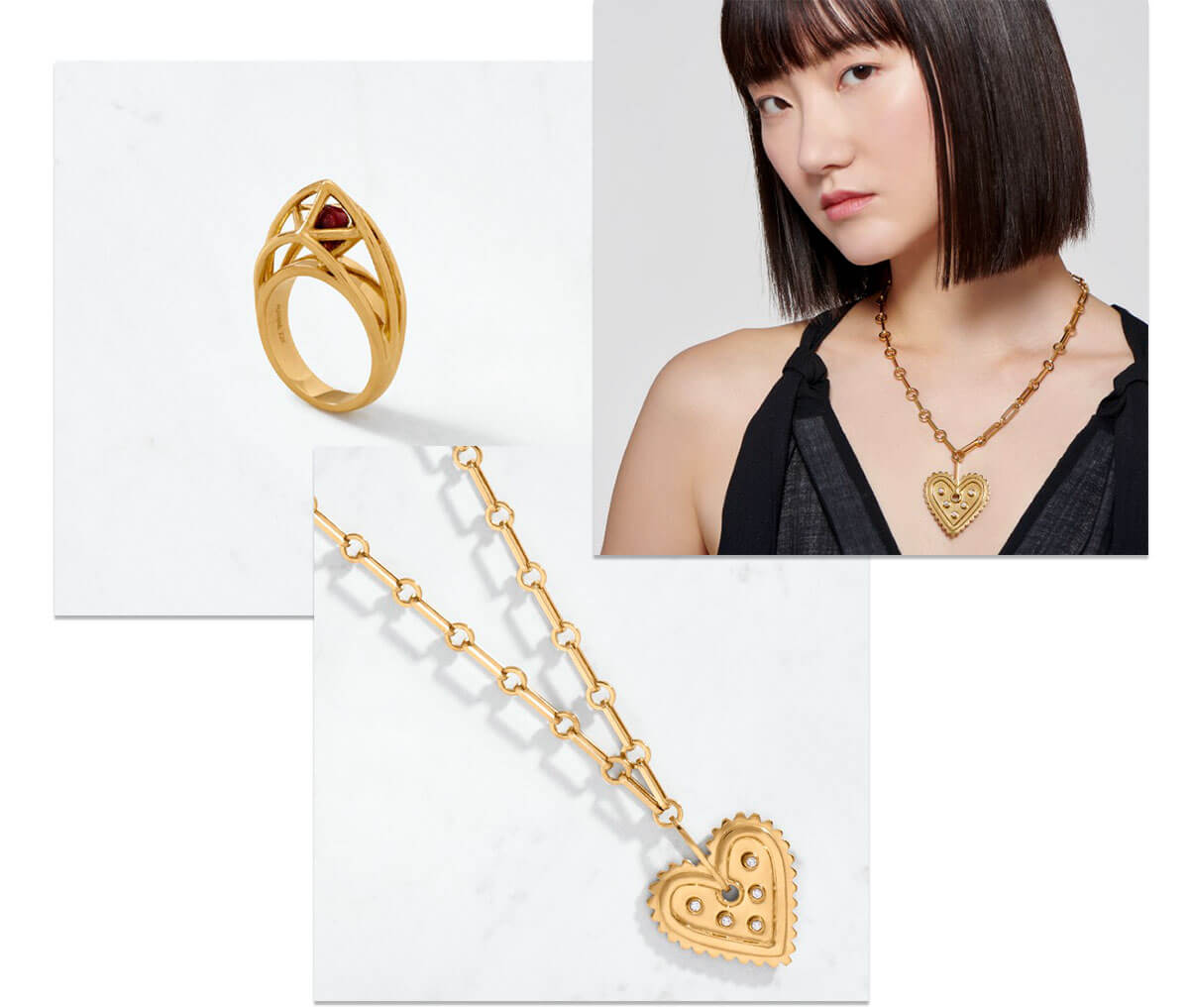 Auvere's 22 karat gold Bold Heart Diamond Pendant & Chain and 22 karat gold Cage Cocktail Ring/Ruby Ball.
Ear game. While certainly not necessarily a brand new trend, ear cuffs are still the best way to punk up your look without undergoing the pain of more piercings. We love to pile them on from the top of the lobe to the bottom, punctuating the look with sharp stud earrings.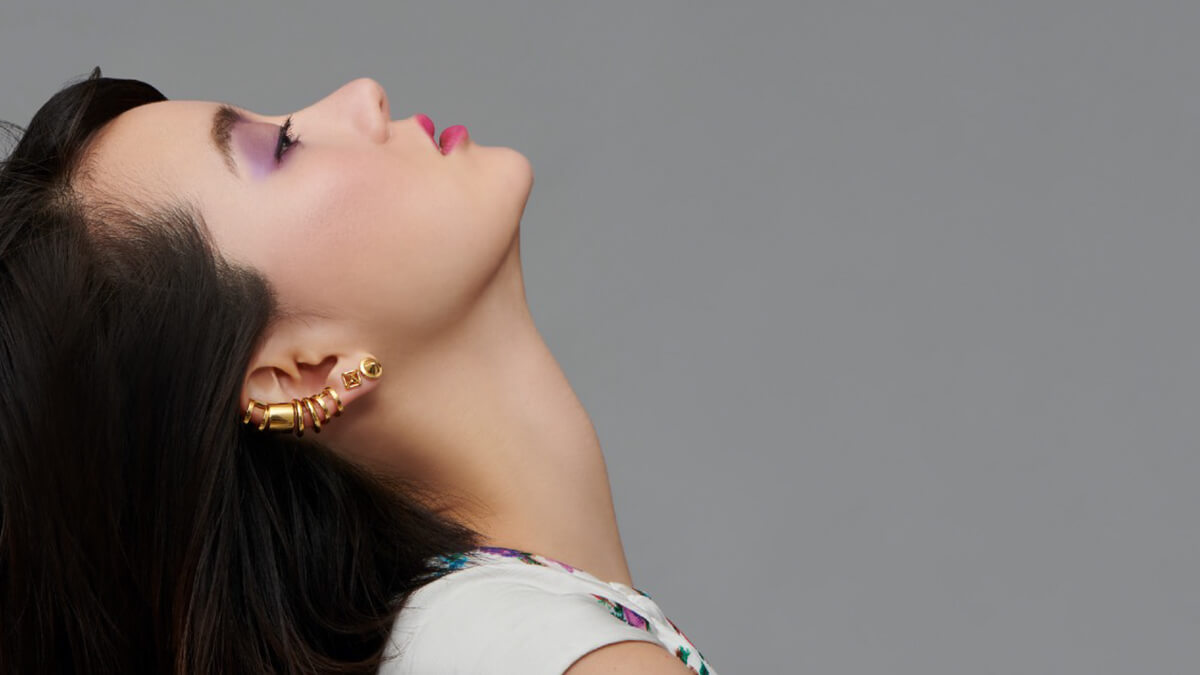 Model, Joony Kim, wearing Auvere's 22 karat solid gold ear cuffs with 22 karat gold Cage Stud Earrings and Cone Stud Earrings .