We've all got a history, right? Some humble, some painfully normal and some a bit more illustrious. Regardless of our respective histories, we can all admit that most come filled with generations of tall tales, bold exaggerations, and fantastic fables that keep the familial mystique alive and well into the foreseeable future. We're suckers for a good story. Gold had us at fame and fortune.
So while Gold isn't exactly a blood relative, 'her' history is a legendary, mythical and magical one that's as old as the sun. The legend of Gold began billions of years ago with a celestial collision, creating powerful meteorites that carried their precious, mystical cargo to the early, uninhabited, molten earth. From the get-go, she was a supernova.
It's hard to put a finger on exactly when gold was first discovered and utilized by civilized man, but we do know that the oldest, most significant gold treasure in the world was revealed in a mass burial ground, the Varna Necropolis, in Varna, Bulgaria. Archaeologists found the gravesite near the Black Sea in 1972 and dated it from around 4,600 BCE. Holding approximately 3000 gold artifacts and other treasures, some graves weren't even meant for human burial and were found to be without skeletons. Instead, some held grave gifts of gold and other items. Early civilizations had yet to learn the saying, 'you can't take it with you.'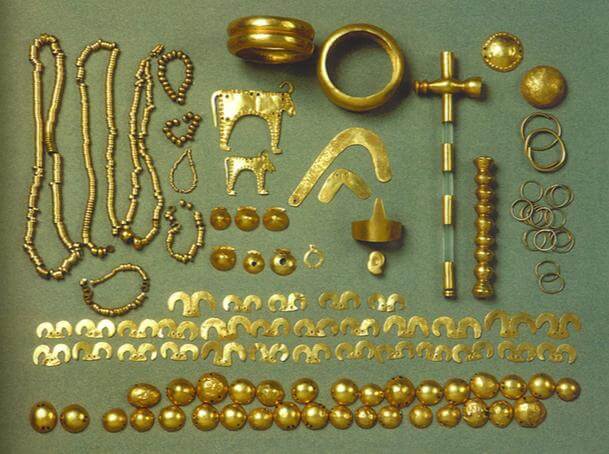 Almost 2,000 years later, the tradition of gold devotion was carried on by the Egyptians, a society so enthralled with the beauty and mythology of gold that they decorated everything in a gilded excess. Oddly enough though, they never used it as a currency. It was revered for its beauty and artistic properties only.
If you've ever seen an Egyptian exhibition, you'll understand their commitment to gold, but if you haven't, soon you could be in luck. In celebration of the 100-year discovery of King Tut's Tomb, there will be a brand new world tour, King Tut: Treasures of the Golden Pharoah opening March 2018.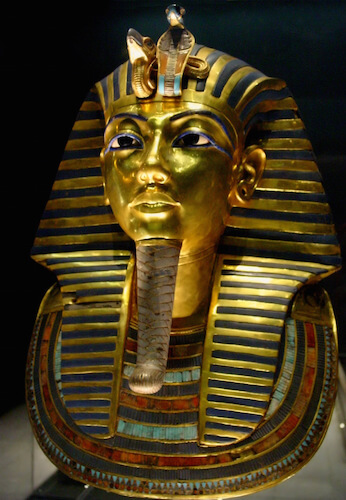 Tutankhamun's tomb was discovered by archaeologist Howard Carter in The Valley of the Kings in Egypt. The young pharaoh was buried in a solid gold sarcophagus (three to be precise), fitted with gold jewels and gold sandals on his feet. A 22.5 lb. Death Mask made of gold sat on the mummy's shoulders featuring the infamous striped headdress and long, distinctive beard with a spell from the Book of the Dead written on the back as protection for the underworld. Other treasures like gold inlaid furniture and priceless gold artifacts filled his tomb. Now that's what we refer to as next level gold worship.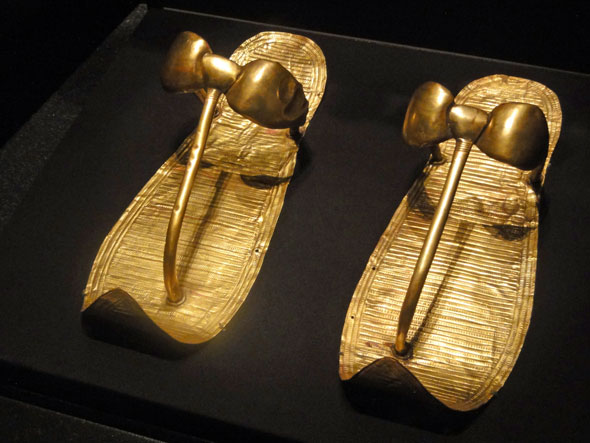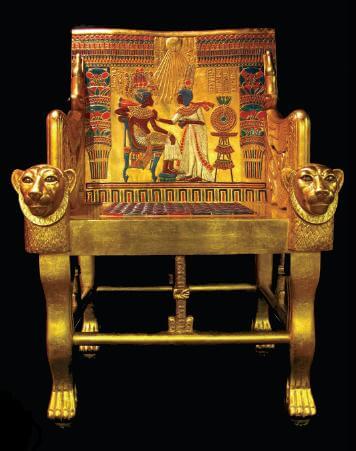 While gold reflected the royal status in the Egyptian society, you didn't necessarily have to be a King or Queen to own gold jewelry and treasures. It was common for women and men of a particular standing to have jewels fashioned from sheets of gold in the form of collars, and other pieces that utilized surface decoration with techniques like granulation (small spheres) and gold wirework, inlaid with precious stones like lapus lazuli and scarab beetles. Beaded necklaces, amulets, ankhs, pendants, diadems and armbands were popular and used as daily bling and for the occasional funeral ritual.
For Egyptians, gold represented God and was thought to bring a heavenly, mystical status to the wearer, dead or alive. Truly a gift from the heavens, this divine, little supernova known as Gold shines brightly throughout our history, and hers, with plenty more tales to come.