More than ever, jewelry has become one of the most enjoyable ways to express our individual style. Rather than dropping hints for birthday and holiday gifts, many of us are splurging on ourselves and investing in our own jewelry. And what better way to enjoy your jewelry splurge than to focus on your fingers. After all, unless we stand in front of a mirror all day, we can't see our earrings and necklaces. But our hands are in front of us all of the time.
So now that we are focused on rings and bands, the next step is figuring out some great ways to style your pieces. One of our favorite ways to show off multiple rings at one time is to stack them. So what makes the perfect ring stack? We have prepared a definitive guide to ring stacking to answer this very question. So let's do it. Keep reading to learn more about stacking rings.
1. STACK MULTIPLES OF THE SAME RING
We are big fans of stacking multiples of the same rings. Why? There's a certain symmetry to layering the same rings that appeals to our minimalist side. Stacking the exact same rings on one finger magnifies the size and emphasizes the style of the ring without looking haphazard and messy. One of our rings illustrates this approach well: The Callen Ring. The cool thing about the Callen Ring is that it comes in two finishes — polished and brushed satin. So you can limit your stack to the same finish or mix them up while maintaining the minimalist look of pairing rings that are the same shape.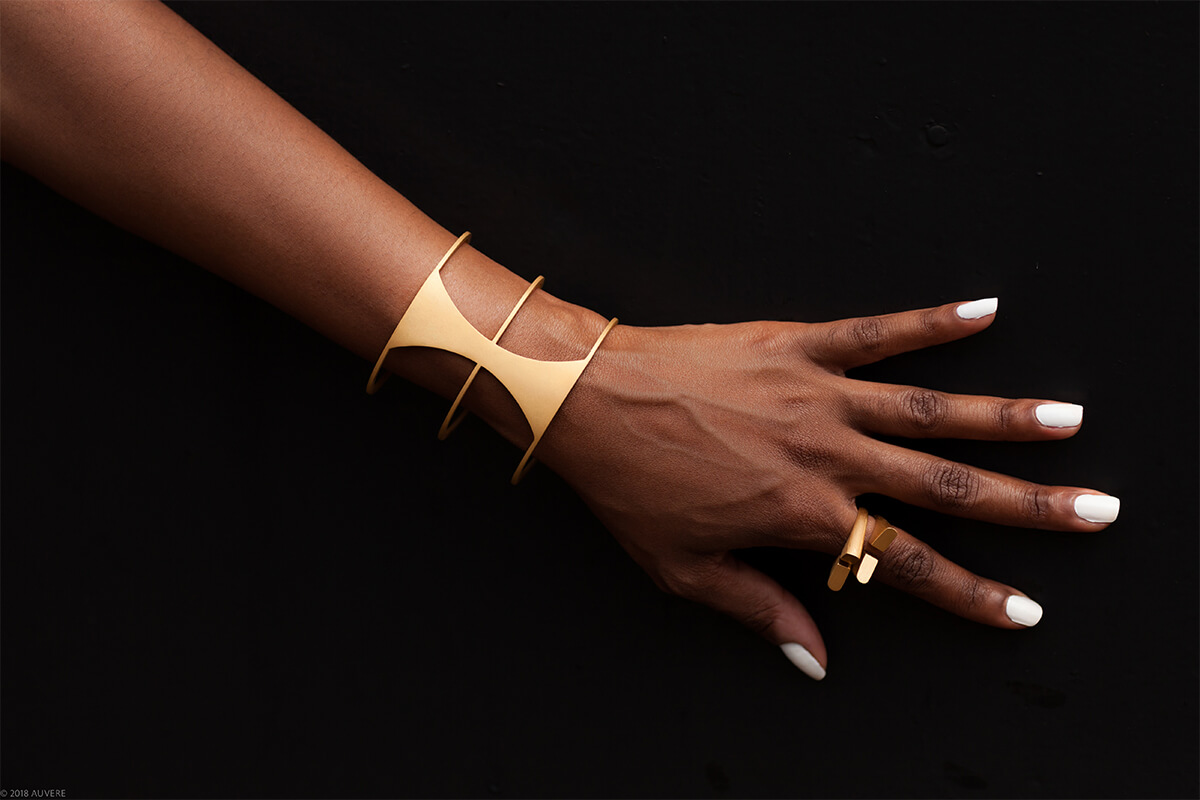 So here's the thing about stacking multiples of the same ring. You have to buy the exact same ring two or three times. So it's a commitment, especially if you are doing a vertical ring stack (as opposed to the "across the board" horizontal ring stack) because you have to buy the same ring in the same size. This may be hard for some of us who can't imagine buying the exact same ring twice. But we know a few folks who, once they find something they love, buy it in double and triples.
2. STACK RINGS THAT ARE SIMILAR (BUT DIFFERENT)
One way to achieve symmetry without having to buy the same ring twice or thrice is to consider rings that are similar but not the same. One perfect trio that may be worn alone or stacked on top of each other in variety of ways are the classic Clean Cut Stack Ring, Large V-Neck Ring and Small V-Neck Ring.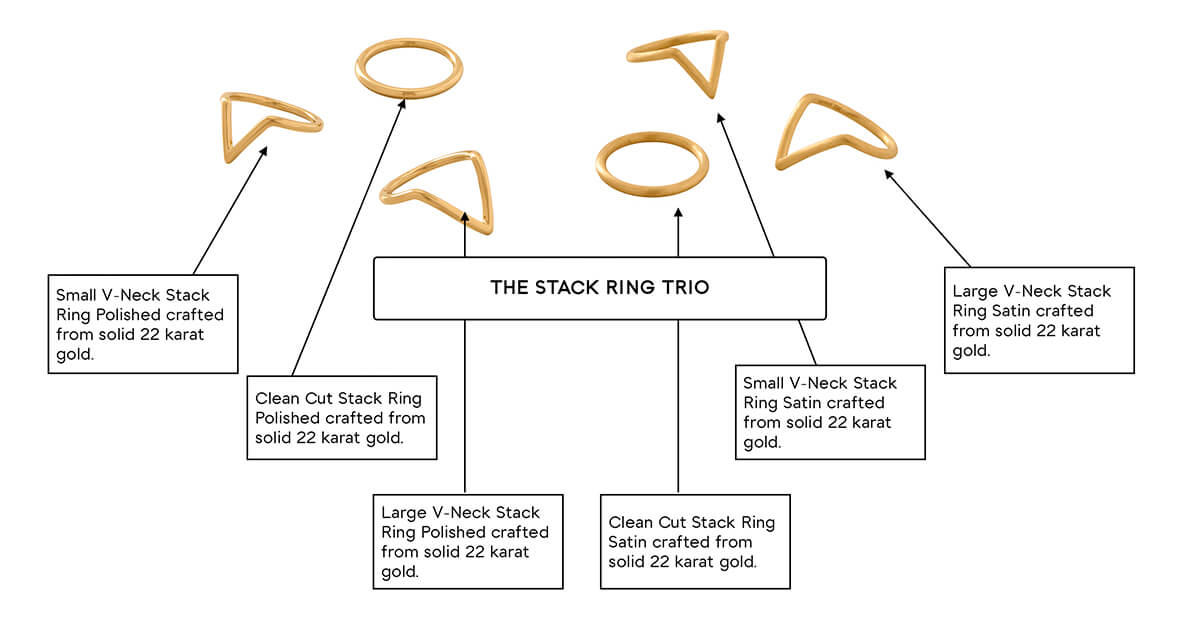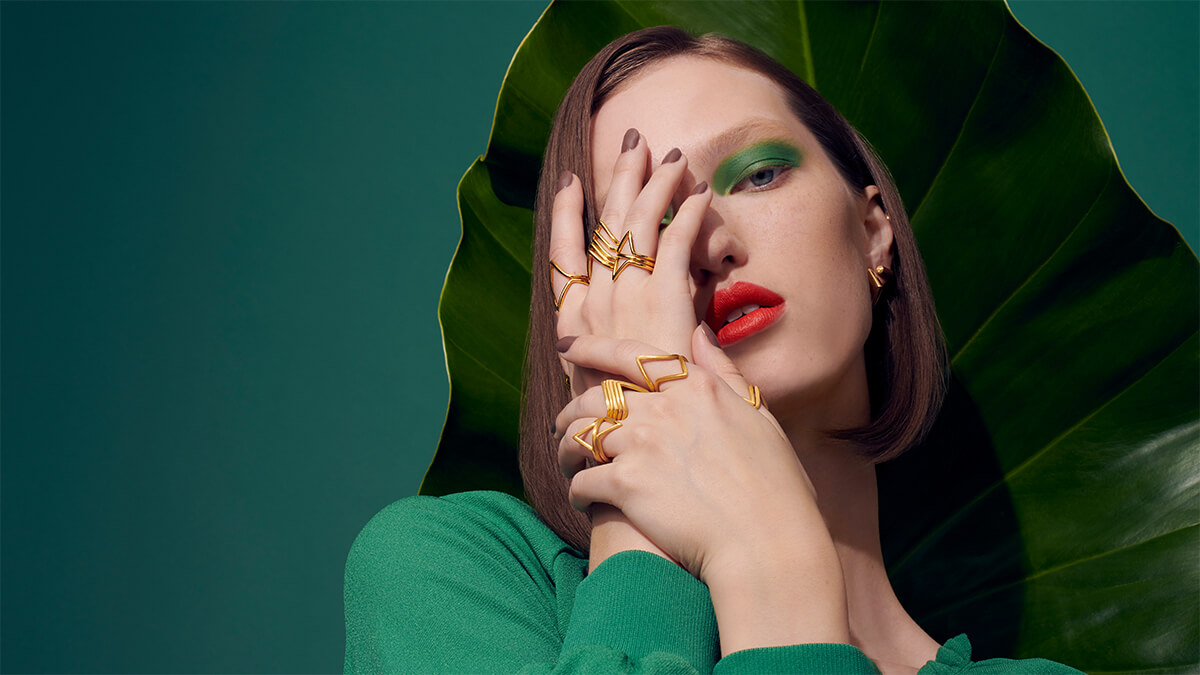 3. THE MIXOLOGIST APPROACH TO RING STACKING
While some of us want to achieve perfect symmetry with our ring stacks, others prefer to mix and match. We've seen some downright chaotic ring stacking — but who are we to judge. Ring stacking is self-expression, after all. We are all for a carefree approach to high karat gold rings. Even the most care free ring stackers should take care to consider a few things when going for a full-on mixologist approach to ring stacking.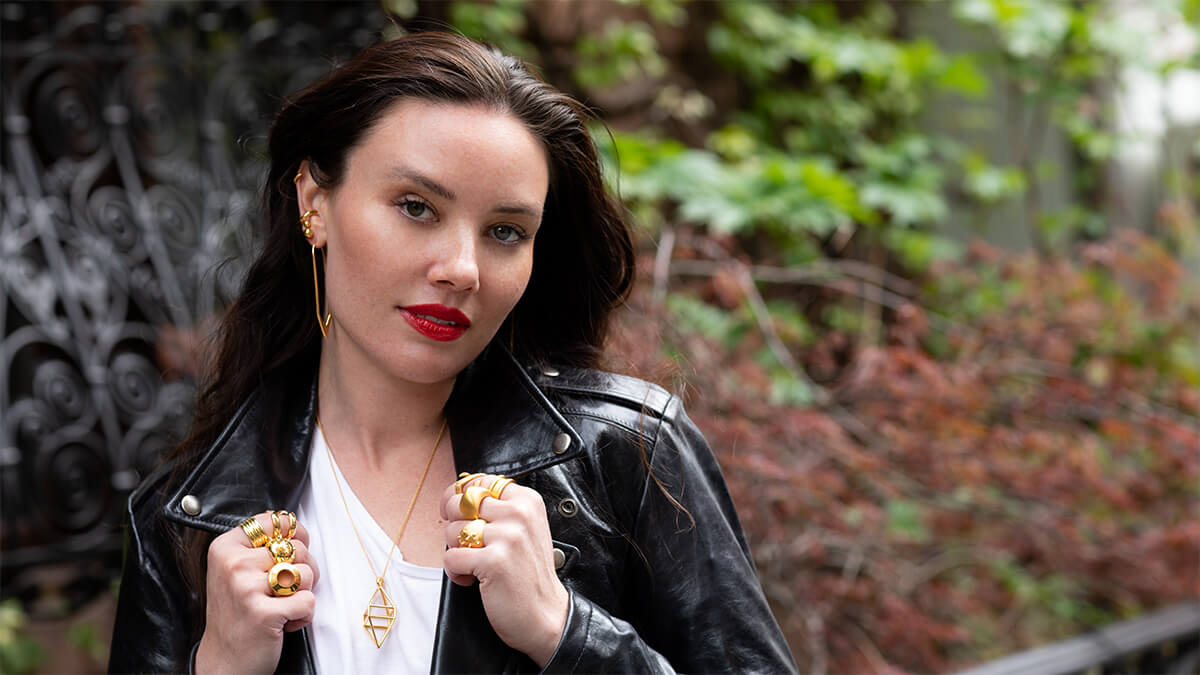 Consider the width of each ring. If you've got long fingers, then you can get away with stacking two wide bands on one finger. But if your fingers are on the shorter side, then have mercy on your knuckles and pair your wide band with a thinner ring.

With or without other jewelry? If you are going big with your ring stacking, then go totally maximalist with the rest of your jewelry (like Alyson Eastman above) or wear no other jewelry but your dramatic ring stack. Why? A middle of the road approach looks a bit non-commital. We think it's better to look like you mean it or at least thought about it.

What are your plans? If you plan to sit behind a desk and work all day, then you may want to consider a pared down approach to stacking. If you are dressing to impress, then by all means, pile on the treasures.

Mix styles on different fingers Another cool approach to ring stacking is to consider each finger its own canvas. So on one finger, you can stack multiples of the same ring such as the 22 karat gold Octavia Stack Ring in satin or polished finishes. On another finger, you can go with a random approach and stack whatever rings fit comfortably.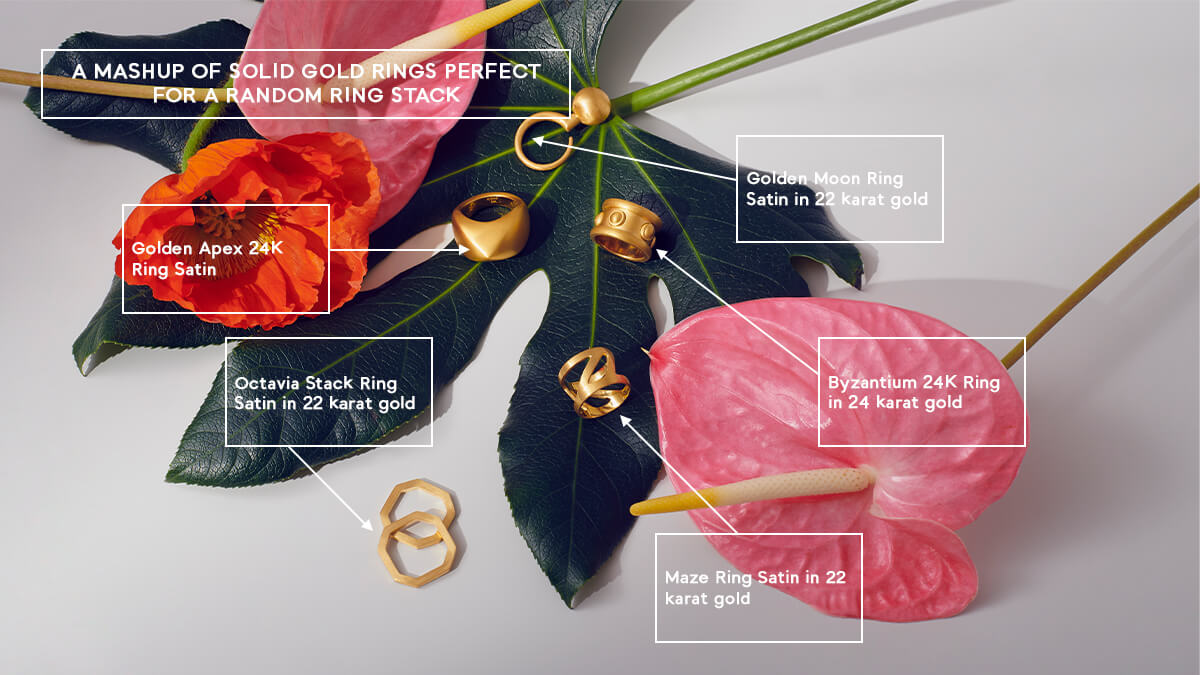 4. VERTICAL VS. HORIZONTAL RING STACKING
Whenever someone talks about ring stacking, the first thing that comes to mind is vertical stack on one or more fingers. But another approach to stacking is wearing at least one ring on as many fingers as you can handle. Our preference? Every finger is sporting a ring. Thumbs too. We call it the "across the board" or horizontal stack. This approach works for shorter fingers that can't handle multiple rings on one finger.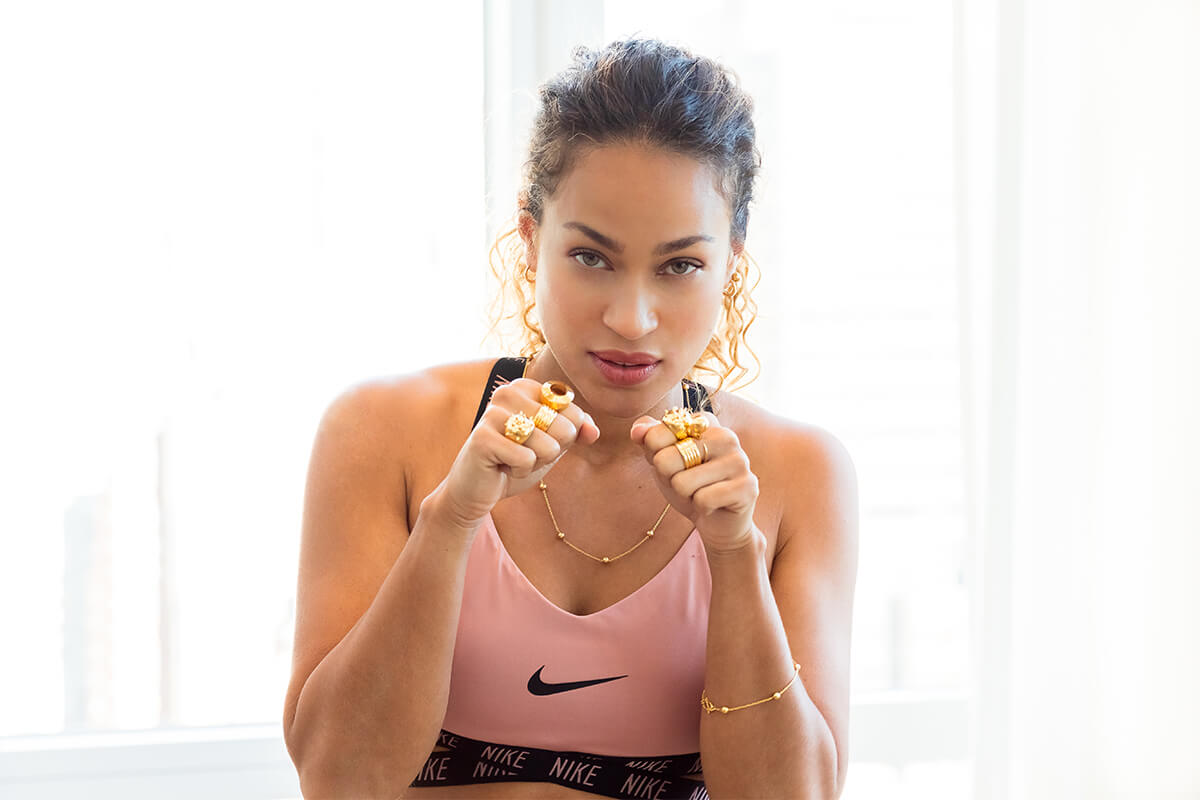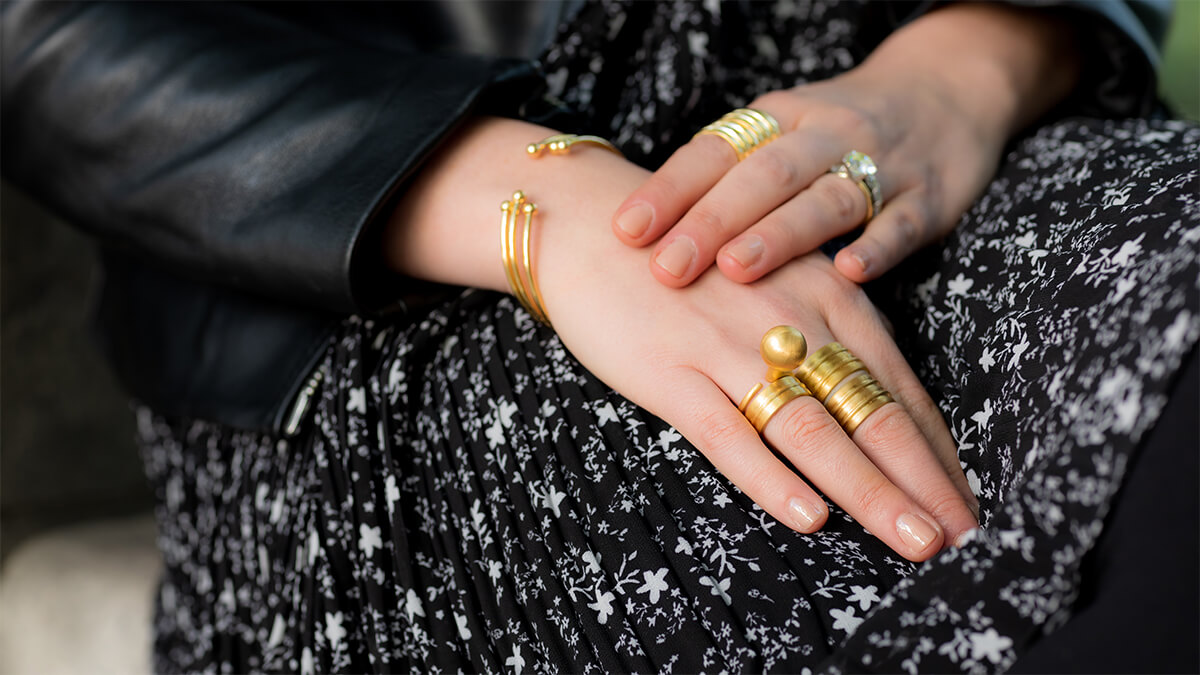 We think that wearing a horizontal ring stack is bold and fun, but don't be upset if your significant other looks a wee bit nervous. This approach to stacking rings is powerful and quite intense. That's not a bad thing, mind you. But if it isn't your cup of tea, then pare it down — but not too much otherwise the look is not quite as impactful.

5. PLAYING WITH TEXTURES AND METALS
In addition to a considered approach to mixing of ring dimensions and styles, noteworthy stack requires a thoughtful interplay of different textures and metals.
Mixing Metals
If you are reading this, we know that you love high karat gold, which is naturally a deep yellow color. But you may also have silver, white gold and platinum pieces that you want to wear with your high karat gold. Contrary to old school thinking, rich yellow gold pairs quite well with silver, platinum and white gold jewelry. The only pitfall is that platinum and silver are harder than high karat gold, so be sure to leave a ring-less finger between them so that your high karat gold does not rub against harder metals. Another interesting approach to mixing metals is to build your ring stack using one metal and add bracelets and a watch in another.

Mixing Textures
The concept of mixing textures applies not only to interior and clothing design, but to ring stacking too. One way to mix textures when stacking rings is to consider the finish. We offer rings in brushed satin, polished and hammered finishes. Traditionalists would argue that building a ring stack with one finish is best. A modern approach to the ring stack provides that self-expression defines the stack and that means mix your finishes if you feel like it. Another way to mix textures is to consider the different bands and rings you have — some may be smooth, others may have spikes, and yet others may boast hard edges. But none of that matters provided that your textured ring stack looks and feels like an authentic reflection of your personal style.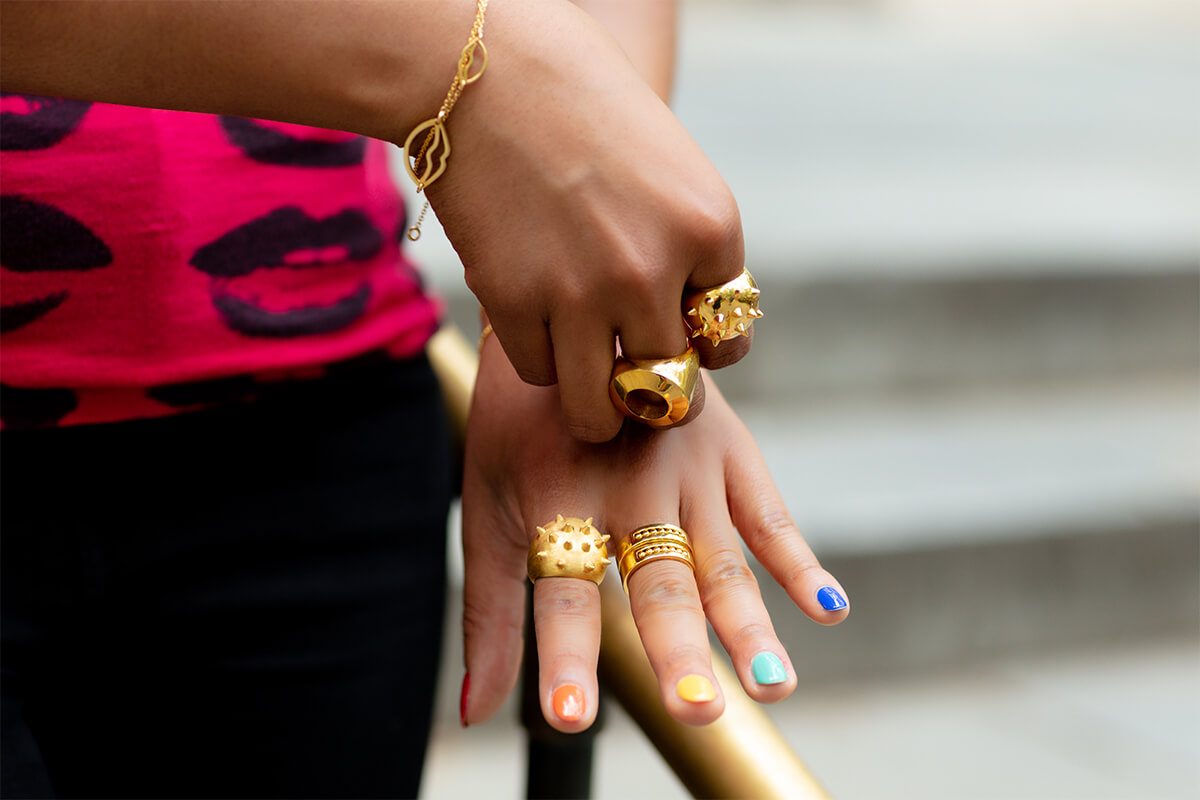 6. GUYS + RING STACKING
Let's face it, It's hard to get a lot of men to wear jewelry beyond a watch, a wedding band and, maybe a woven friendship bracelet. So the conversation around guys and stacking rings is still quite aspirational. But there is a certain gentleman who might be encouraged to try a ring stack. He is sartorially savvy and understands the power of jewelry. He enjoys experimenting with fashion and is confident enough to show it.
Even if your guy is sartorially savvy, you have to gauge his willingness to experiment before turning him on to the ring stack. So start slowly. If he is used to wearing a wedding band, then buy him a solid gold band to compliment the one you gave him on your wedding day.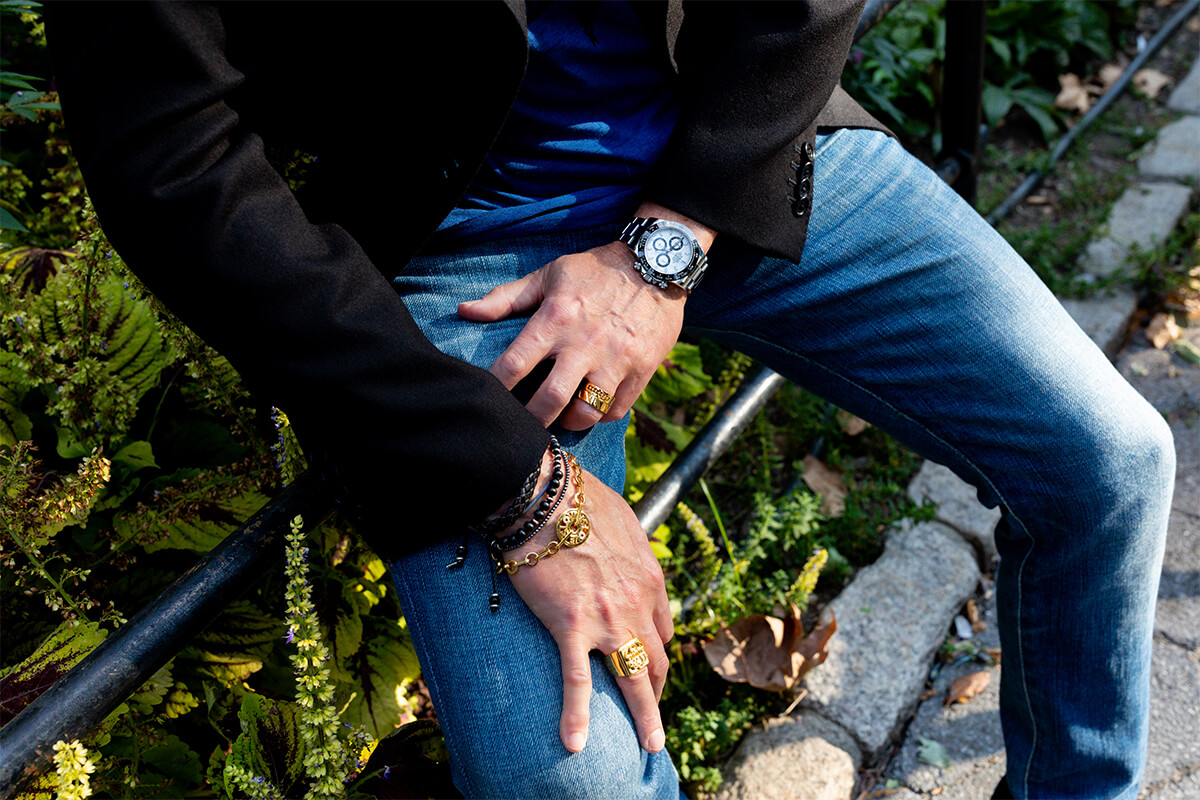 Even though they are still a minority, there are a group of guys out there who know how to pile on the bling. If that's your man, you should not only stick by him, but indulge his passion for rings.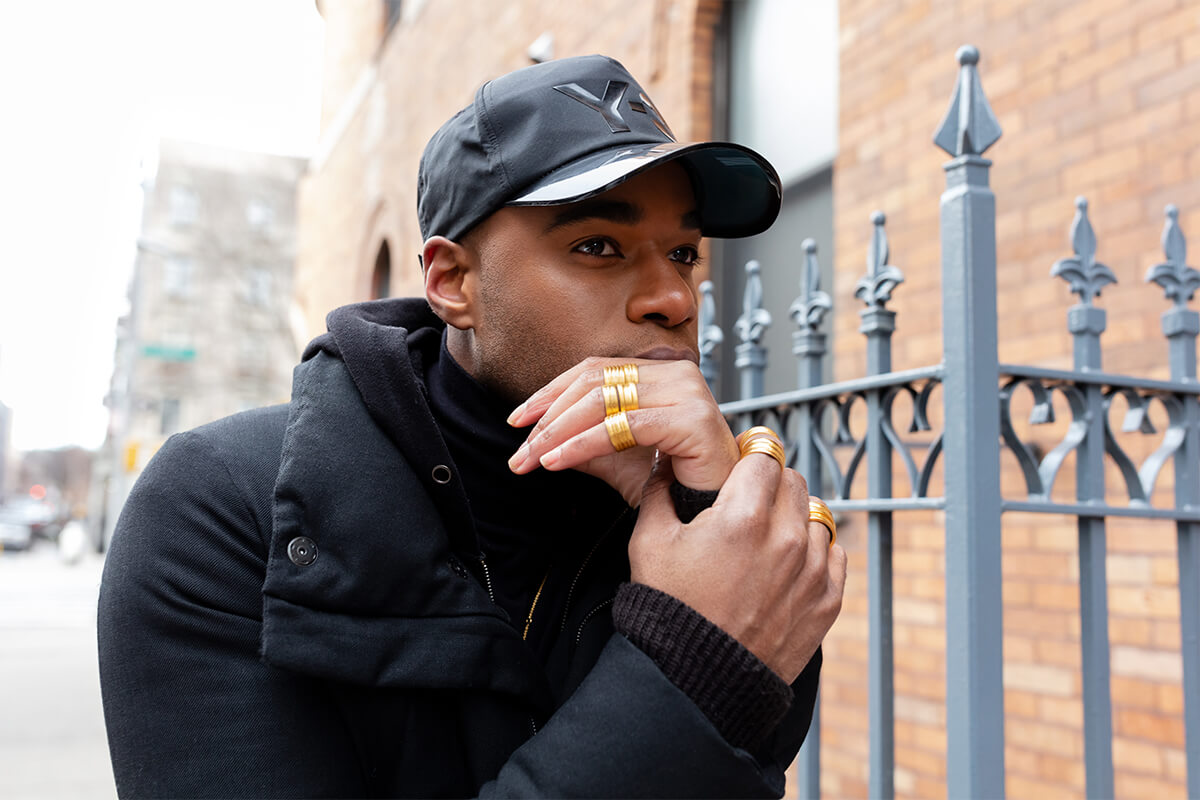 No matter how you wear it, stacking rings is a fun way to express one's own unique approach to wearing jewelry. We've provided some ideas and suggestions, but we firmly believe that how you wear your jewelry, including ring stacks, should be a reflection of who you are and show off the rings that you love.