Cool. Calm.
COLLECTED
Silver is modern, elevated and quite irresistible. Silver is also a precious investment metal, which makes sterling silver jewelry a worthy collectible. While 22 and 24 karat gold jewelry will always define Auvere, we appreciate the singular beauty of sterling silver, which brings a futuristic element to some of our iconic designs.
One of the things we love about offering silver jewelry is the opportunity that it presents to mix metals. Gone are the old dictates about matching our accessories in a monochromatic manner. Nowadays, we may expand our jewelry palette by mixing and matching gold, silver, and gemstones too.
Explore our capsule collection featuring some of our favorite pieces crafted from sterling silver. Shop Sterling Silver.
The character of
TRUE GOLD
"A gentleman knows his actions carry more weight than any words spoken." — Unknown
The weight and character of high karat gold is unmatched in the jewelry world. Auvere's high karat gold jewelry is sculpted from true 22 karat gold and pure 24 karat gold — the same type of gold used for investment-grade gold bullion. This means that Auvere's solid 22 and 24 karat gold jewelry possesses a much greater store of value than 10K, 14K and 18K gold jewelry. Simply put, Auvere's solid gold jewelry is not only an alluring adornment. It's a pretty smart investment. Learn more.
Gold loves
GEMSTONES
While we are big fans of pure solid gold jewelry, there's no doubt that high karat gold looks spectacular when paired with and diamonds or colored gemstones. Diamonds possess a brilliant and ice cold sparkle, which contrasts magnificently against the rich warmth of high karat gold. Colored gemstones, on the other hand, enhance (and are enhanced by) the rich hue of high karat gold. Lately, we've been pairing gold with diamonds, turquoise and other colored gemstones to create pieces that jewelry lovers are smitten by (including Sotheby's)! Shop Gemstone Jewelry.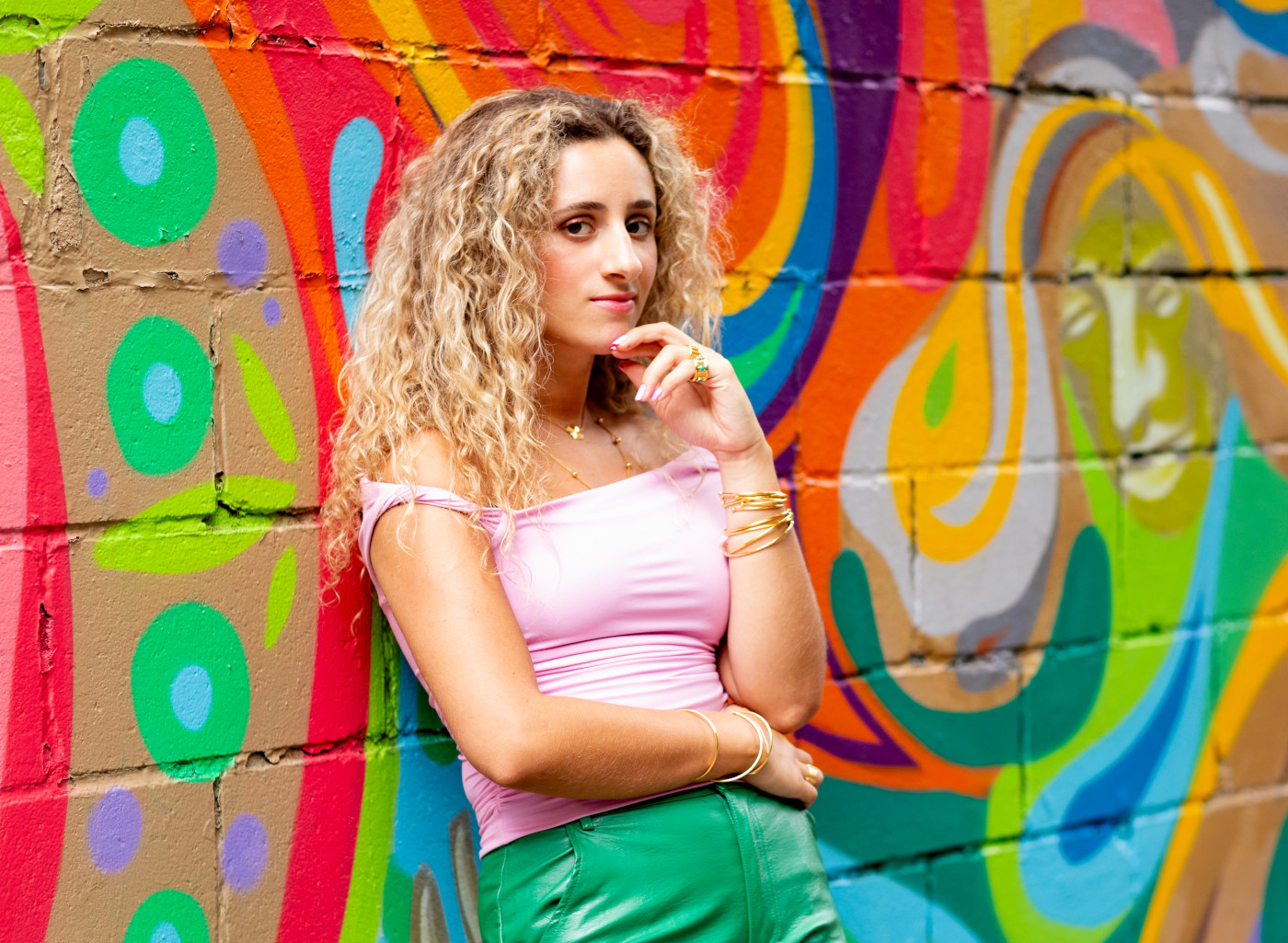 The
GILDED ONES
Featuring
ISABELLA SILBER
Public Relations Account Executive
New York, New York
STYLE STORIES: People Who Wear Auvere
READ MORE
The story of
AUVERE
The story of Auvere is a story about love. It starts with our designer and co-founder, Gina Love, and her love of design, photography, gold jewelry and leather goods. But that love story reached another level when she met our other co-founder, Steven Feldman.
READ MORE
Responsible
SOURCING
Responsible sourcing is an important part of our business. When you shop with us, you should feel confident and assured you are receiving pieces made with materials that are carefully, transparently, responsibly and ethically obtained. Moreover, we feel that you should know the provenance of the materials behind your jewelry. Let us tell you more about our sourcing.
READ MORE
Press
PLAY
Turn up the volume and press play to check out Auvere's brand films.
SEE MORE FILMS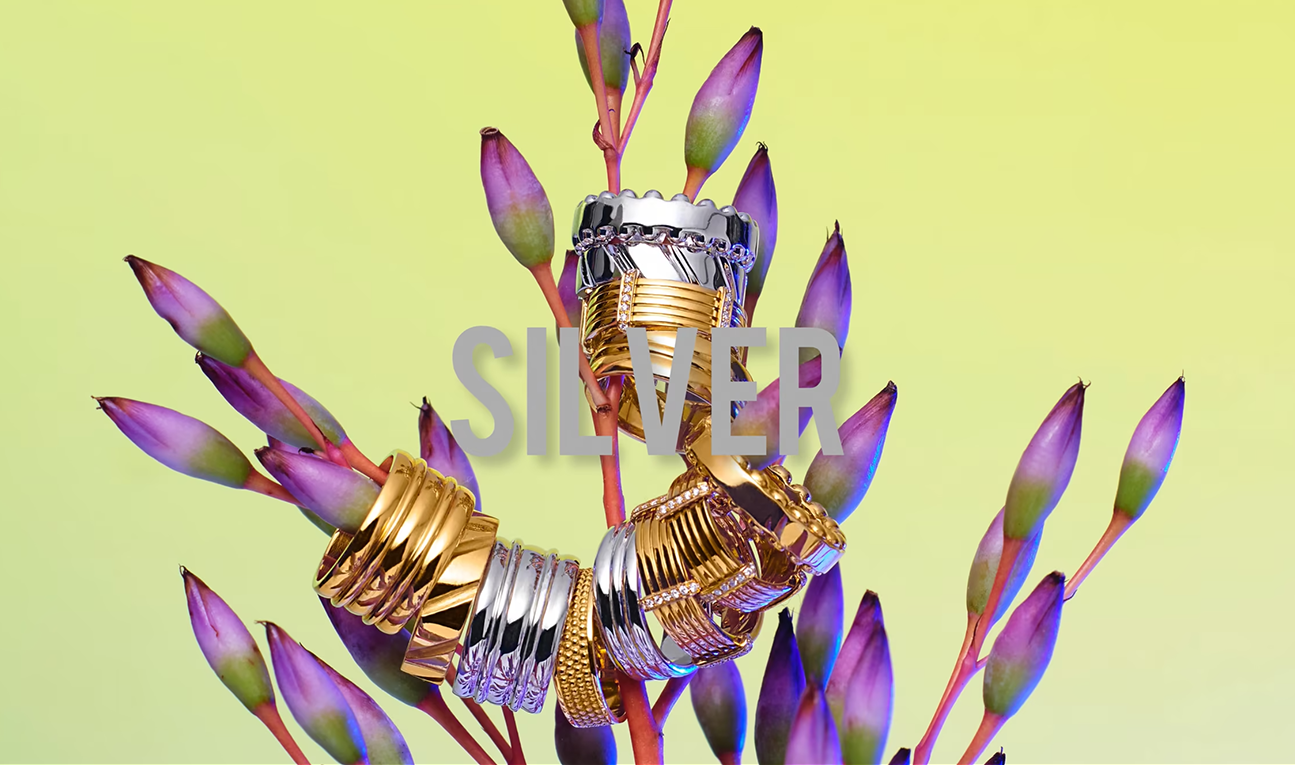 Jewelry and
COLLECTIONS
A SILVER MOMENT
Okay. Okay. we know what you're thinking. Auvere and silver? And to that question, we offer a resounding yes! Even if you're new to Auvere, you can probably tell that we are specialists in 22 karat gold jewelry and 24 karat gold jewelry as well. But that doesn't mean we can't embrace the modern mood that silver brings to our jewelry box. Moreover, silver, like gold, is considered a noble investment metal with an illustrious provenance — the stars. Have a peek at our curated selection of iconic Auvere designs fashioned from sterling silver. Wear only silver jewelry for a monochromatic jewelry statement or mix your metals by wearing silver with your favorite 22 and 24 karat gold jewelry. No matter how you wear it, we think you are going to love our capsule collection of silver jewelry as much as we do.
READ MORE
Style, Fashion &
TRENDS
THE UNORTHODOX ENGAGEMENT RING
For hundreds of years, couples around the world have enjoyed the tradition of giving and receiving an engagement ring. This singular piece of jewelry constitutes a statement of love, represents a promise of fidelity and devotion, and politely informs would-be suitors to keep it moving. In a way, the engagement ring symbolizes the bedrock upon which new futures are built. Nary has one object held so much emotional weight as this diminutive piece of jewelry.
READ MORE
You deserve a
GOLDEN EXPERIENCE
free shipping in the USA

We offer complimentary shipping in the USA. Learn more about our shipping policies, including international shipping.

free 30-day returns

We offer free 30-day returns in the USA. Learn more about our return and exchange policies.