Soft-spoken but dripping with edgy style, model Joshua Smoot, defies expectations. His long, wavy locks, multiple piercings and tattoos might lead one to believe that he's a bit of a loner or a moody "tough guy". Au contraire! Joshua is actually a loving young father of a little boy, a burgeoning jeweler, a guitarist and a fantastic model who knows how to work his angles in front of the camera. Please meet Joshua Smoot.
AUVERE: Hi Joshua. Tell us about yourself. Where are you from, and where do you live now?
JOSHUA SMOOT: Howdy there. I was born in California and currently reside in Northern Virginia; however, I spend most of my time in New York City. I know this might come as a surprise, but I'm 32 and the father of a 4-year-old boy! Most people think that I look a lot younger than I am. My father is American, and my mother is Filipina. I stay close to my family so I can travel and take on modeling assignments, which I absolutely love. It really is a blessing.
A: How did you get into modeling? Were you scouted, or did you pursue being a model?
JS: It's quite funny. A friend took a break from New York City and began working as a bartender at a restaurant I was working in at the time. She persuaded me to explore modeling and introduced me to modeling scout, George Kartis. From that point things happened really fast. I signed with my first agency right after meeting George and did my first runway show not long after that. Doing that first show is still my fondest memory today.
A: How long have you been modeling? What do you like about it? What are your favorite types of jobs?
JS: I started modeling right around the time my son was born — so 4 years now. There are so many wonderful things about my profession. It's fantastic to get the chance to work with so many different people and do all kinds of work. I love editorial work in particular because it's just so much more interesting, The sky is the limit in terms of how creative things can get between the photographer and the stylist. I've really loved any opportunity to do jewelry or wear makeup. I feel naturally confident when I get to do anything that involves shaking up men's fashion norms. Men's fashion can feel dull sometimes, so it's refreshing to work with a really obscure wardrobe!
A: You have a great look, which brought a very cool edge to our most recent imagery. How would you describe your personal style?
JS: Thank you! I draw most of my style inspiration from rock n' roll. I'm a huge fan of the era between 71-88'. There was so much great fashion, style, and of course, music. I have many old-school Sailor Jerry tattoos, which I kept in the sketch style, so they aren't filled in. There's something unique and edgy about the 50's look with pompadours and the coolness of Elvis and The Outsiders. I like to express outwardly, in my style choices, the things in which I am genuinely interested.
A: Would you tell us about the significance of your tattoos — especially the "Bowie" tattoo?
JS: I've never been one to ascribe a specific "meaning" to my tattoos. In fact, all of them have come from a feeling of wanting a change. I would sit in a tattoo shop and ask to look through all the Sailor Jerry books. If I get a feeling like "yes, this is the one," then I contemplate where to place it before making that commitment and just go for it. The "Bowie" tattoo is the only one with special meaning because that's my son's name! I got it right before he was born on my neck. Neck tattoos are so beautiful! And yes, he was named after the late, great Mr. David Bowie!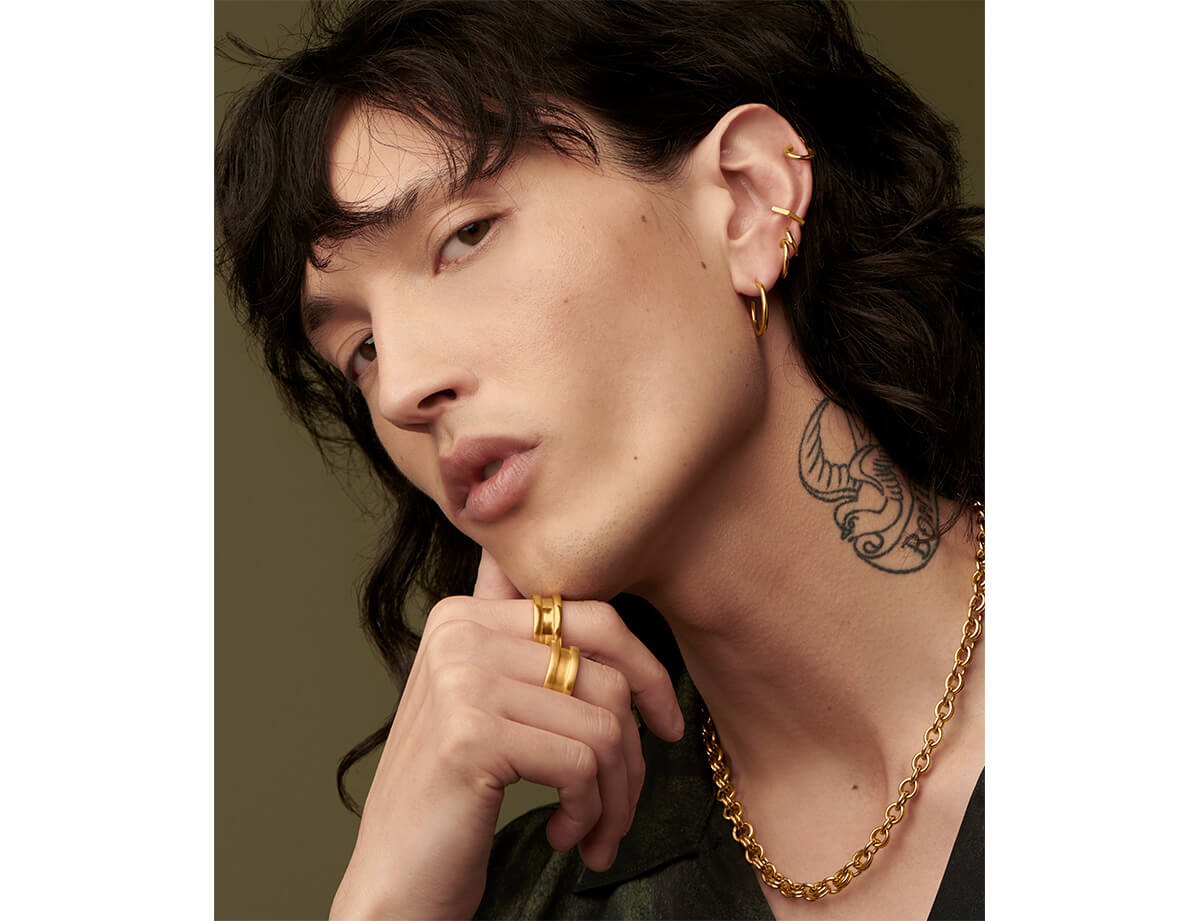 " Being a parent is the most beautiful and natural part of life.
A: So, you are the father of a beautiful little boy. How has fatherhood changed your daily life as well as your point of view about life?
JS: Being a parent is the most beautiful and natural part of life; yet, I can still remember a time when I thought would never want children. But how could I have known how much I would love being a father before experiencing it firsthand? As most parents know, raising children is a lot of work in daily life, but how one approaches it is so important. I really think that being a father has made me less stressed because I've learned that the most important thing to me is family. I would do anything for the people I love.
A: Are you interested in fashion opportunities outside of being a model? Do you consider yourself a creative?
JS: Absolutely! I've been studying silversmithing in order to create some of my own fantastic pieces of jewelry. Molding metal into jewelry is the perfect creative outlet for me — as well as a chance to be the photographer behind a look book showcasing my work. It sounds like so much fun. So many models dream about being the person behind the lens.
A: What are you passionate about these days?
JS: New York City is full of opportunities. I've met many people who moved to New York City to follow their passion and are now turning that passion into a source of income. It's super inspiring. My goal is to create multiple sources of income from activities that make me happy and still allow me the time and resources to be the best father that I can be. That's where I am pouring all my energy right now. The one passion that I dropped after college and have recently revived is playing guitar. I'd love to be in a band one day.
A: You have a few ear piercings. When did you get into jewelry, and what do you think jewelry adds to your personal style?
JS: I think it was after seeing the movie "The Lost Boys." I was probably 16 years old at the time, but Jason Patric, Kiefer Sutherland, and all those guys in the film had all kinds of jewelry on. I became obsessed. So I got my ears pierced right after seeing the movie and felt so cool! Jewelry is so beautiful. I love the way it helps to create a more interesting sense of style. In my opinion, wearing multiple earrings lends mystery to someone's personal profile and enhances their look and vibe.
A: Are there pieces that you wear every day, or do you like to mix it up and experiment?
JS: I pretty much rock the same jewelry daily right now because I have to take them off so often. After wearing some of Auvere's beautiful gold pieces, I've really wanted to get into mixing and matching more often, especially some big hoops!
A: We know you like silver, but are you warming up to the gold after the photoshoot?
JS: Definitely! It was so refreshing to try something new. I've never worn gold jewelry before. Now, I am such a fan of the rings. All the pieces felt so gender-neutral and stackable. I love the way Auvere mixes up ring styles when stacking rings.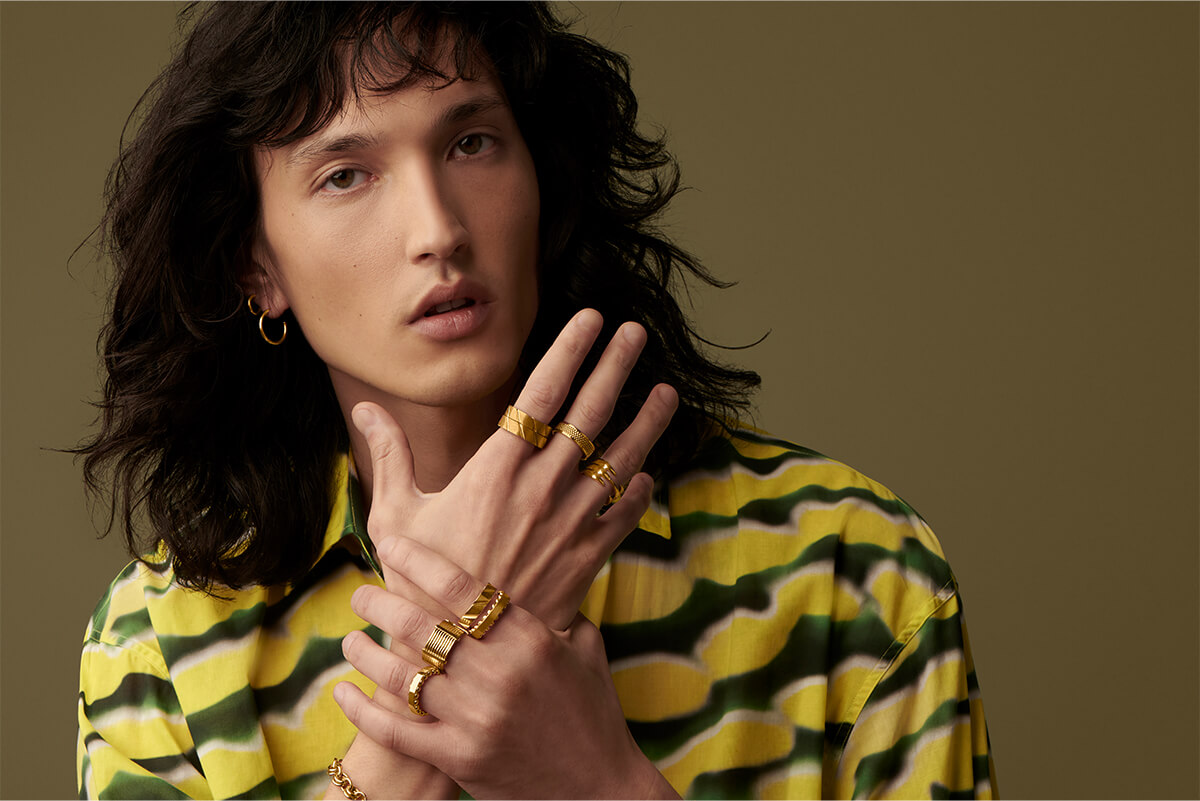 A: What style advice would you give to men interested in wearing jewelry but might need a little help to find the best pieces for themselves?
JS: Rings are essential and the best place to start. I'd say start with a pinky ring. It's subtle and looks great on any hand. Just a standard band ring style. For those who have thought about earrings and aren't sure where to start, I'd suggest small, simple, thin hoop earrings that wrap around your earlobes. It's just enough flavor and a great place to start!