Auvere's Golden Girl, Tricia Akello, is undoubtedly a successful model. She's beautiful, tall, striking, and has all the right moves on set. Behind the scenes, however, we realized that Tricia is not only a talented model, but someone who possesses the confidence, drive and vision necessary to make great things happen.
Tricia's journey to becoming a top model began in her homeland of Uganda and has taken her all over the world. These days, Tricia has stepped into the role of entrepreneur and fellow creative with her very own swimwear brand, Pakello. Call us inspired!
Without further ado, please meet Tricia Akello.
AUVERE: Where are you from? How long have you been based in New York?
TRICIA AKELLO: I go by the name Tricia, but my name is actually Patricia Akello. I was born and raised in Uganda, and I moved to New York City in 2016, which will make it five years this August!
A: How did you start modeling? Were you scouted, or did you pursue being a model?
TA: I was modeling in Uganda but not on a professional level. During this time, the only modeling agency in Uganda was Joram. It took me some time to get signed, but since I'm not one to give up easily, they eventually agreed to represent me. A little later, a South African agent named Pearl was scouting models to place at more prominent agencies in Cape Town. Pearl reached out to Joram for suggestions. He sent Pearl polaroids of some of the girls, including me. I was lucky because I was the only one selected. I was signed to an agency in Cape Town, where I lived for the next two years to build my modeling career. Then I got signed to other agencies in Europe. I traveled to Paris, Germany, Sweden, and NYC. Currently, I am based in New York and represented by Muse Models. They have done an outstanding job with my career.
A: What do you love about modeling?
TA: Modeling has taught me self-love. I've learned to appreciate the way I was created. It took some time for me to realize that I possessed beautiful features that would one day be used to tell a story or sell a brand – my dark skin, my kinky hair, my long fingers, I could go on and on. Through modeling, I have met so many amazing people, and it has enabled me to spread my wings and travel the world.
A: Tell us about your swimwear brand, Pakello. Why did you decide to create this collection?
TA: My passion for fashion inspired and motivated me to pursue a career in designing boldly colored, desirable, timeless swimwear for every woman. We advocate for diversity, body positivity, and exuding attitude, comfort, and confidence in one's own skin. Pakello Swimwear was founded in 2020 during the pandemic lockdown. When everything was at a standstill and quite dark for so many people, I thought I could create a swimwear line with light and bright colors that could make people feel happy and more optimistic. Creating the collection certainly made me happy and helped channel my creativity during this difficult time.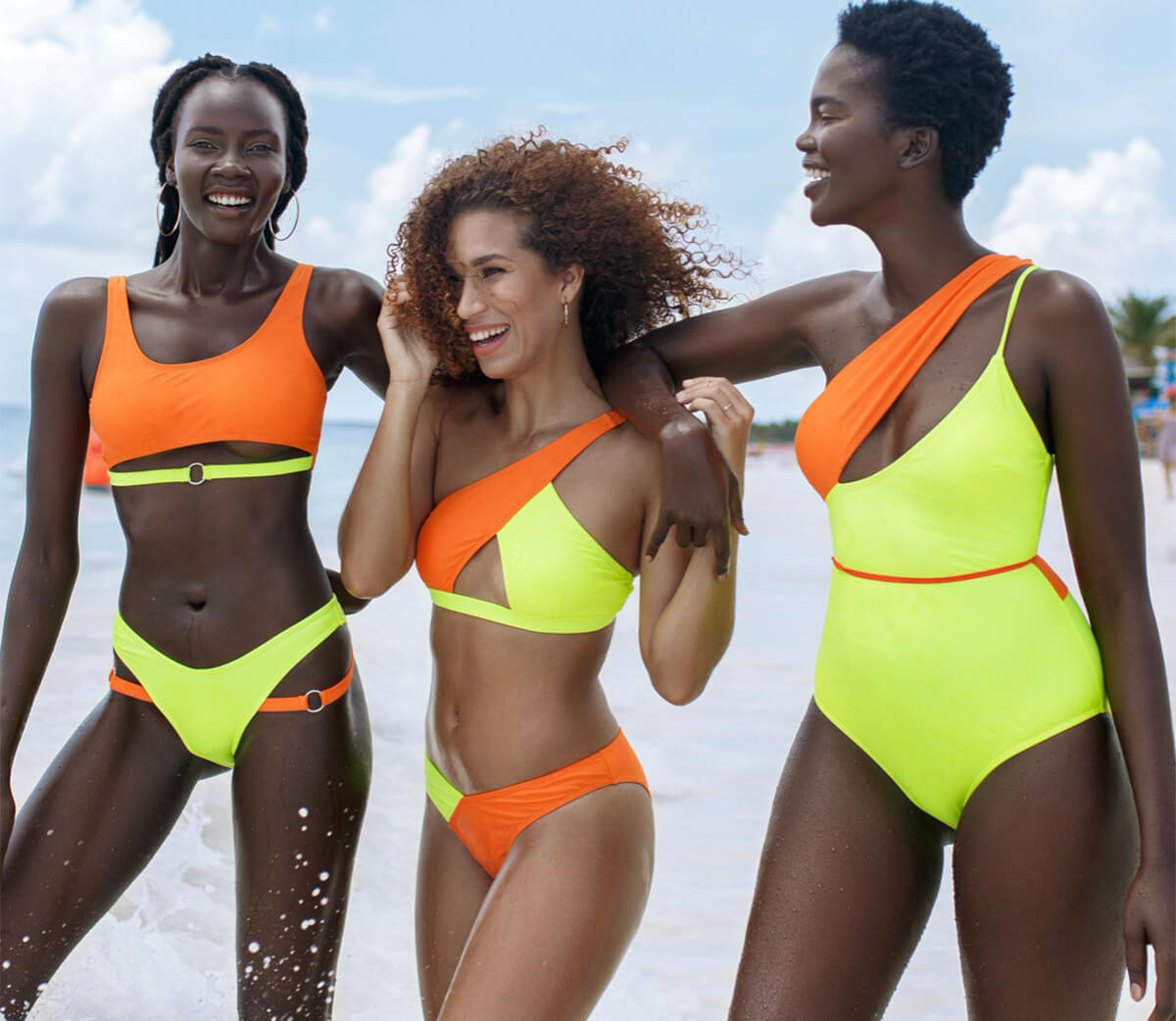 A: Your website is fantastic, and it helps that you are the perfect woman for your own brand. How does the experience of modeling for your brand differ from modeling for other brands and magazines?
TA: I always give my best whether I work for other clients or my own brand, but of course, it was exciting to work for myself. I feel privileged to be able to draw from my modeling experience to promote Pakello.
A: Do you have any plans to expand your collection to other categories?
TA: Yes, I do. Celebrating and advocating for body positivity does not only apply to women. Men and children can also struggle with this. In the future, Pakello will cater to everyone. Fingers crossed!
A: What's the philosophy behind PAKELLO?
TA: Why camouflage when you can stand out? We use bold, happy colors to advocate for body positivity, comfort, and confidence.
Let's talk about jewelry. Do you consider yourself a jewelry aficionado? Do you have pieces that you wear every day?
TA: Yes, I do. I rarely wear makeup, so jewelry is what I go for. I was once addressed as "Sir" on a flight because I wore sweatpants with no makeup or jewelry. I realized how vital it is to wear at least one piece, especially if you have short hair. I wear hoops in different sizes and forms most of the time now.
A: We love how you look in AUVERE. Did you have any favorite pieces from the photoshoot?
TA: I feel like every piece I wore brought with it a certain energy and emotion. I had so many favorites, but the Big Heart Ring really captured my heart. I can't wait to frame that one iconic picture.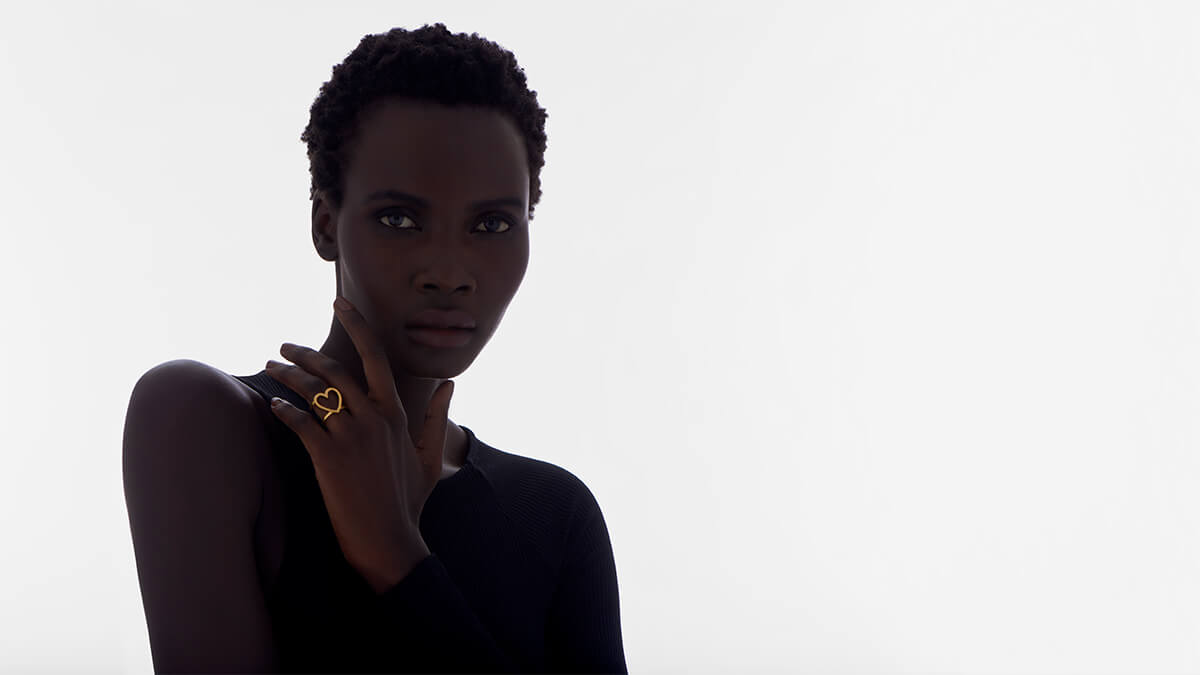 A: We consider you to be an Auvere style icon. Can you give us some of your styling tips for wearing jewelry?
TA: I don't really have a principle on how to wear jewelry, but in most cases, I wear fewer pieces when dressed in bright colors and go crazy when I wear dark or muted colors.
A: It would be so much fun to see your swimsuits worn with Auvere. How would you put them together?
TA: Pakello swimsuits are in bright, happy colors and expose the skin, so stacking a bunch of asymmetrical rings on my fingers would add a nice contrast and give my swimwear a cool look. All types of earrings go well with the swimwear too. I have two ear piercings on both ears, which makes me more adventurous by wearing a big statement earring in the first piercing and a small dainty one in the second piercing.