THE FIRST MONDAY IN MAYIt's a thing
Over the past decade, the 'First Monday in May' has become one of the most highly anticipated fashion events of the year and one that marks a brand new exhibit at the Metropolitan Museum of Art's Costume Institute in New York City.
On this day, the Met Museum, like a well-oiled clock, rolls out the red carpet for the bevy of A-list celebrities, fashion folk and gala attendees whose gathering rivals that of the infamous Vanity Fair Oscar Party in Los Angeles. This highly orchestrated glitterati affair (which is now covered by the E! Channel) is designed to benefit the Costume Institute, but also serves as a boon to the fashion industry as it reminds us that fashion doesn't exist in an elite bubble (although it may seem that way sometimes), but as a greater cultural indicator of our collective mindset. The Costume Institute's attendance over the past several years has grown exponentially (Alexander McQueen's 'Savage Beauty' in 2011 broke the record), which suggests that public interest in the art of fashion is on the rise.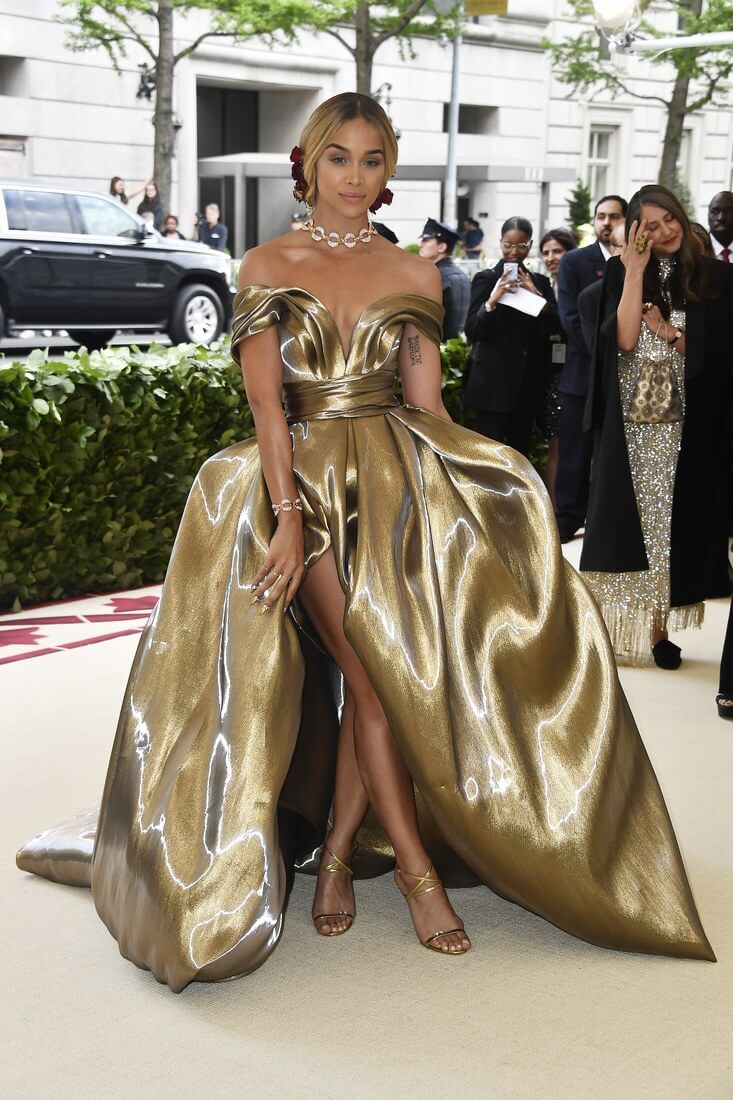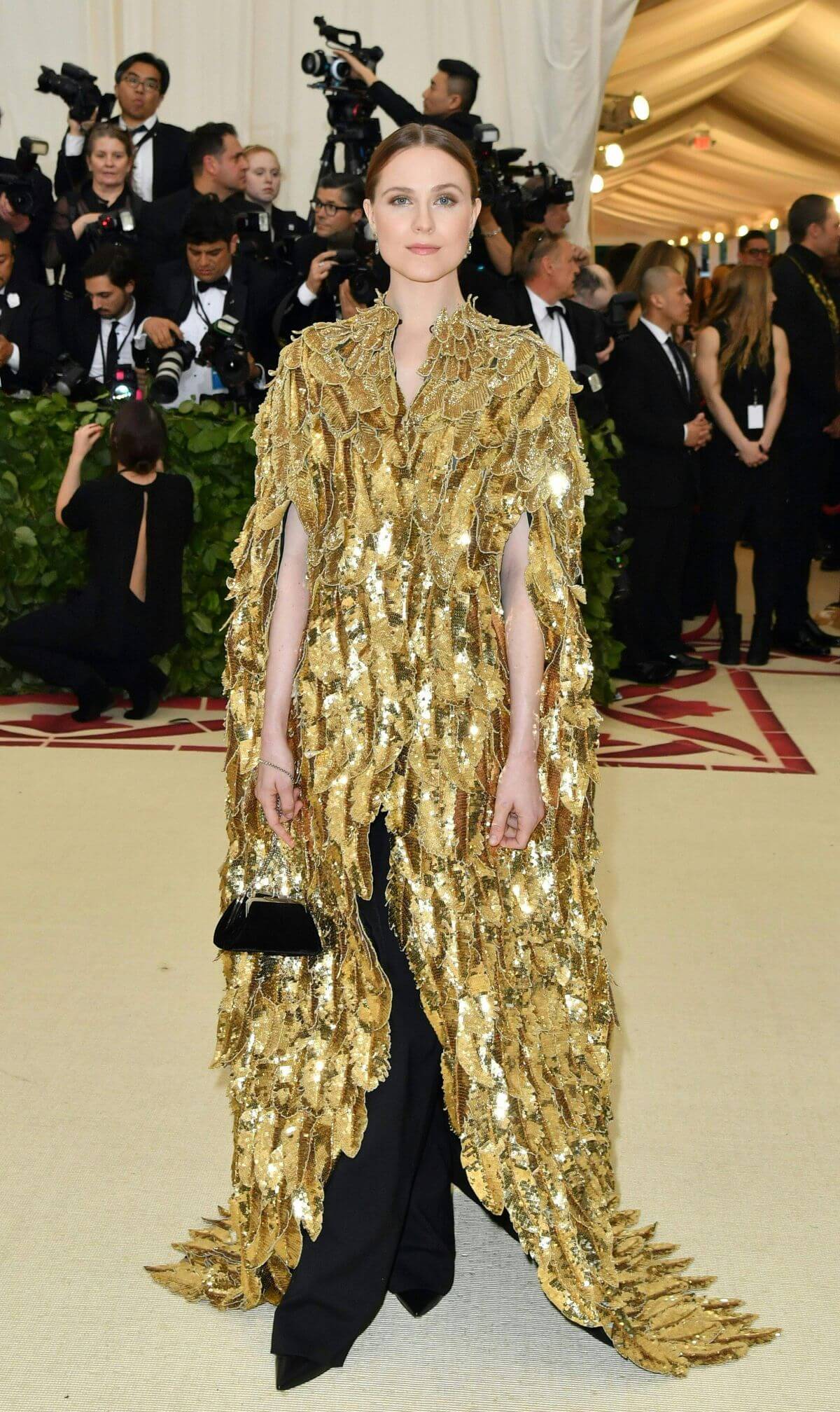 Golden Barbie in H&M, left and Evan Rachel Wood in Altuzarra, right.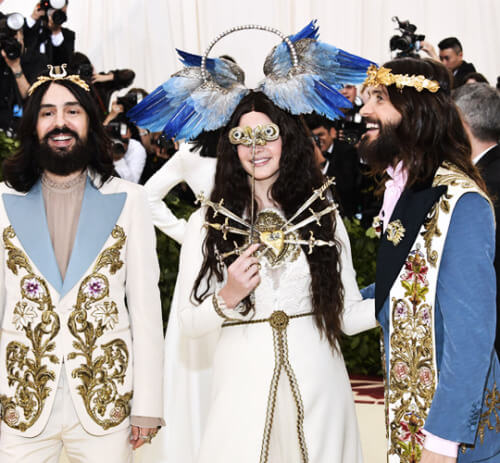 Alessandro Michele of Gucci, Lana Del Rey & Jared Leto, all in Gucci looks embroidered in gold bullion with gold accessories.
This year's exhibit, HEAVENLY BODIES, Fashion and the Catholic Imagination, celebrates a long-standing fascination with fashion's symbolic gestures culled from a vast pool of religious iconography. Crosses, nuns, priests, popes, angels, saints, rosaries, halos, and Joan of Arc take their pride of place in this extraordinary display. One theme we couldn't help but notice was the overwhelming amount of gold. Gold plays a starring role as it literally threads its way throughout the entire exhibit, from the wildly gilded vestments of the Vatican Collection to the super sexy gold chainmail Versace mini-dresses that hover high above guests in a heavenly gesture as they make their way to the main exhibit. Holy Moly!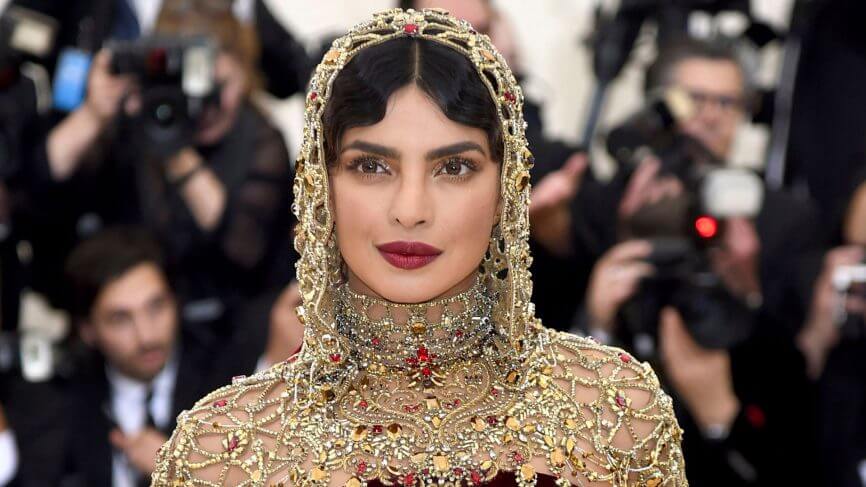 Priyanka Chopra in Ralph Lauren.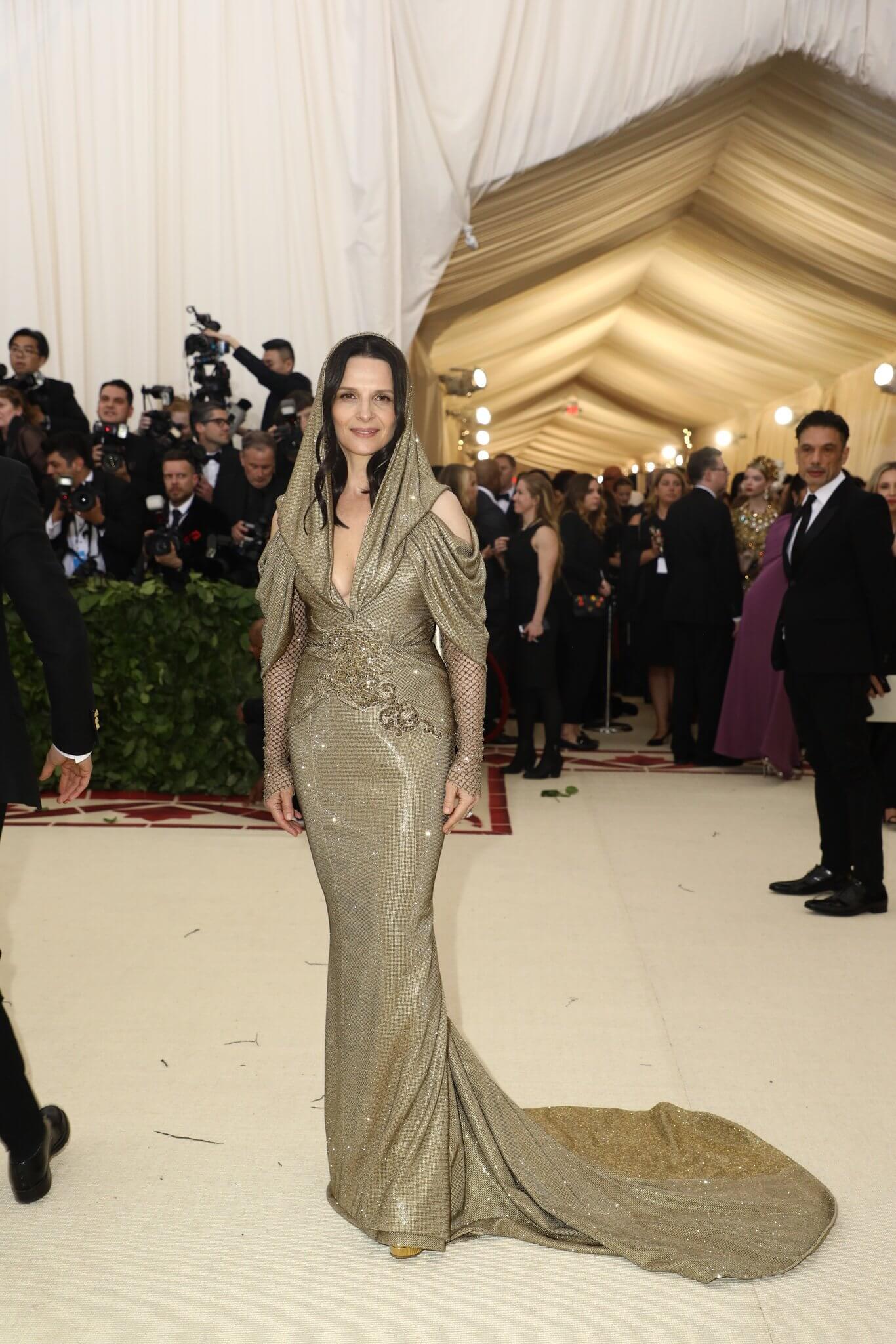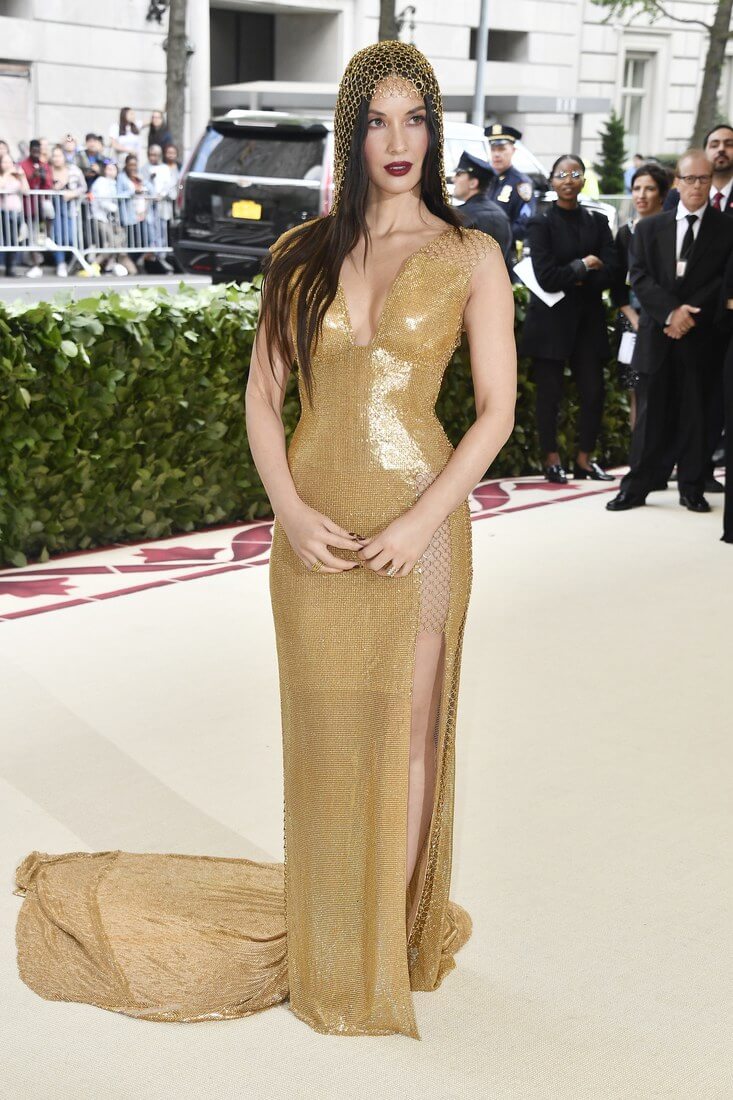 Juliette Binoche in Balmain, left, and Olivia Munn in H&M, right.
The opening gala saw celebrities taking this year's theme to some major fashion highs. The dress directive was a simple, 'Sunday's Best' approach. From fantasy to just plain fantastic, we're still reveling in the sheer, gilt decadence of it all.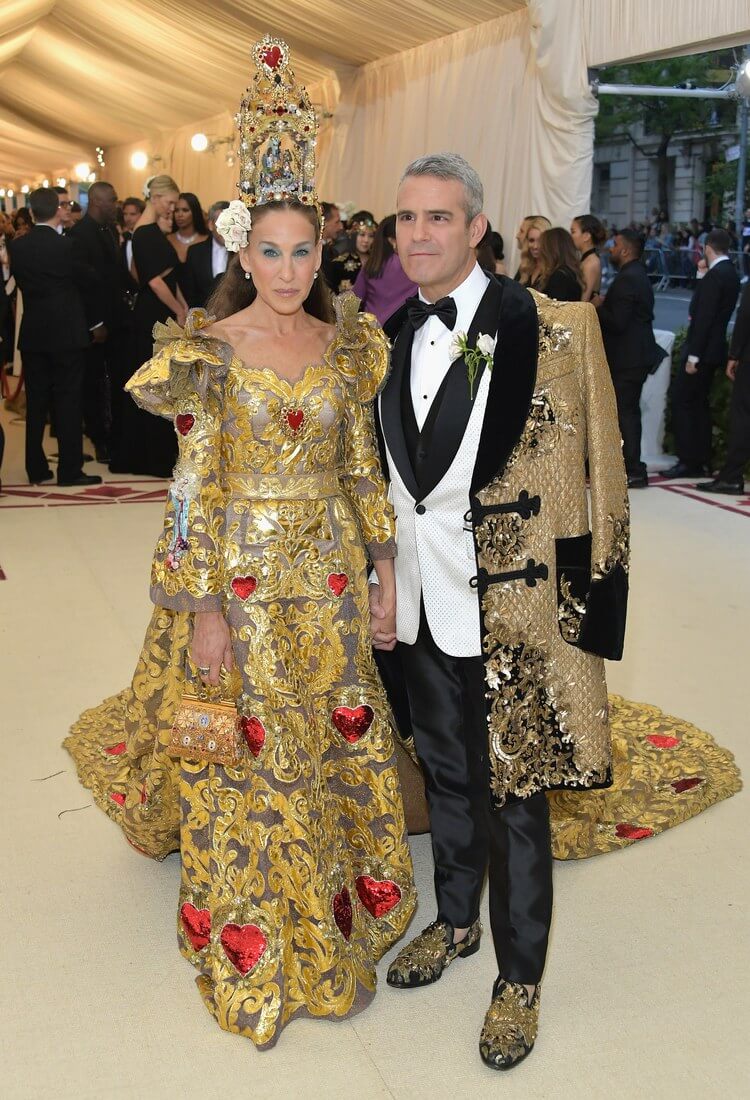 Sarah Jessica Parker and Andy Cohen, both in Dolce & Gabbana.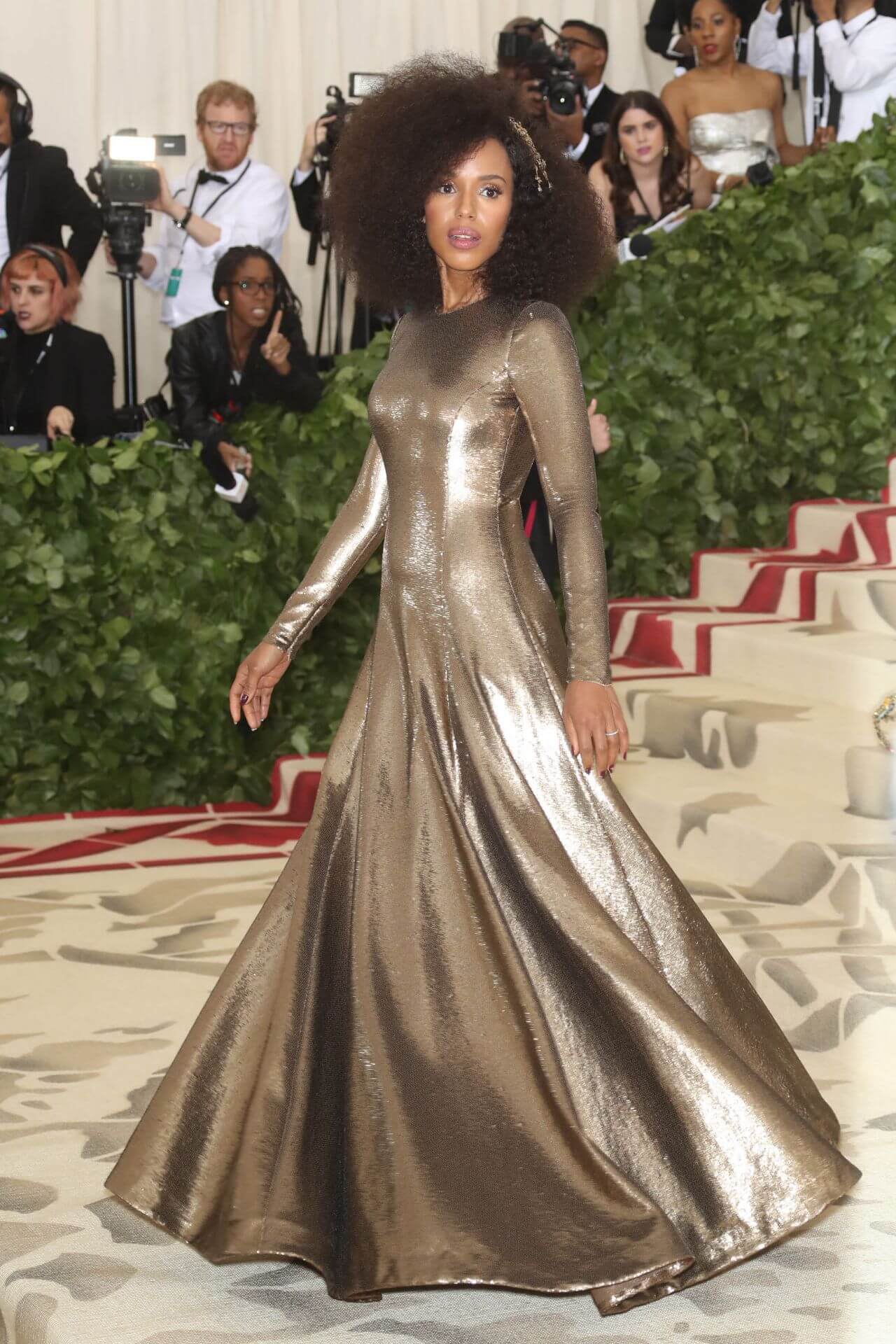 Kerry Washington in Ralph Lauren.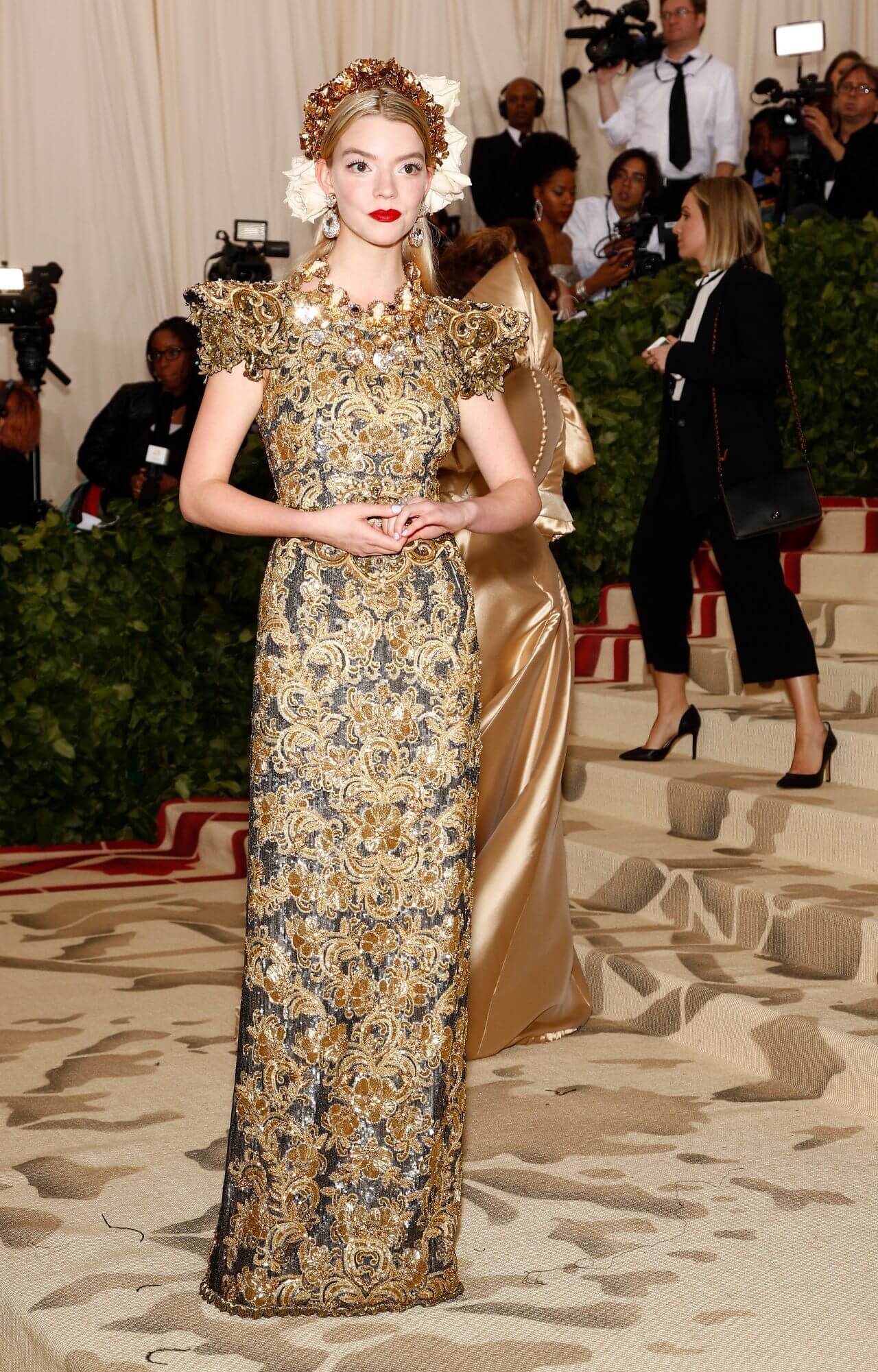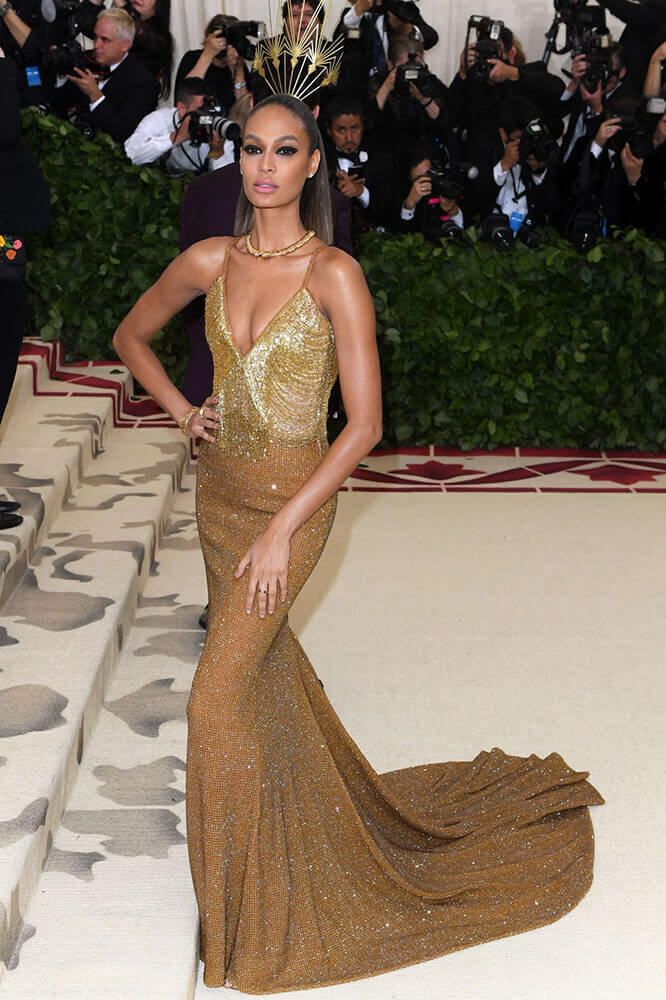 Anna Taylor Joy in Dolce & Gabanna, left and Joan Smalls in Tommy Hilfiger gown and Philip Treacy headdress, right.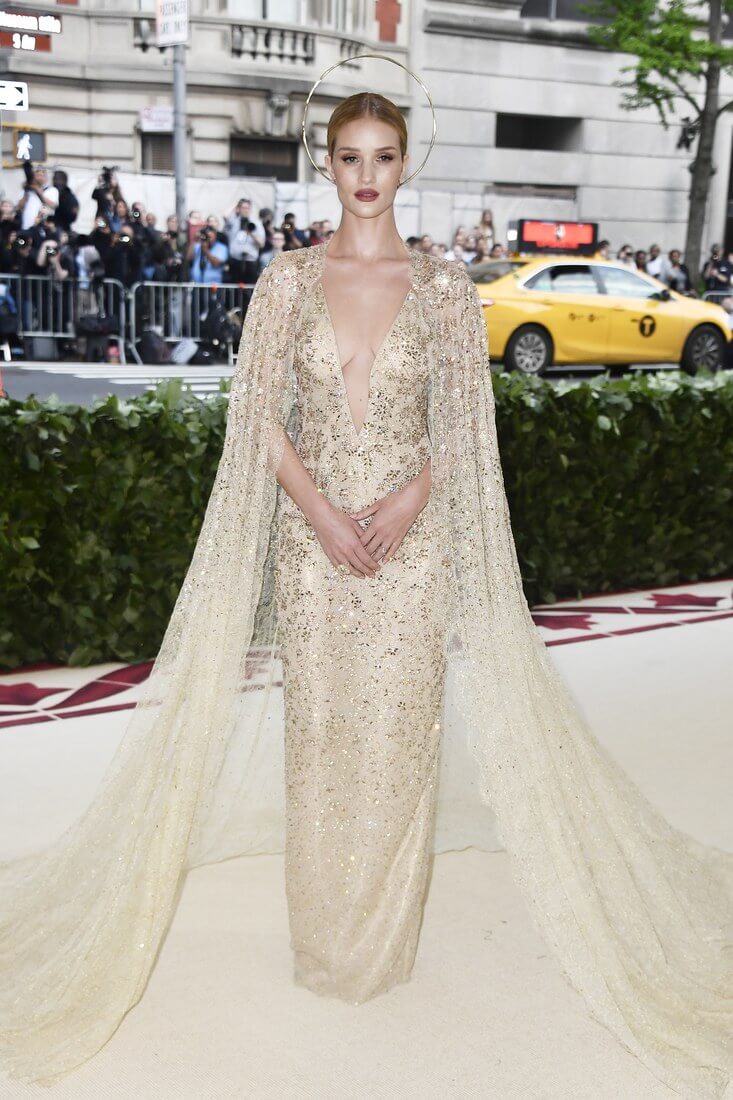 Rosie Huntington-Whiteley in Ralph Lauren.
The main exhibit is housed in the Met's Byzantine and Medieval galleries and lives among the museum's extraordinary riches of religious artifacts and artwork that creates a brilliant dialogue between fashion, history and religion. It's clear that fashion designers the world over are captivated and inspired by the powerful metaphors that religious traditions bring.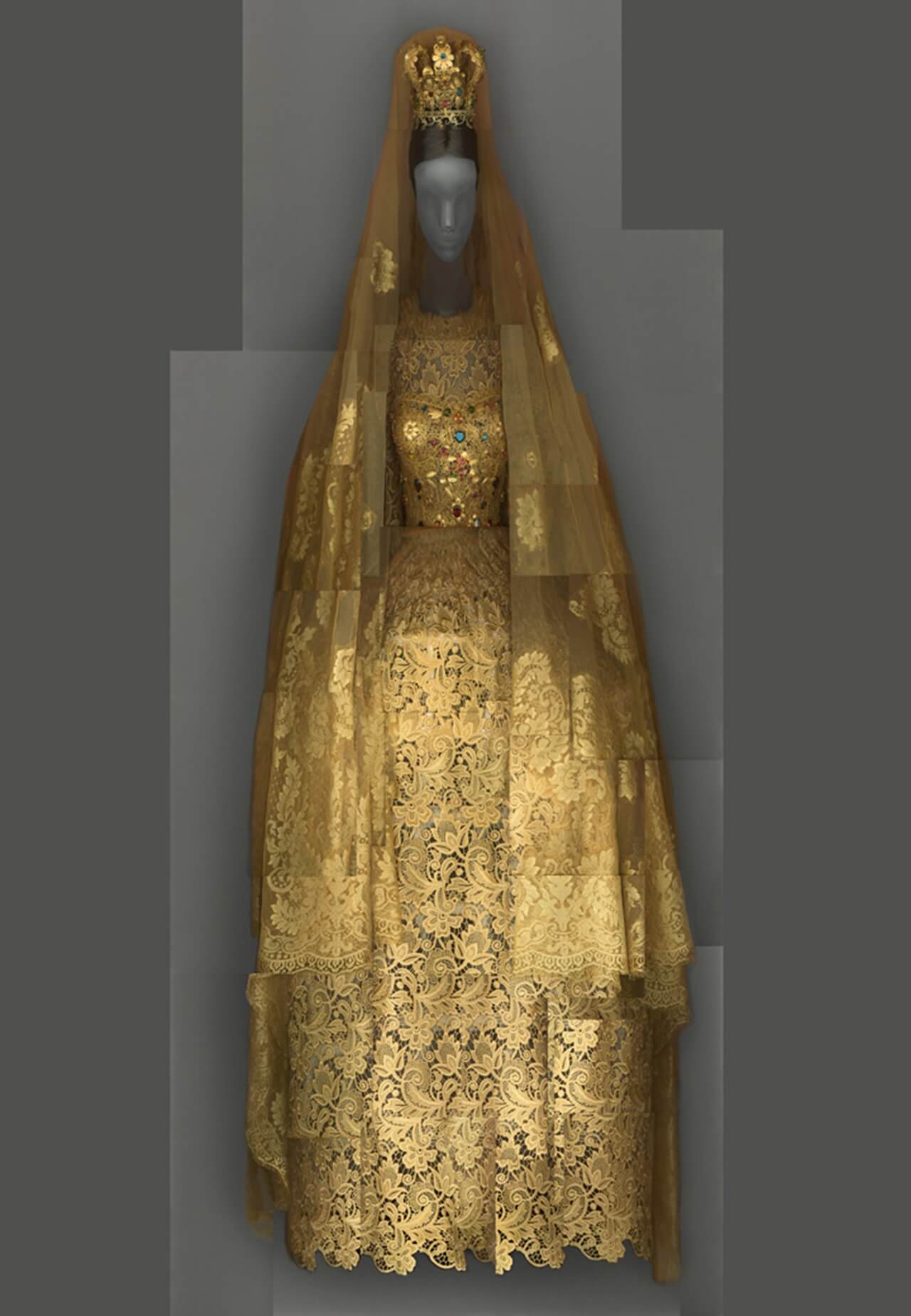 Dolce & Gabbana Alta Moda, Spring 2013 Wedding Gown.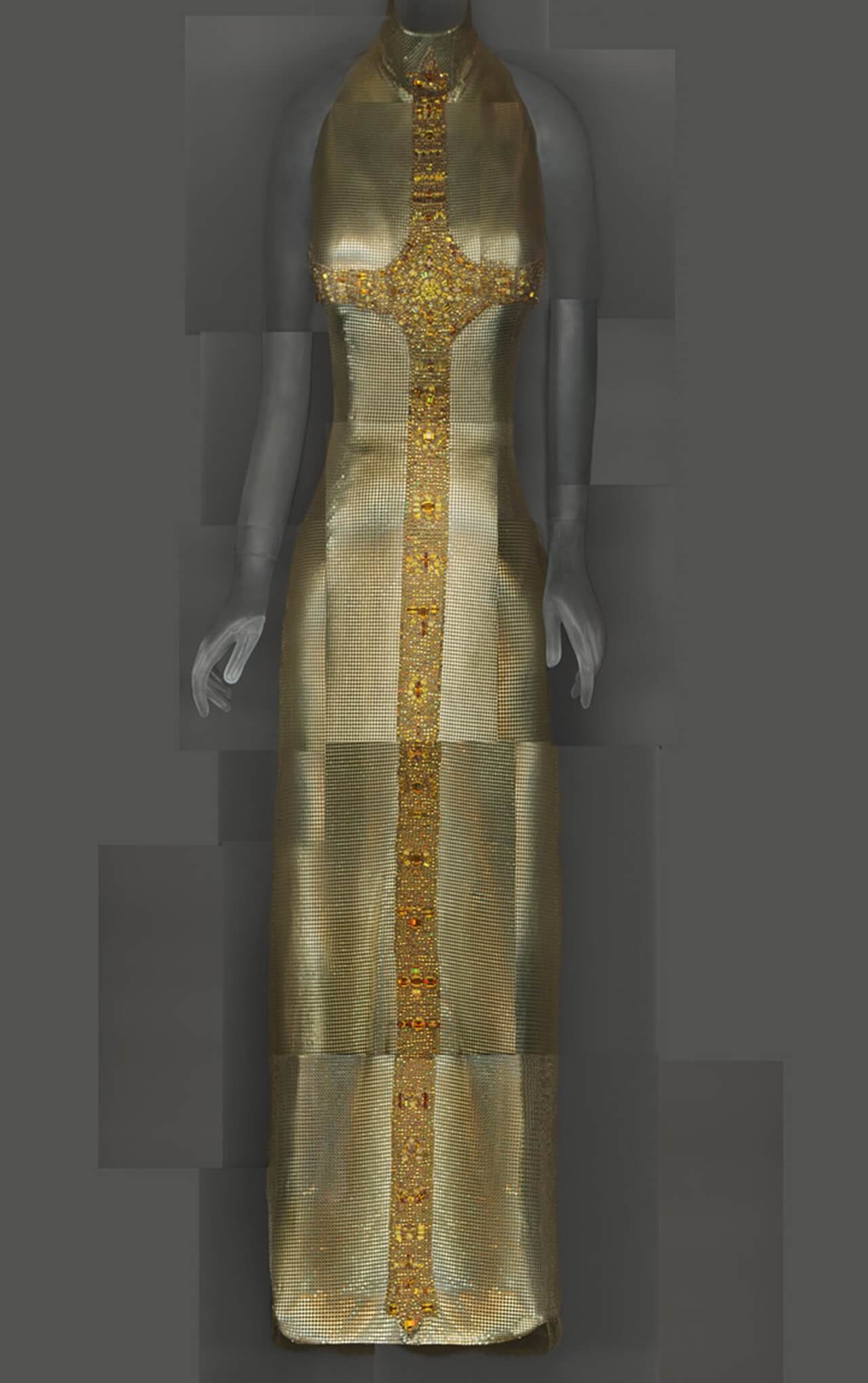 Versace jeweled chain mail gown, Fall 1997.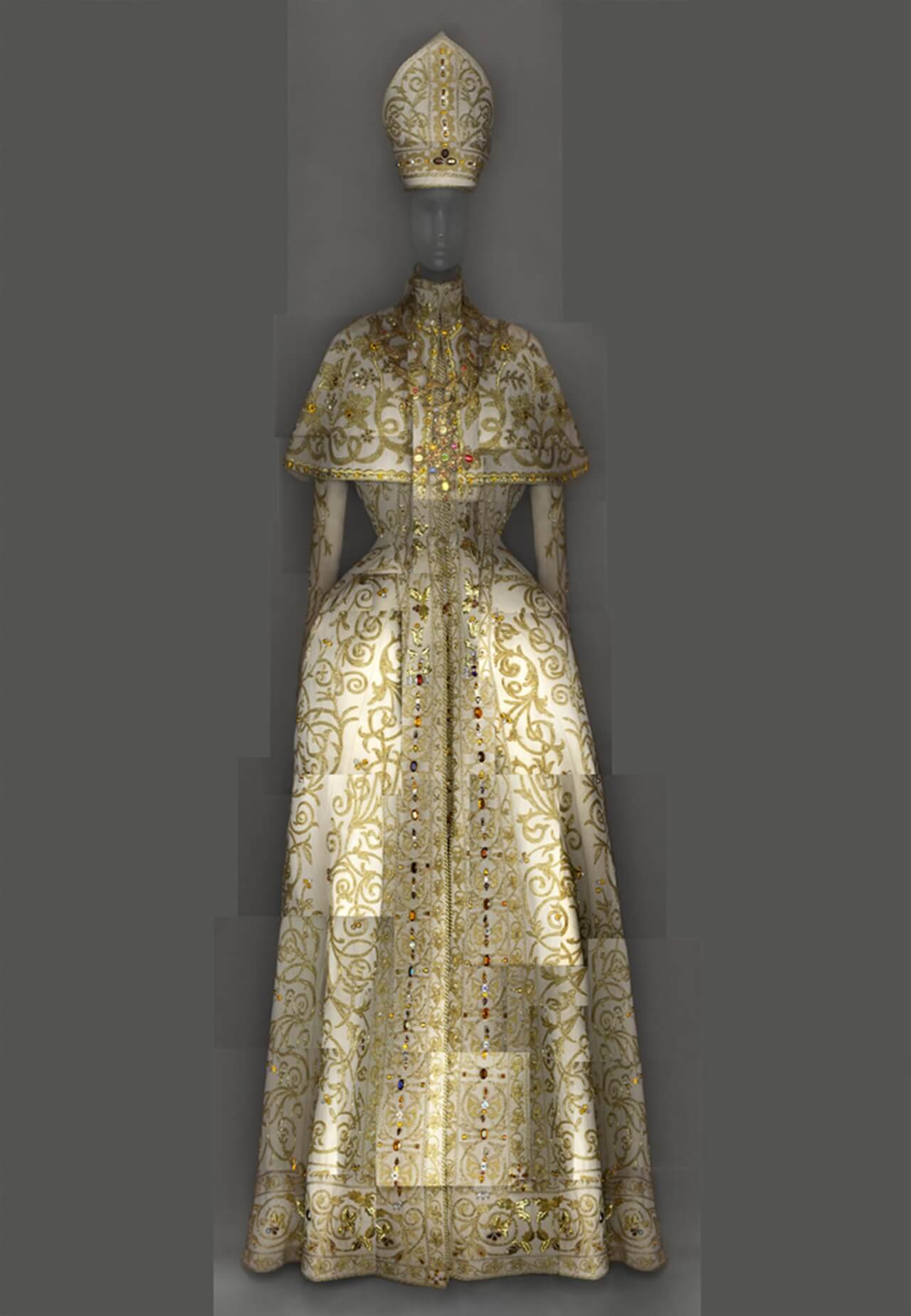 Dior Haute Couture, Fall 2000.
The overwhelming use of gold in both historical and modern dress as a means of religious expression touts the relationship from the earthly devout to the heavens and a connection to a spiritual supreme being and the universe. After all, gold was bestowed upon the earth by celestial supernovas millions of years ago. What could be more divine?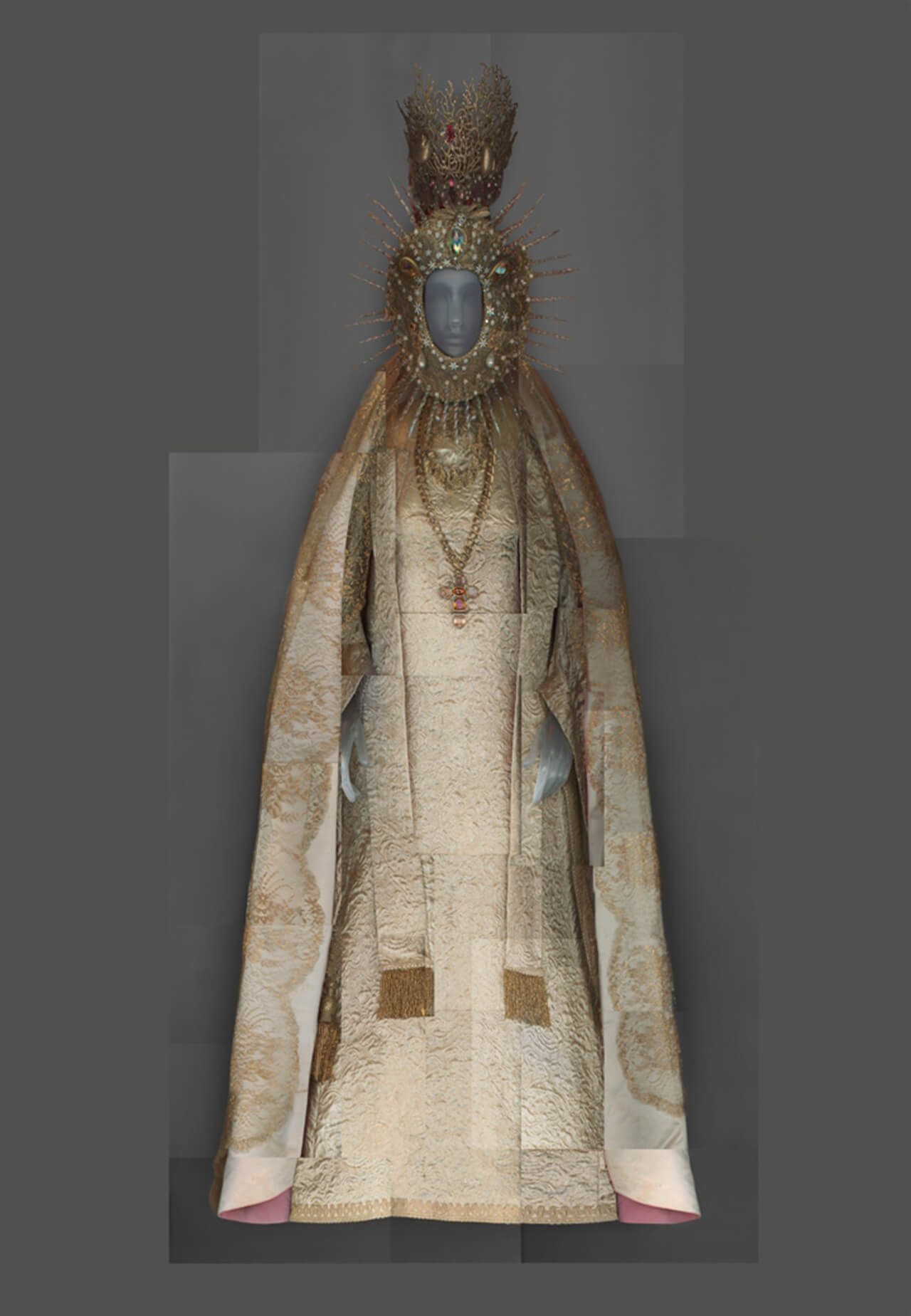 Yves Saint Laurent, statuary vestment, 1985.
Heavenly Bodies is an incredible, inspiring exhibit that extends beyond the Met Fifth Avenue. The truly fashion-devoted should take a pilgrimage up to the exquisite Met Cloisters for the delirious denouement of this not-to-be-missed exhibition. Heaven on earth!