Put your hand up if you know the most popular month for weddings. Did you say May? Nope. June? Wrong again. November? Close. September? Almost. October? You win. Over the past several years, the autumn months of September, October and November have beaten May and June to become the most popular months in which to get married. So, if you are planning your wedding and managed to snag a glorious fall weekend for your big day, you should thank your lucky stars!
Speaking of stars, if you are the bride or the groom, your wedding is your day to shine, so make sure you invest in the best jewelry for this memorable moment. Once you decide on your special pieces of true gold wedding jewelry, spread the love and the wealth. Invest in something special for your partner too.
FOR THE BRIDE
If you are the bride-to-be or you are shopping for one, you have to have to approach this purchase knowing that the bride is the star of the wedding. The bride is the one for whom we hold our breaths and crane our necks to see. So your jewelry has to be on point from neck to finger.
The Neck
There are so many approaches to a wedding dress neckline that the options can seem dizzying. Regardless of whether your dress or jewelry dictates the look for your big day, they have to pair well.
A Delicate Look
The jewelry you choose to wear on your wedding day often depends on the style of your wedding outfit, including the neckline. If your dress is strappy, soft and delicate, you will want a necklace that complements your look — not one that will take all of the attention from the wedding dress.
One of our favorite necklaces for a bride, and named by The Zoe Report as one of the chicest pendant necklaces to have in your jewelry collection, is the 4 Leaf Clover Pendant & Chain Satin in 22 karat solid gold. Not only is this piece beautiful, it is a globally recognized symbol of luck and happiness. If you prefer a shiny polished finish, then choose the 4 Leaf Clover Pendant & Chain Polished. Another delicate but no less auspicious option is the 3 Star Necklace, also handcrafted from 22 karat solid gold.
A Bolder Choice
On occasion, the bride's jewelry should take center stage — especially if you are wearing a minimalist wedding dress with a deep V neckline. If that is indeed the case, we recommend the Celestial Star Necklace, featuring a stunning 22 karat solid gold pendant adorned with 12 gorgeous diamonds. The Celestial Star Necklace is dramatic enough to get people talking, but won't steal your limelight.
If your wedding dress is strapless, then a choker style necklace is a perfect choice of wedding jewelry. For that reason, we recommend the Valo L Necklace in 22 karat solid gold. Constructed from a bevy of conical beads connected by a thick, rope-like chain, this necklace has wow-factor. Be warned. While the Valo won't command all of the attention that the bride will receive, it will take its fair share.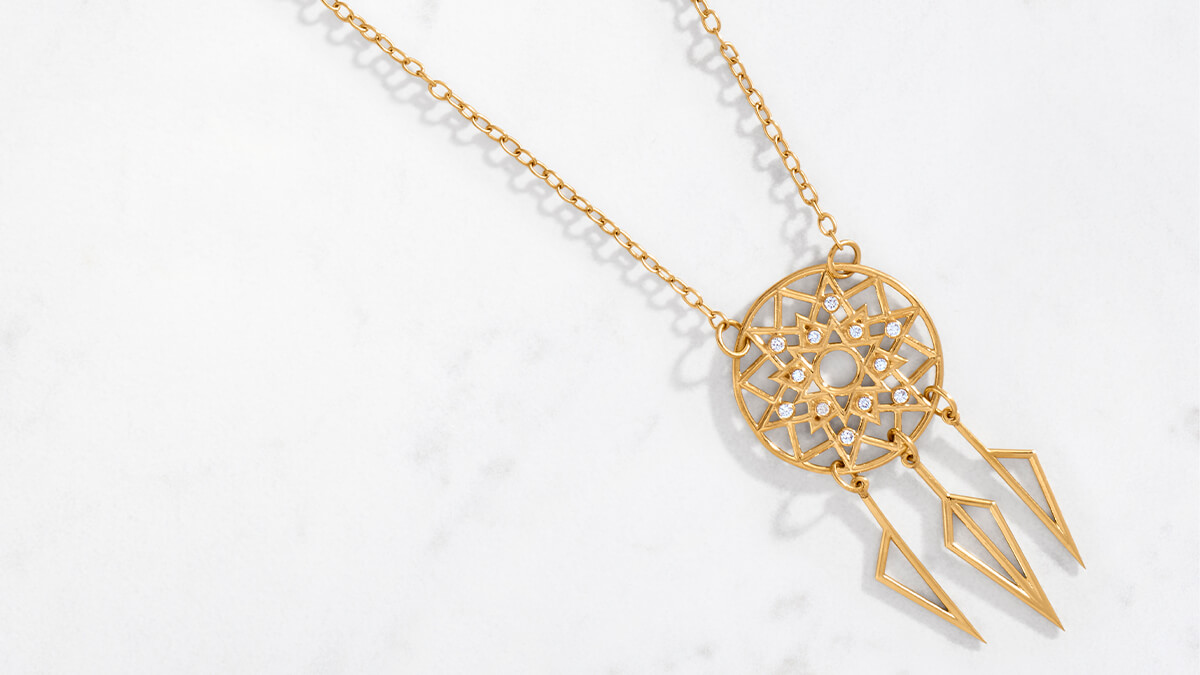 The Ear
If your wedding dress calls for a bare neck and an updo, then, in terms of jewelry, a pair of gold earring is an absolute must. And if you are shopping with us, you have a few options!
Matchy Matchy.
Is matching accessories ever a good thing? Sometimes it is, especially when we are pairing the 22 karat gold 4 Leaf Clover Earring Satin with its partner in love, the 4 Leaf Clover Necklace Satin (see above for necklace recommendations). Considered by Brides Magazine to be one of the best splurges for your wedding day, the 4 Leaf Clover Earring will make your ears happy for many years to come. Moreover, because gold is eternal and a wonderful form of transferable wealth, your daughter or daughter-in-law may wear your 4 Leaf Clover Earrings at her wedding as "something borrowed".
Studs and Stones.
Maybe all you want in a pair of wedding earrings is a hint of sparkle and a subtle finish. If that's where you are heading, then consider one of these stud earrings: the Cage Stud Earrings Polished, the Hexagon Diamond Stud Earrings, the Super Star Stud Earrings, and the Heartbeat Stud Earrings. All are crafted from 22 karat solid gold, and with the exception of the Cage Stud Earrings, are embellished with high quality diamonds.
4 Leaf Clover Earring in 22 karat solid gold with diamonds Hexagon Diamond Stud Earrings in 22 karat solid gold with diamonds
Heartbeat Stud Earrings in 22 karat solid gold with diamonds Super Star Stud Earrings in 22 karat solid gold with diamonds
Cuffed Up.
For a totally unexpected approach to wedding day jewelry, go with the ear cuff — especially if you only have one piercing in each ear, but you want to deck your ears in jewels. One of the best things about ear cuffs is that they don't require that you pierce your ears. Just slide the ear cuff onto the thinnest part of your ear and move it up or down until the cuff settles on the part of your ear where it fits best. Our favorites? The Capture Ear Cuff, the Double Moon Ear Cuff and the Lunar Cuff — each handcrafted from 22 karat solid gold. Ear cuffs may be worn alone, stacked one on top of another or with almost any other type of earring. No matter how you wear it, donning an ear cuff on your wedding day will tell your guests that this will not be a run-of-the-mill wedding!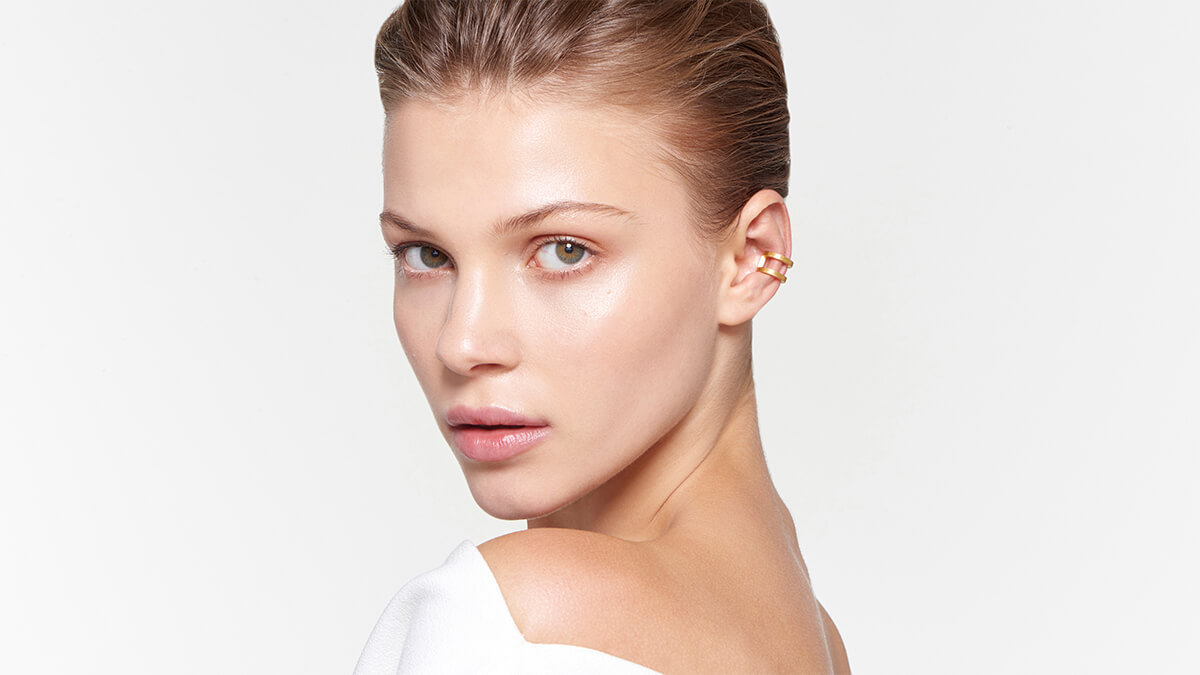 Big and Tall
If you are the type of bride (or shopping for one) who goes for maximum impact with her jewelry, then you should be looking for a bold earring. Especially if your dress has an asymmetrical, one shoulder neckline. When we think big, tall, bold and dramatic, the Arthropod Earrings come to mind. Our designer and founder, Gina Love, wore the 22 karat gold Arthropod Earrings Polished on her wedding day to accentuate her rather unorthodox wedding attire — a Viktor & Rolf jumpsuit.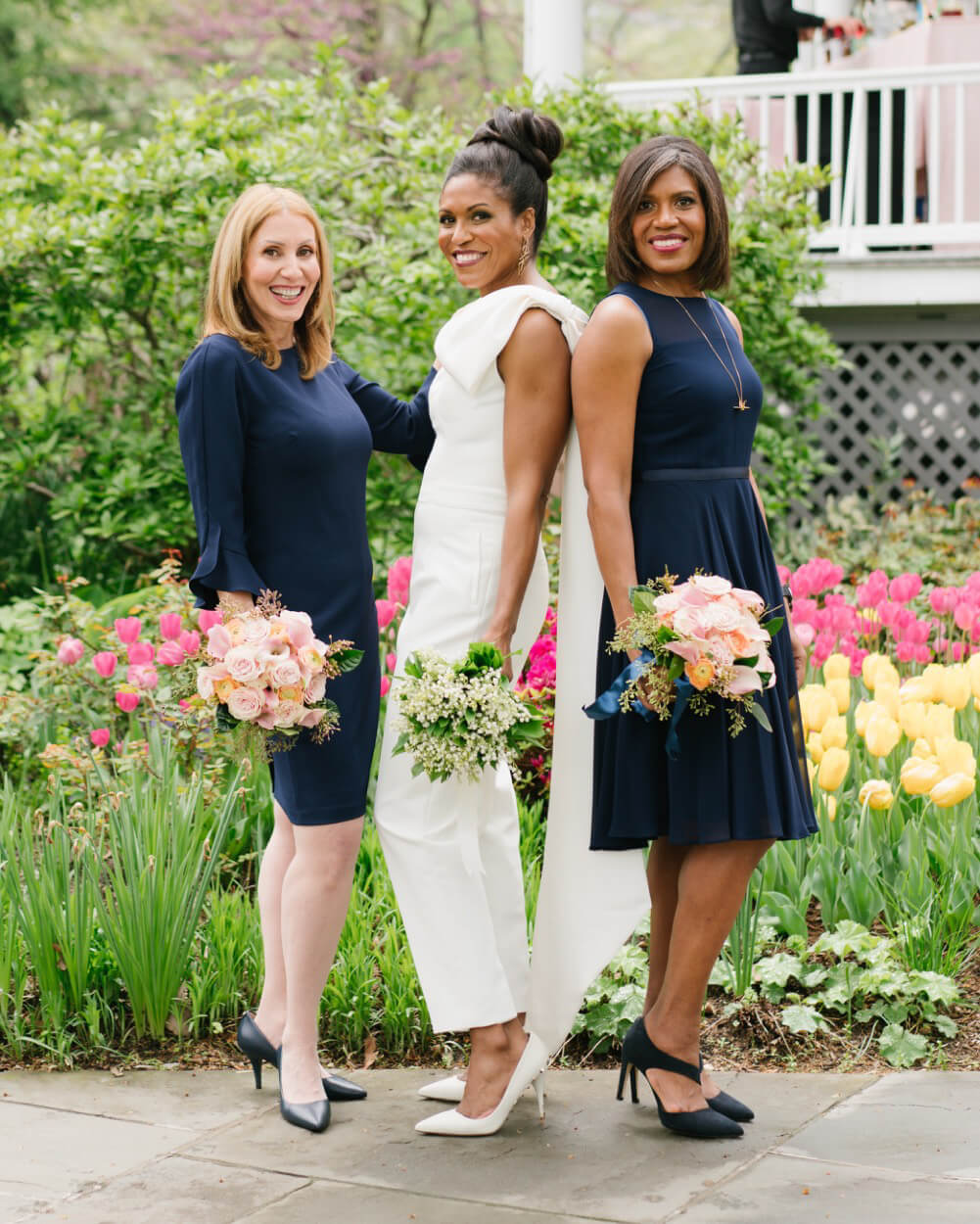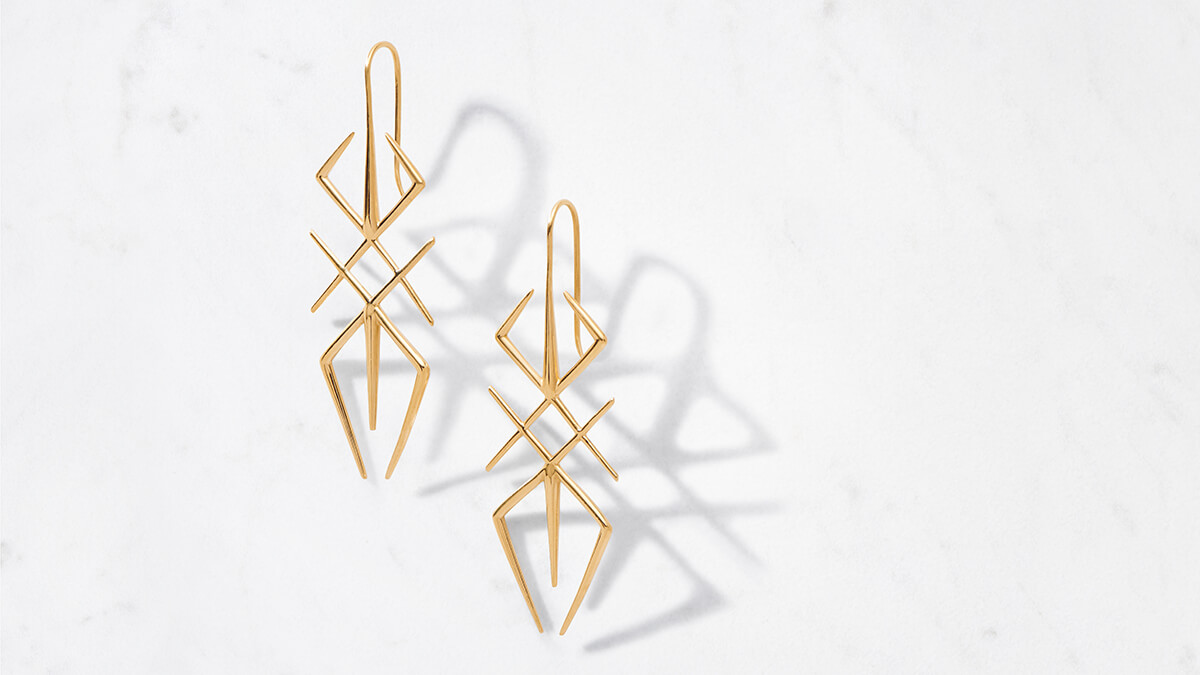 The Wrist
Now that we've covered necklaces and earrings, it's time to focus on bejeweling the wrists of the bride-to-be. There are many approaches to consider when choosing bracelets and cuffs, from wearing one statement piece to creating bold bracelet stacks. But we want to focus on two opposing themes: the Romantic Spirit, and Wonder Woman vibes.
The Romantic Spirit
What could be more appropriate on your wedding day than jewelry that spells out the love that you feel for your partner? If you've got love on your mind, then treat yourself to one of our sweet and romantic bracelets: Love First Bracelet, Love is Love Bracelet, Shooting Arrow Bracelet and Heartbeat Bracelet.
Love First Bracelet in 22 karat solid gold with diamonds Love is Love Bracelet in 22 karat solid gold with diamonds
Shooting Arrow Bracelet in 22 karat solid gold with a sweet little diamond Heartbeat Bracelet in 22 karat solid gold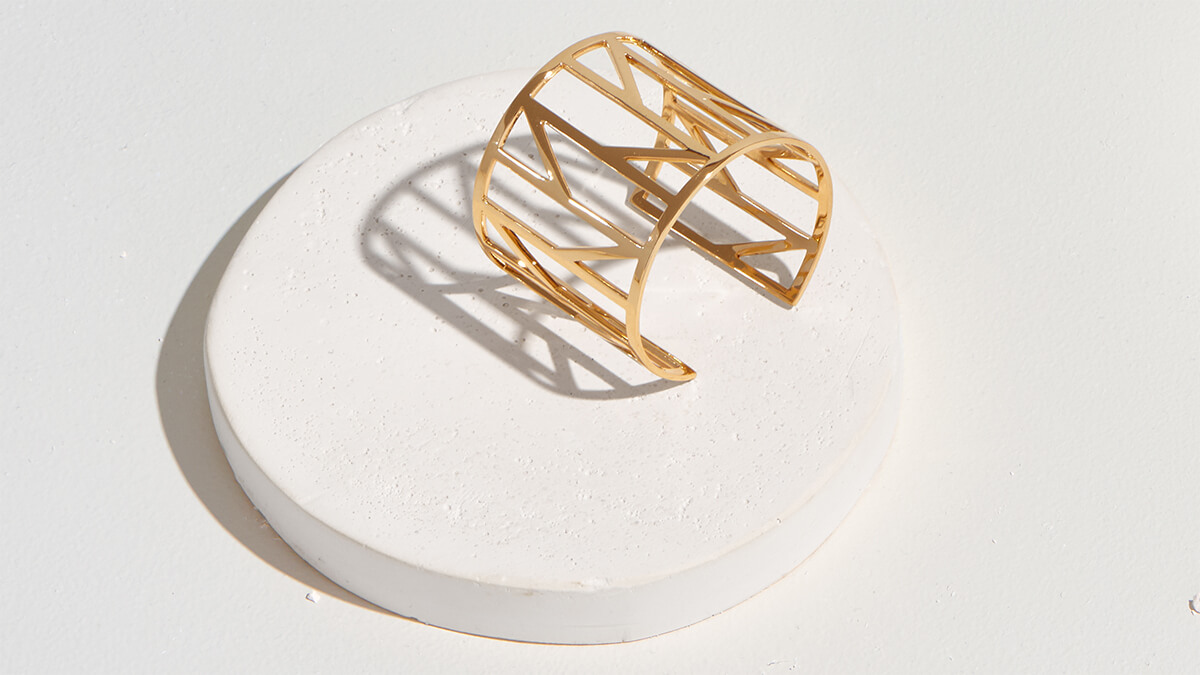 Wonder Woman Vibes
Okay, we got the memo. Soft and sweet isn't your thing. You are more of a wonder woman bride who plans to walk down that aisle with gold cuffs a-blazing. So let's get down to business. The 22 karat gold Tall Maze Cuff is easy to wear, light on your arm and architectural in style. But if you are looking for a piece that will never be forgotten, then it's the Open Cage Cuff handcrafted from 90 grams of pure gold.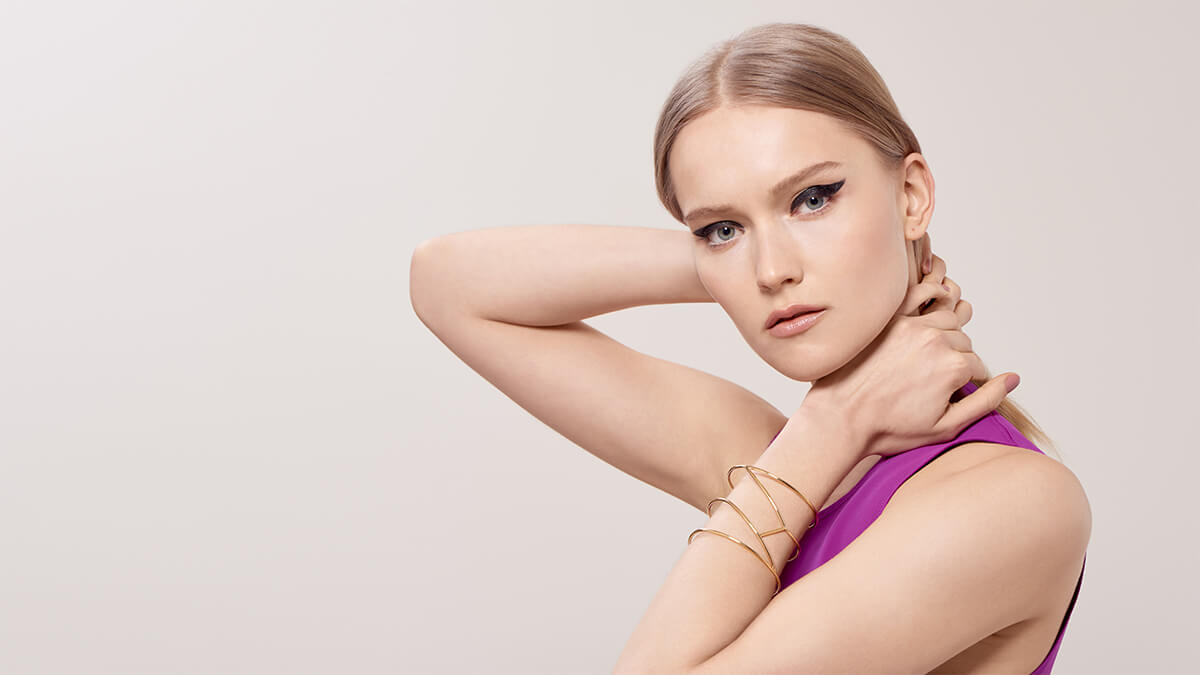 The Finger
It's common knowledge that the ring finger is the most celebrated of all ten, especially on the big day. So let's talk about ring options, not only for the wedding day but for engagements too.
The Unconventional Engagement Ring
For decades, diamonds have been the most sought after stone for engagement rings. But over the last 5 years, diamonds have been facing stiff competition. A significant percentage of the Millennial and Gen Z cohorts are investigating other stones for engagement rings, such as rubies, sapphires and turquoise. Why? Because they colored gemstones are eye catching and unusual. If you are thinking along these lines, consider the 22 karat gold Cage Cocktail Ring Ruby Ball and the Golden Moon Ring Satin We like these rings for this purpose because they are tall and dramatic. While completely untraditional engagement rings, what remains certain is that both rings will identify you as a person who sets trends.
Cage Cocktail Ring Ruby Ball in 22 karat solid gold with a gorgeous ruby Golden Moon Ring Satin in 22 karat solid gold
The Solid Gold Wedding Band
While diamond wedding rings and bands are still common fare, many brides opt for a solid gold wedding band for every-day wear. It's not only a practical choice, but one that can be quite beautiful, especially if you go with high karat gold. Moreover, we like the idea of owning a solid gold band that is a mirror image of the one that our partner is wearing. Wearing the same style of wedding band is another outward symbol of the deep connection you have to each other.
Take the 22 karat solid gold Double Barrel Ring Polished and the Double Barrel Ring Satin, for example. Many men wear those rings as wedding bands. So why not keep things in the family and choose the Triple Barrel Ring Polished or the Triple Barrel Ring Satin? Both styles are similar but the 22 karat gold Triple Barrel Ring looks better on women (in our humble opinion).
If you are keen on wearing a diamond wedding band, then take a look at our XOXO Diamond Band handcrafted from 22 karat gold and featuring a total of 8 G/VS1 diamonds totaling half a carat. This ring looks fantastic worn by itself and is ideal for stacking with other bands.
Sometimes a stack of rings makes the best wedding band. For the simplest and cleanest of stacking bands, go for our Clean Cut Stack Ring Polished or Clean Cut Stack Ring Satin. The best thing about these rings is that they look good when worn solo. Nevertheless, they really pack a solid gold punch when stacked. These bands pair well with each other as well as the Small V Neck Ring Polished and the Large V Neck Ring Satin.
Another dramatic stack is a trio of the Slice Ring Polished and Slice Ring Satin. If you prefer more architectural rings, then try mixing into your stack the Octavia Stack Ring Polished or the Octavia Stack Ring Satin.
Slice Ring Polished in 22 karat solid gold. Each ring is sold separately. XOXO Ring in 22 karat solid gold with 8 G / VS1 Diamonds totaling a half of a carat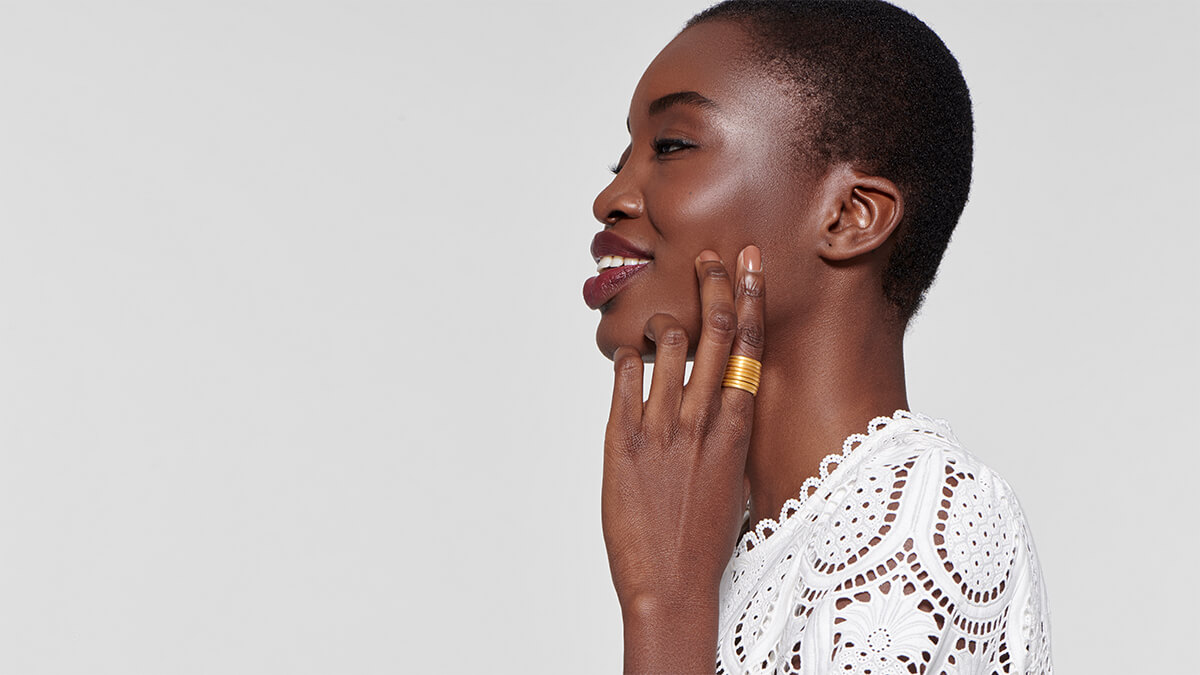 FOR THE GROOM
In an entire lifetime, many men will wear only 2 types of jewelry: a watch and a wedding band. Times are changing, however. These days, jewelry for men is common fare and more men are breaking out of traditional modes of dress and prescribed uniforms to create outfits that better express their own personalities.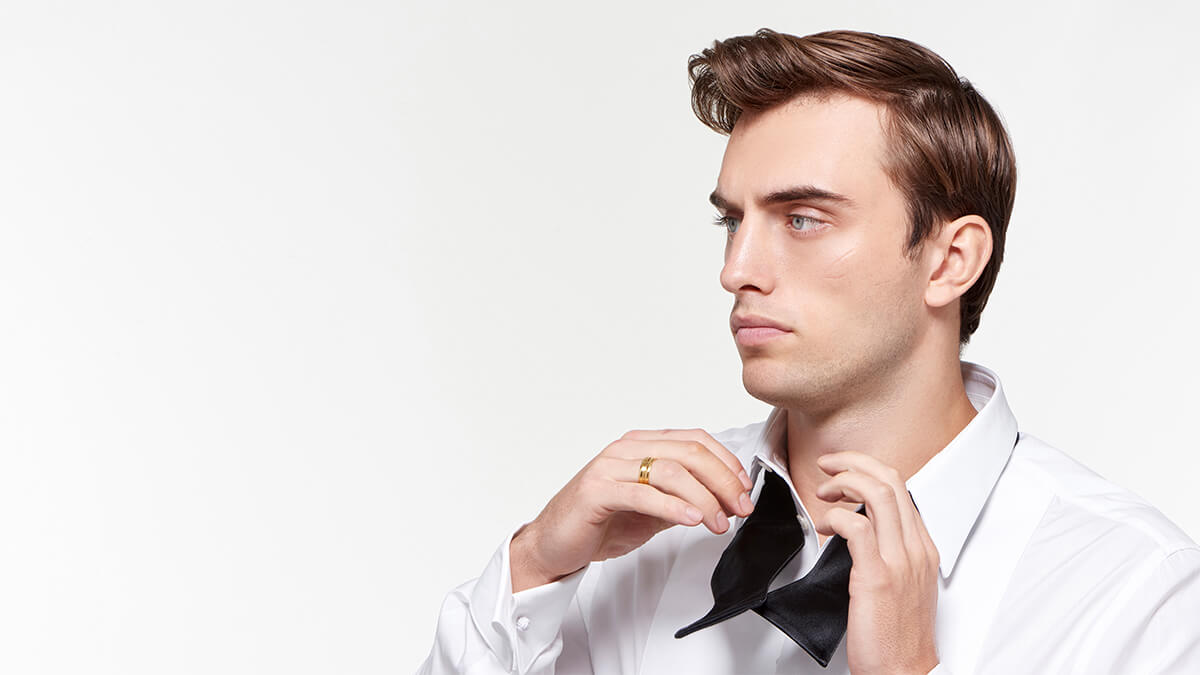 Now your wedding day is approaching and you have decided to go with gold jewelry — but not just any type of gold jewelry. You are considering 22 and 24 karat solid gold pieces — jewelry that matters for the day on which you are marrying the person who matters to you most. Let us help you make the best choice for your big day.
The Neck
If you are a true jewelry novice and you have never worn a gold necklace before, then check out our Beginner's Guide to Men's Jewelry to help you get started. If after reading our guide, you are still not comfortable donning a gold chain for your wedding day, then skip this piece and check out our suggestions for bracelets and wedding bands.
For future grooms who are jewelry aficionados, a new gold chain to mark the big day is an absolute must. We've recently launched new collection called Chain Complex where we offer all types of chains from basic cable links to big and bold links. Be sure to visit that collection before you check out.
Big Links
One of our favorite solid gold link chains is the Long Link Chain handcrafted from solid 22 karat gold. How you style this gold chain depends on your appetite for flair. If you are the type of gentleman who like to flaunt his gold, and you are wearing a suit and tie on your wedding day, consider wearing your gold chain just over your tie (but just under the knot) — sort of like a tie chain, but worn closer to your neck. It's "next level" bold, but jewelry styling is all about wearing your gold pieces in the way that suits you best.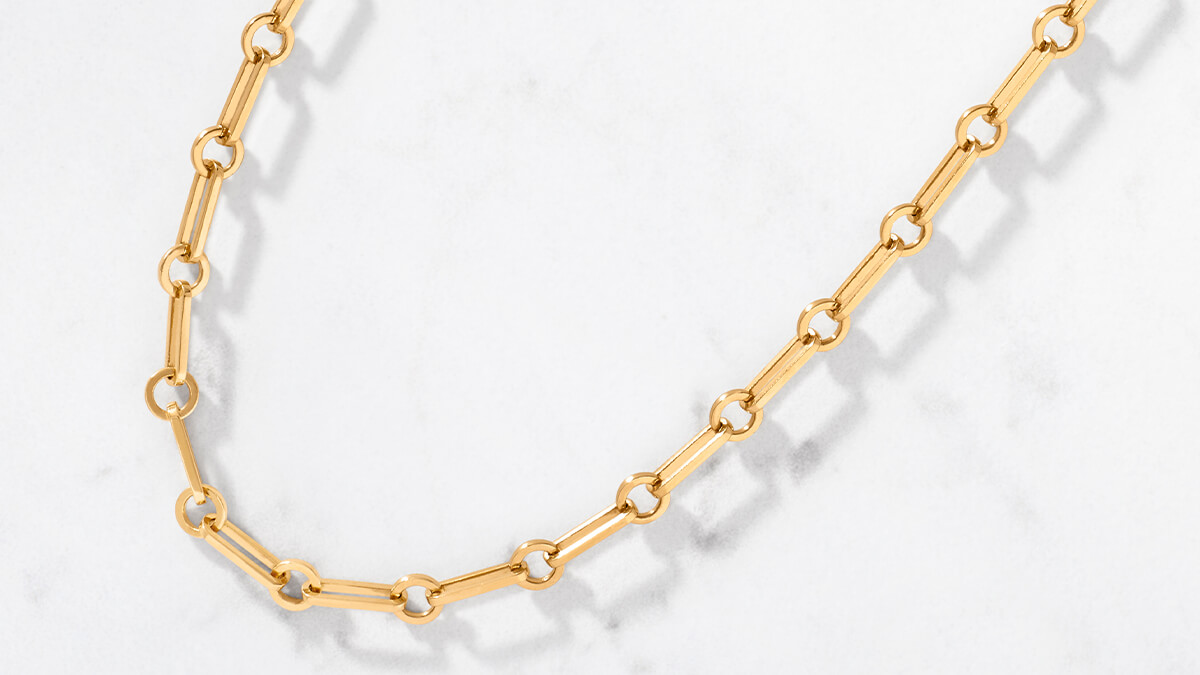 Low Key and Subtle
Sometimes we wear jewelry for ourselves and not for show. We ascribe personal meaning to each piece and take comfort in knowing that we are wearing something we love. There are many men for whom jewelry is a private thing. They wear their pieces under their shirt and close to their hearts for luck, love, or to remember a feeling or childhood memory. If we've just described your approach to jewelry, then consider wearing our Cable Link Necklaces 1 mm or our Cable Link Necklaces 2 mm in solid 22 karat gold. These chains come in 2 thicknesses (1 mm and 2 mm) and 3 lengths. We also love the Wishbone Pendant & Chain Polished Small / Polished for a moment like this. This 22 karat solid gold necklace comes in two sizes and two finishes.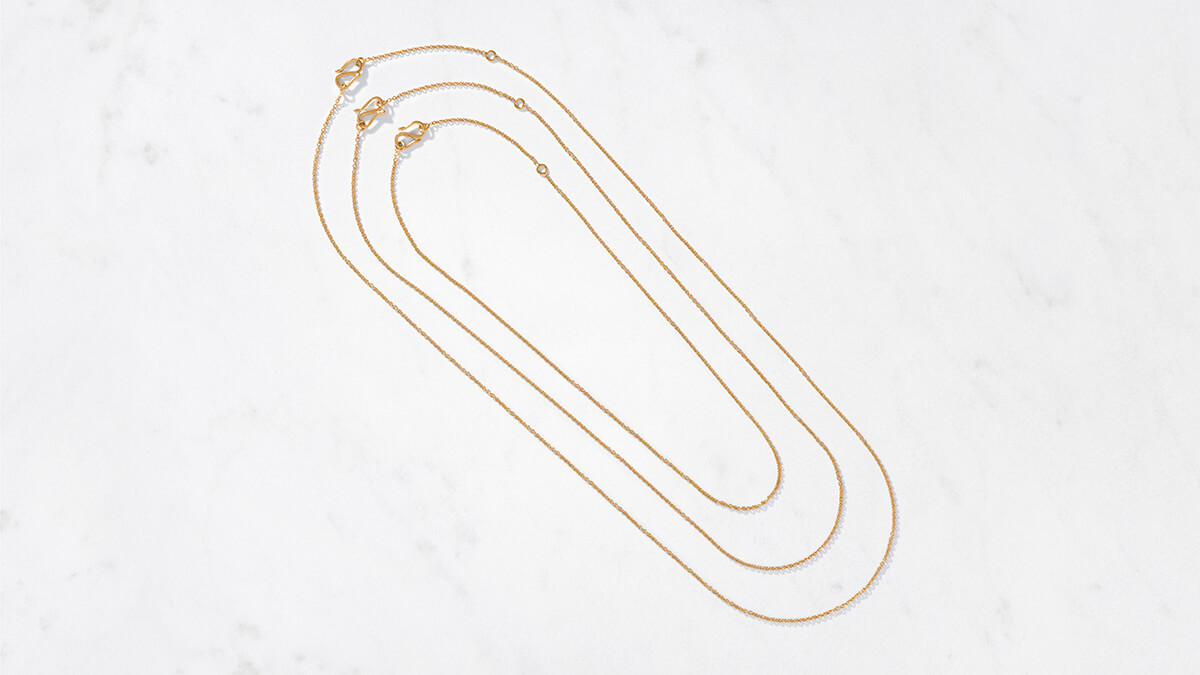 The Wrist
On your wedding day, a gold bracelet showing under a sleeve makes the perfect sartorial statement. You can pair the bracelet with your watch or wear it solo on the other wrist. Either way, a touch of gold on or under your sleeve will elevate your wedding attire.
The Showstopper
Certain gents in our social circle are comfortable wearing chunky gold jewelry — but on special occasions only. While we don't believe in special occasion jewelry (jewelry should be worn every single day, gentlemen), we understand the premise. Some moments are singular and call for something extraordinary. If your wedding day isn't such a day, then we don't know what is. So what do we suggest for your show-stopping gold moment? The Perigee Bracelet. This gorgeous bracelet is handcrafted from 36 grams of gold and is so stunning that your bride or groom will want to wear it too. But don't let them. At least not on your big day!
Lightness of Being
Maybe it took a lot to get to this moment — the one where you say yes to a partnership that you hope will last a lifetime. And maybe that's all the commitment you can handle for now. So, when it comes to your wedding jewelry, it is quite possible that the last thing you want to do is partner up with a solid gold bracelet with the kind of weight and gravitas possessed by the Perigee Bracelet. We totally get it. So let's go in another direction — lightness of being. The Cable Link Bracelet 2 mm, crafted from 22 karat solid gold, is a piece of men's jewelry with both substance and style. But it is light enough to wear without making too much of a statement.
The Finger
On one's wedding day, it's the usually the ring that take center stage. And for good reason. The ring has got quite a history worth reading about when you have a moment. But we digress. Regardless of who buys your wedding band (it may be you or your partner), make sure it fits not only your style, but your ring finger. Size matters (not sure what you guys are thinking about, but we are talking ring size here). The last thing you want is for wedding ring to slip off, or worse, get stuck half-way down, your finger in the middle of the "I dos". So, without any further ado, let's take a look at the best gold wedding band for the groom.
Timeless and Traditional
Because this is a ring that you will be wearing for life, it makes sense to opt for a wedding band that is timeless and traditional. Gold is noble metal that is rich, rare and eternal. As such, gold makes the perfect choice of metal to symbolize the love and devotion that you wish to last for a lifetime.
In the traditional camp, we offer manly rings such as the Groovy Band Satin and the Groovy Band Polished. We also offer these solid gold stalwarts: Galactic Band Satin, Galactic Band Solid, Double Barrel Ring Satin and Double Barrel Ring Solid. Before you get the wrong idea about the traditional wedding band, let's be clear. Just because these wedding bands are timeless does not mean that they are plain or boring. On the contrary, each of these wedding bands possesses a certain élan that you will not find in 14 karat gold. Moreover, wearing one of these 22 karat solid gold rings marks you as a man who thinks not only about style, but one who also wants to make an intelligent investment in jewelry.
Galactic Band Polished in solid 22 karat gold Groovy Band Polished in solid 22 karat gold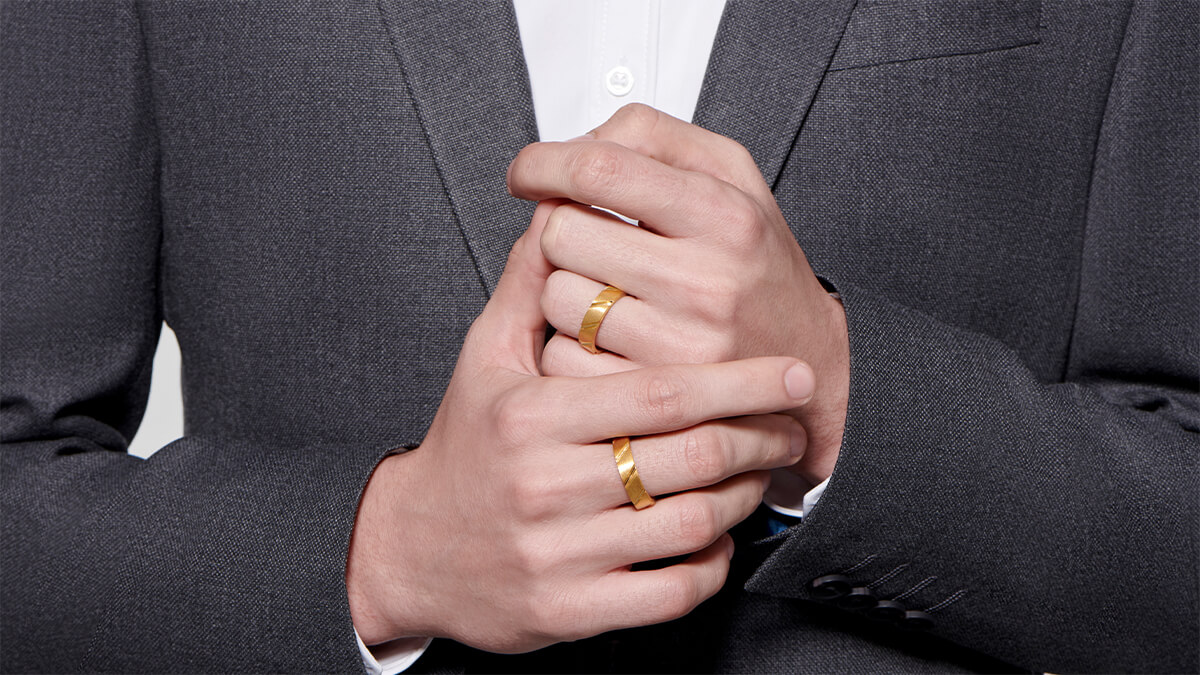 Ditching the Rule Book
There are rules that we must follow and rules that are meant to be broken. Ditched. Tossed. Hurled out of the window, in fact! When it comes to men and jewelry, we can be found on the "ditch the rules" side of the line.
Look — we respect tradition for sure; but then again, the old-school approach to men's dress would eschew the fun stuff like ring stacking, wearing chunky signets and piling on 24 karat gold. The rules would tell you to stick to a plain 14 karat gold wedding band and forgo the luminous hues of true 22 karat gold. So, yeah — we'd like to break those old-fashioned rules regarding guys and gold.
Stud Band Polished in solid 22 karat gold XOXO Diamond Ring in solid 22 karat gold
The 24 karat gold question is this: Is one's wedding day the kind of occasion that demands adherence to a traditional approach to men's jewelry? The answer depends on you. Don't break the rules just to do it. If you are usually a buttoned up, worsted wool suit wearing type of guy, then stay true to your own authentic sense of style. You want to feel comfortable and at ease on your wedding day.
The same holds true for the sartorial rule-breaker. If you are known for breaching traditional modes of dress, then use your wedding day jewelry as an opportunity to show off your trend-setting style — especially if you have agreed, for the sake of peace, to wear a tuxedo or a suit.
For wedding bands that stand out from a sea of ordinary 14 karat gold bands, consider the Xanthe 24K Ring Satin, Xanthe 24K Ring Polished, XOXO Diamond Ring, the Stud Band Satin and the Stud Band Polished.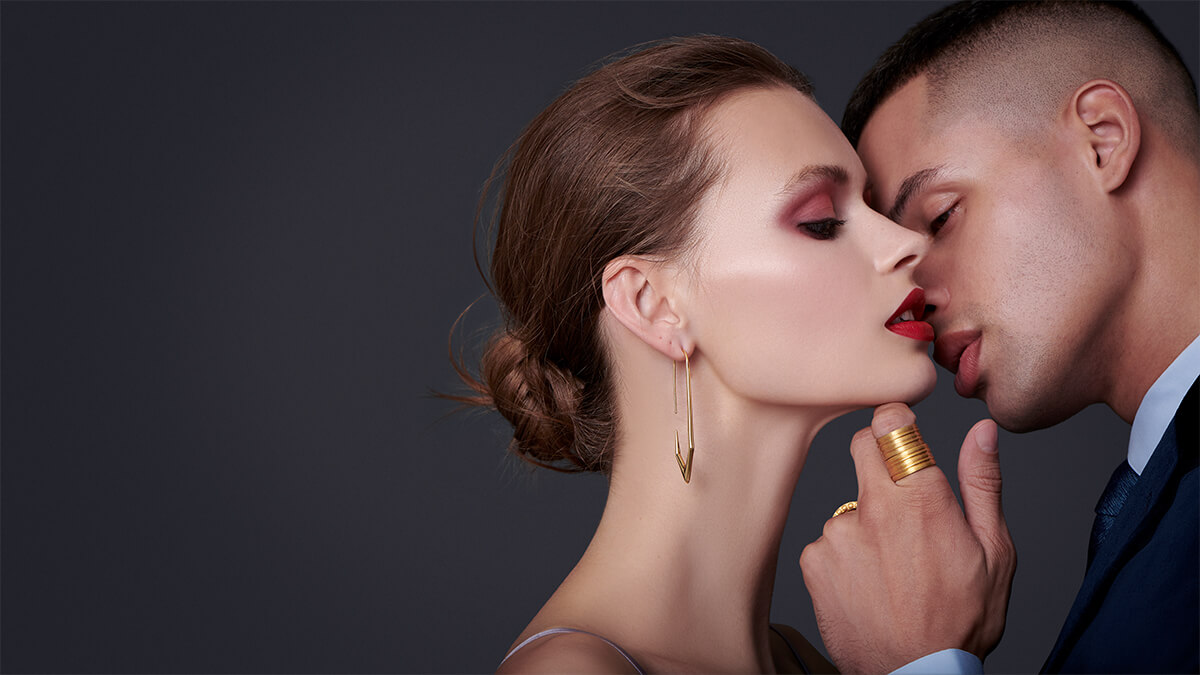 The Xanthe Rings are handcrafted from solid 24 karat gold in a way that makes them feel like minimalist pieces of art. The perfect symbol of love, and a 22 karat gold wedding band that both men and women can wear, the XOXO Diamond Ring adds some icy bling to those Xs and Os. The Stud Band looks like it sounds. Beefy and muscular, this 22 karat solid gold wedding band will make it very clear that you are taken.
Xanthe 24K Ring Satin in solid 24 karat gold Xanthe 24K Ring Polished in solid 24 karat gold
No matter what jewelry you choose to wear on your wedding day, make sure it not only fits your choice of wedding day attire, but your personality too. Have fun on your big day and don't forget to enjoy each other, your families, friends and your gorgeous gold jewelry.
Do you have questions about the best pieces of jewelry for your wedding day? Email our customer support team at support@auvere.com or call us at (866) 317-7779. We would be happy to help.